2021 Snapshot: CHCA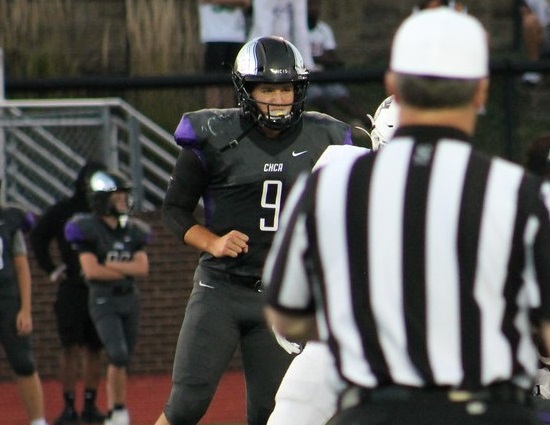 CHCA QB Colin Ames (photo from rogerbaconspartans.org)
It's rare when CHCA goes into a season with more questions than answers but that will be the case this fall. The Eagles lost a ton of players and experience to graduation. Not to worry though, this is a school that has made 10 straight playoff appearances. Winning is an engrained trait in this program.
A tough schedule will test the "green" youngsters on the roster. Five of the first six opponents on the slate had winning records in 2020.
CHCA may no be in sync right out of the gate. They will improve week-to-week under head coach KC Woods' tutelage. By the time the season ends bank on the Eagles keeping their playoff streak going.
Division V, Region 20
2020 RECORD: 6-2, 3-1 MVC Scarlet
HEAD COACH: KC Woods (6-2 at CHCA, one year, 51-21 overall; six years)
TOP RETURNEES:
Colin Ames, Sr, QB – The team leader on offense and one of the premier players in the MVC. Ames was sensational as a junior. He threw for 1,228 yards, tossed 17 touchdowns passes (only two interceptions) with another 231 yards and two scores rushing. Ames was named First Team All-MVC Scarlet for his effort.
Morgan Sacay, Sr, WR/DB – Will be a factor in all three phases of the game for the Eagles. Sacay was a Second All-MVC Scarlet selection as a junior. He has 14 receptions, 202 yards receiving, two touchdown catches, two kickoff returns for touchdowns and 43 total tackles in his career.
Alex Landrum, Jr, OL/DL – The anchor and leader of o-line. Landrum has all-conference potential.
Keyshawn Walker, Sr, RB/LB – This should be a breakout senior campaign for Walker. Injuries limited him to just two games a year ago.
Matthew Rebhun, Sr, OL/LB – The leader of the CHCA defense. Rebhun has 69 total tackles, a sack, nine tackles for losses and an interception at the varsity level.
PLAYOFF HISTORY
(16 appearances, 17-16 overall) – 2020, 2019, 2018, 2017, 2016, 2015, 2014 (Regional champions), 2013, 2012, 2011, 2010, 2008, 2007, 2005 (State runner-up), 2003, 2002; 10 consecutive playoff appearances for the Eagles.
2021 SCHEDULE
Fri – 08/20/21 – at Western Hills (5-3 in 2020) – 6:30 PM
Fri – 08/27/21 – MADEIRA (6-4) – 7:00 PM
Fri – 09/03/21 – at McNicholas (5-3) – 7:00 PM
Fri – 09/10/21 – WIILMINGTON (4-4) – 7:00 PM
Sa – 09/18/21 – at Taft (4-2) – 5:00 PM
Fri – 09/24/21 – at Purcell Marian (4-5) – 7:00 PM (at Marx Stadium, Walnut Hills HS)
Fri – 10/01/21 – ROGER BACON (10-1) – 7:00 PM
Fri – 10/08/21 – SUMMIT COUNTRY DAY (4-6) – 7:00 PM
Fri – 10/15/21 – NORTH COLLEGE HILL (2-5) – 7:00 PM
Fri – 10/22/21 – at Norwood (4-6) – 7:00 PM