2021 Snapshot: Ross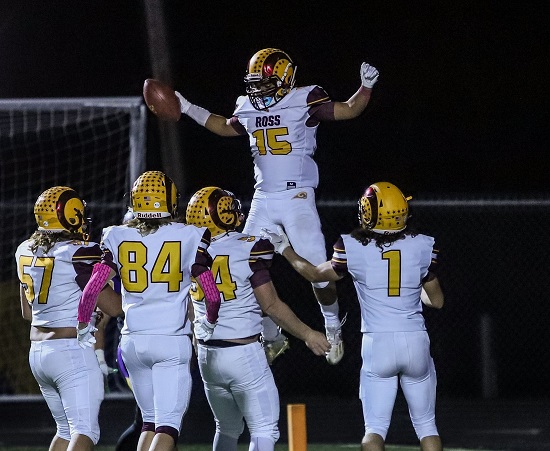 Ross RB Jaye Warren (photo by Shelby Frieszell/TriStateFootball.com)
From the outhouse to the penthouse. It is amazing to see how far Ross has come in its four years under head coach Kenyon Commins. The Rams had their most prosperous playoff run in program history, winning the schools first ever three postseason games in 2020. With a large group of seniors that graduated, Ross now looks to see if it can add on, to the foundation they built.
"We'll see how far along we've come in player development after the departure of 22 seniors. We lack in experience at some spots. Youth up front on both sides of the ball will be tough to overcome early on," Commins states.
Commins goes on, "in each of the last four years we've raised the bar for Ross football. I think we have a team, particularly a group of seniors, who are not interested in just maintaining success. They are interested in increasing our excellence academically, within the community and athletically come Friday nights in the fall."
Ross begs opponents to try and stop its triple-option offense. Last season, the Rams averaged 413.5 yards of total offense per game, of which 401.9 of it came on the ground. This is a "smash-mouth" squad and that is not going to change as long as Commins is at the helm.
Division III, Region 12
2020 RECORD: 8-2, 5-0 SWOC
COACH: Kenyon Commins (22-19 at Ross, four years; 22-19 overall, four years)
TOP RETURNEES
Landon Herrmann, Sr, OL – Will be a three-year starter and the leader of the offensive line. The 6-foot-3, 300-pound Hermann, is a physical interior player who is getting lots of college interest. He was a Second Team All-SWOC selection in 2020.
Bryson Bastin, Jr, ILB – Back for his second year as a starter. Bastin brings a great instinctual and physical presence to the Rams defense. He tallied 82 total tackles and had one-and-a-half sacks on his way to Second Team All-SWOC honors, as a sophomore.
Jaye Warren, Jr, RB – Will be one of the areas breakout performers in 2021. Warren ran for 392 yards, averaged 12.3 yards/carry and found the end zone six times last season.
Brayden Fraasman, Sr, QB/RB/LB/DB – A gifted athlete who could play just about any position on either side of the ball. Fraasman ran for 801 yards, amassed 920 all-purpose yards and had 11 touchdowns (nine rush, two rec), a year ago. He was named Second Team All-SWOC.
NEWCOMERS
Juniors DB Jack Hansel, DL Frankie Gifford along with sophomores QB/RB/DB Aidan Brown and RB/DB Riley Caldwell will be in the rotation or starters this season. Commins says Hansel "will be fun to watch" and Gifford is "freakishly strong." Brown and Caldwell are great athletes who saw meaningful varsity reps as freshmen. Brown ran for his first touchdown versus Edgewood, last fall.
PLAYOFF HISTORY
(eight appearances, 3-8) – 2020, 2019, 2011, 2009, 2001, 1997, 1995, 1993
2021 SCHEDULE
Fri – 08/20/21 – at Wilmington (4-4 in 2020) – 7:00 PM
Fri – 08/27/21 – MONROE (4-5) – 7:00 PM
Fri – 09/03/21 – at Valley View (6-3) – 7:00 PM
Fri – 09/10/21 – DUNBAR (4-3) – 7:30 PM
Sa – 09/18/21 – at Badin (8-1) – 7:00 PM*
Fri – 09/24/21 – NORTHWEST  (5-4) – 7:00 PM
Fri – 10/01/21 – TALAWANDA (3-5) – 7:00 PM
Fri – 10/08/21 – HARRISON (3-7) – 7:00 PM
Fri – 10/15/21 – at Edgewood (6-4) – 7:00 PM
Fri – 10/22/21 – at Mount Healthy (3-5) – 7:00 PM
*at Kumler Field (Edgewood HS)