2021 Snapshot: Dunbar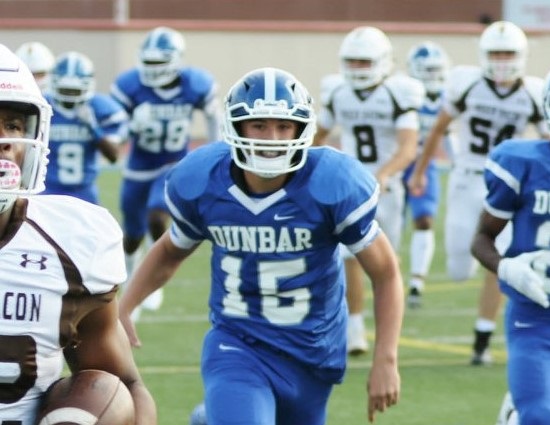 Dunbar QB Nate Roberts (photo courtesy of ScoutingOhio.com)
There may not be a team that lost more production due to graduation than Dunbar. The Wolverines will be young and unproven in 2021. There isn't a player on the roster that scored a touchdown or caught a pass last season.
There is plenty to play for. Dunbar is looking to make the playoff in back-to-back years for just the second time in program history and first since 1990-91. To make that happen the Wolverines will have to take care of business in league play and figure out a way to steal a couple of wins against a very tough non-conference schedule.
Dunbar is going to be a team of mystery and intrigue. It will be interesting to see how the season plays out. One thing is for sure, there are a ton of Wolverines who are going to get the opportunity to step up and shine.
Division III, Region 12
2020 RECORD: 4-3, 3-1 DPL
COACH: James Lacking (0-0 at Dunbar, first year)
TOP RETURNEES
Nate Roberts, Sr, QB – One of the few Wolverines that has ample varsity experience. Roberts will move to quarterback for his senior season.
Shamar Foster, Sr, DE – Provides senior leadership in the trenches.
Jaylan Sanchez, Jr, OL – Will anchor a young offensive line.
Brian Payne Jr., Jr, DL – With two years left, Payne Jr. could make himself into an all-district player. He had 24 total tackles and two sacks as a sophomore.
Keyshaun Golden, Jr, WR – Will be called upon to lead the secondary. Golden had one interception as a sophomore.
NEWCOMERS
Sophomores ATH Daivontay Young, LB Shyheim Bowman and OL Marco Chambers look to become starters. Bowman had 12 total tackles in limited time as a freshman.
PLAYOFF HISTORY
(nine appearances, 4-9) – 2020, 2017, 2010, 2008, 2002, 1995, 1991, 1990, 1986
2021 SCHEDULE
Fri – 08/20/21 – WAYNE (5-3 in 2020) – 7:00 PM
Fri – 08/27/21 – at Northmont (8-0) – 7:00 PM
Fri – 09/03/21 – at Beavercreek (2-9) – 7:00 PM
Fri – 09/10/21 – at Ross (8-2) – 7:00 PM
Fri – 09/17/21 – at Fort Loramie (7-2) – 7:00 PM
Fri – 09/24/21 – PONITZ (2-4) – 7:00 PM
Th – 09/30/21 – MEADOWDALE (0-4) – 7:00 PM
Fri – 10/08/21 – TROTWOOD-MADISON (4-1) – 7:00 PM
Th – 10/14/21 – THURGOOD MARSHALL (2-4) – 7:00 PM
Fri – 10/22/21 – BELMONT (2-3) – 7:00 PM
*ALL home games played at Welcome Stadium (Univ. of Dayton)