Schedule Sneak Peek: Trotwood-Madison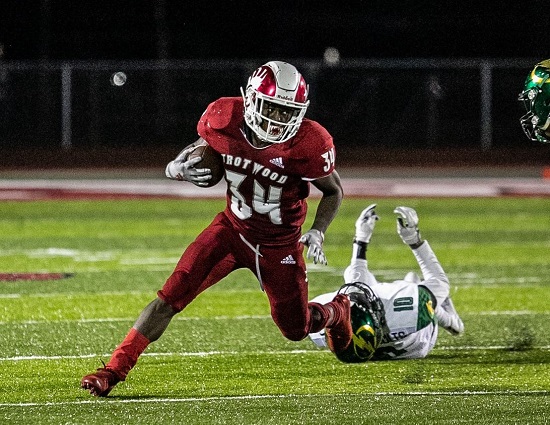 Trotwood-Madison RB Hezekiah Hudson-Davis (photo by Shelby Frieszell/TriStateFootball.com)
Being an independent makes scheduling difficult. You have to take what you can get most times and pray that you fill up all 10 regular season dates on the calendar. Trotwood-Madison has done a good job of getting that accomplished for this upcoming campaign. They have a nice blend of foes on the slate.
The teams that Trotwood-Madison will play were a combined 44-37 (.543 winning %) in 2020. That percentage is usually higher for independents because they don't have a league and its members filling up dates and usually all that is left to schedule are upper echelon schools.
The Division III Rams have contests they should handle easily and some challenging tilts. This is a program that is used to playing larger schools and it will be no different this fall. Trotwood-Madison will face two Division I schools (Fairmont, Springfield), five Division II teams (Winton Woods, Harrison, Withrow, Belmont, La Salle), two Division III squads (Ponitz, Dunbar) and a Division IV school (Thurgood Marshall). They will play four of the five Dayton Public League members.
Here is a look at the 2021 Trotwood-Madison schedule:
Fri – 08/20/21 – at Winton Woods (9-1 in 2020) – 7:00 PM
Fri – 08/27/21 – at Fairmont (4-5) – 7:00 PM
Fri – 09/03/21 – SPRINGFIELD (8-2) – 7:00 PM
Fri – 09/10/21 – at Harrison (3-7) – 2:00 PM
Fri – 09/17/21 – at Withrow (2-5) – 7:00 PM
Fri – 09/24/21 – BELMONT (2-3) – 7:00 PM
Fri – 10/01/21 – PONITZ (2-4) – TBD
Fri – 10/08/21 – at Dunbar (4-3) – 7:00 PM
Fri – 10/15/21 – LA SALLE (8-3) – 7:00 PM
Fri – 10/22/21 – THURGOOD MARSHALL (2-4) – 7:00 PM
FINAL TAKE: Trotwood-Madison got short-changed trying to defend its 2019 state title last season because of Covid. The Rams went 4-1 against their abbreviated slate. This will be a "hangry (hungry and angry)" squad. Trotwood-Madison is capable of knocking off every team on their schedule and will be playing with the motivation to do just that, every Friday night. Head coach Jeff Graham will his boys playing with chips on their shoulders. That makes them an extremely dangerous opponent. With the playoffs expanding from eight to 12 teams expect the Rams to make the postseason for a 13th consecutive year and do some damage in Region 12. Don't be surprised if they come home with their 10th regional title in the last 12 years.