2021 Snapshot: La Salle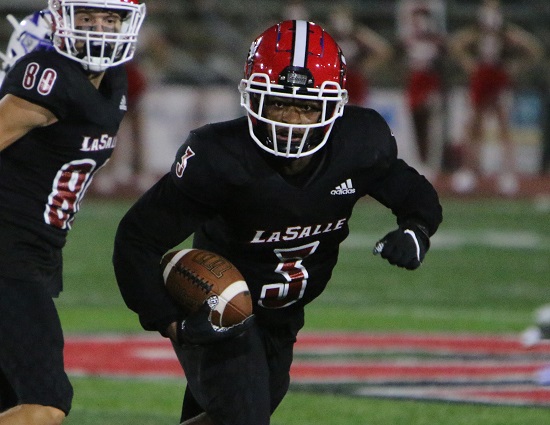 La Salle RB Gi'Bran Payne (photo by Dan Bieneke/TriStateFootball.com)
This is the golden age of La Salle football. The Lancers captured the program's fifth regional title in 2020 (all in the last seven years). Now they aim for the schools fifth state championship in the last eight campaigns.
La Salle has some big holes to fill. Gone are the OPSWA Division II Ohio Offensive Player of the Year, quarterback Zach Branam (Navy) and four members of a secondary that are going on to play at Ohio State, Alabama, Cincinnati and Miami (OH).
Still, this is a veteran Lancers team that has gone 21-5 including a 9-1 mark in the playoffs over the past two seasons. They know what it takes and how to win. "The offseason is going well. The leadership and work ethic has been great," head coach Pat McLaughlin states.

"Our offensive line and running backs should be solid with depth and experience at the positions. We have depth on the defensive line and have guys that have talent at the skills positions but need to step up," McLaughlin says.
This team needs to rely on that veteran presence because the schedule is brutal. La Salle will face three 2020 state champions – St. Xavier, Cathedral (IN) and Trinity (KY) as well as the nation's top ranked team, IMG Academy (FL). The combined 2020 record of the teams on the Lancers slate was 71-20 (.780 winning %). The challenging regular season will have this squad more than prepared for what they face from Week 11 on.
With the playoffs expanding from eight to 16 teams in each region, La Salle should make the postseason. The record will have some dents and the seed may not be as desirable as hoped but the Lancers are going to be one of the favorites to win it all in Division II.
Division II, Region 8
2020 RECORD: 8-3, 2-1 GCL South
COACH: Pat McLaughlin (36-13 at La Salle, four years; 55-25 overall, seven years)
HONOR ROLL
Paul Haywood, Sr, OL – A pillar up front over the last three seasons for the La Salle offense. The 6-foot-4, 315-pound Haywood was named OPSWA Division II First Team All-Ohio in 2020. He was an OPSWA Division II Honorable Mention All-Ohio selection as a sophomore. Haywood has an offer from Akron.
Gi'Bran Payne, Sr, RB – One of the top running backs in Ohio. Payne was hampered by a foot injury last season but still managed to rack up 594 all-purpose yards (235 rush, 178 ret, 181 rec on nine catches) and account for nine touchdowns (five rush, three rec, one pass) in seven tilts. That earned him Second Team All-GCL South acclaim. For his career, Payne has run for 1,025 yards, caught 17 balls for 322 yards, amassed 1,910 all-purpose yards, found the end zone 21 times (14 rush, six rec, one IR), recorded 43 total tackles, four sacks, three forced fumbles and two interceptions. He has offers from Alabama, Akron, Boston College, Cincinnati, Florida, Georgia Tech, Indiana, Iowa, Iowa State, Kent State, Kentucky, Louisville, Maryland, Miami (OH), Michigan, Michigan State, Minnesota, Northwestern, Notre Dame, Penn State, Pitt, Purdue and Wisconsin.
Mason Luensman, Jr, K – Had an excellent varsity debut connecting on 45/46 extra points and all seven of his field goal attempts to finish with 66 points as a sophomore. Luensman had at least four points in all 11 of the Lancers games on his way to being a OPSWA Division II Second Team All-Southwest District selection.
Logan Forcum, Sr, P – Averaged 36.4 yard per punt on his way to OPSWA Division II Second Team All-Southwest District accolades in 2020.
JJ Ruffin, Sr, LB – Had an outstanding junior season with 56 total tackles and five-and-a-half sacks. That earned Ruffin First Team All-GCL South honors.
Austin Rack, Sr, OL – Back for his third year as a starter, Rack is one of the anchors of a veteran o-line. He was named First Team All-GCL South as a junior.
Ryan Reynolds, Sr, OL – Helped pave the way for a Lancers offense that averaged 233.0 yards and scored 33 touchdowns rushing in 11 games last fall. Reynolds earned First Team All-GCL South honors for his efforts.

OTHER RETURNEES
Mackie Johnson, Sr, DL – Will bring much needed senior leadership to the d-line.
Garrett Patterson, Sr, WR/RS – Will be used as a receiver and return man. Patterson ran for his first varsity touchdown in the playoffs against Anderson last season.
JD Wallace, Sr, LB – Will slide into the rotation at linebacker. Wallace tallied 16 total tackles as a junior.
Chase Stein, Sr, LB – In limited action due to injuries as a junior, Stein recorded 20 total tackles and recovered two fumbles in six games.
Tristan Wolf, Sr, LB – Showed a lot of promise with 18 total tackles and one-and-a-half sacks in seven games as a junior.
NEWCOMERS
After biding their time behind some very good players who have now graduated seniors RB/DL Davay Hill, QB/DB Cam Cope, DB Jack Fries, LB Reece Robinson, OL Nilaja Johnson, TE Dylan Eddings, WR Jaden Troehler along with juniors QB Mason Mattingly, RB Jaylen Grant and CB BJ Ross now get their chance to step up and shine on Friday nights.
Mattingly, a transfer from Mason and Cope will compete for the starting quarterback role. If Mattingly wins the job, Cope will move into the rotation in the La Salle secondary. Hill ran for a touchdown in three different playoff games as a junior.
PLAYOFF HISTORY
(10 appearances, 26-6) – 2020 (Regional Champion), 2019 (State Champion), 2017, 2016 (State Champion), 2015 (State Champion), 2014 (State Champion), 2010, 2004, 2002,1985
2021 SCHEDULE
Fri – 08/20/21 – COLERAIN (6-3 in 2020) – 7:00 PM
Fri – 08/27/21 – WINTON WOODS (9-1) – 7:00 PM
Fri – 09/03/21 – IMG Academy (FL)(8–0) – 7:00 PM
Fri – 09/10/21 – at Trinity (KY)(10-0) – 7:00 PM
Fri – 09/17/21 – DUPONT MANUAL (KY)(3-2) – 7:00 PM
Fri – 09/24/21 – at Moeller (3-6) – 7:00 PM
Fri – 10/01/21 – CATHEDRAL (IN) (13-1) – 7:00 PM
Fri – 10/08/21 – at  St. Xavier (10-2) – 7:00 PM
Fri – 10/15/21 – at Trotwood-Madison (4-1) – 7:00 PM
Fri – 10/22/21 – ELDER (5-4) – 7:00 PM