2021 Snapshot: Winton Woods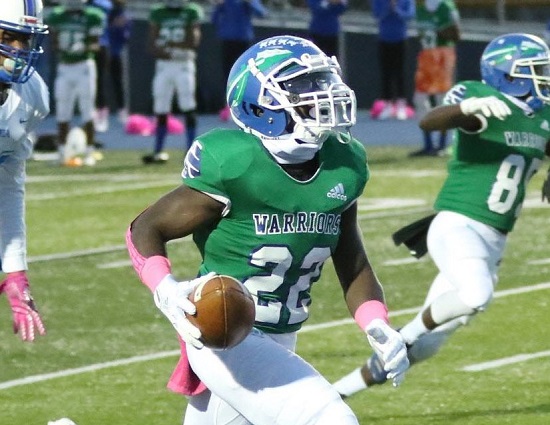 Winton Woods RB TyRek Spikes (photo courtesy of ScoutingOhio.com)
A new era begins at Winton Woods. The Warriors welcome new head coach, Chad Murphy. He becomes the schools third head coach in the last 18 years. The program has been a model of success and consistency in that span. Don't expect that to change under Murphy's watch.
Winton Woods will be a joy to watch on offense. They have electrifying running backs and an offensive line that is going to be tough for foes to penetrate. The Warriors will have no problems putting points on the scoreboard.
Defensively, this team has leadership voids to fill. The good news is that there are seniors who have plenty of game experience who have been waiting for their time to standout on Friday nights.
When the regular season comes to an end Winton Woods will be on of the favorites to bring home a Region 8 title. The Warriors are a team that no one will want to face in the playoffs.
Division II, Region 8
2020 RECORD: 9-1, 5-0 ECC
COACH: Chad Murphy (0-0 at Winton Woods, first year; 33-58 overall, nine years)
HONOR ROLL
TyRek Spikes, Sr, RB – An elite playmaker who can change a game any time he touches the ball. Spikes ran for 983 yards, amassed 1,465 yards, averaged 27.9 yards on 13 kickoff returns while finding the end zone 15 times (13 rush, two KRs) last season. Six of Spikes' touchdowns were 53-yards or longer including three of 90-plus yards (two KRs). He earned OPSWA Division II Second Team All-Southwest District honors for the effort.
Will Edwards, Sr, OL – The leader of an o-line that helped the Warriors generate 317.6 yards of total offense per game in 2020. Edwards was named OPSWA Division II Second Team All-Southwest District for his work.
Seven Blue, Sr, LB – One of the state's best linebackers in Division II. Blue was an OPSWA Division II Honorable Mention All-Ohio selection after recording four sacks and three takeaways (two FRs, one INT) as a junior.
Jayron Gibson, Sr, DL – A centerpiece of a defense that allowed just 13.7 points per contest a year ago. Gibson tallied three-and-a-half sacks on his way to Second Team All-ECC honors last fall.
OTHER RETURNEES
Emoni Steele, Sr, RB – Will team with Spikes to make one of the most dynamic running tandems in Cincinnati. Steele has 533 yards and eight touchdowns rushing in his career.
Antonio Turner Jr., Sr, WR – An explosive receiver that will see his speed showcased this fall. Turner Jr. had 13 receptions for 297 yards and three touchdowns (two were of 70-plus yards) as a junior.
Quentin Jenkins Jr., Sr, DB – Gets his chance to shine after the graduation of a spotlight stealing secondary in 2020. Jenkins Jr. had a fumble recovery and an interception as a junior.
Maurice Daniels, Sr, DB – Will be a leader of the secondary. Daniels had his first career interception against Turpin a year ago.
Derrick Lawson, Sr, WR – Will see more targets as a senior. Lawson had five catches for 81 yards and a touchdown in six games last season.
Terren Macklin, Jr, DL – Joins Gibson to make quite a formidable tandem in the middle of the Warriors defensive line. The 6-foot-one, 285-pound Macklin had two sacks and a pair of short touchdown runs as a sophomore.
Drew Thompson, Sr, OL – A returning starter. Thompson helped pave the way for a rushing attack that that ran for 28 touchdowns and churned out 197.0 yards per contest on the ground.
Logan Lawson, Sr, QB – Only played in three games last season after transferring from Northwest. Lawson who threw for 681 yards and seven touchdowns as a sophomore will compete for the starting job at quarterback.
NEWCOMERS
A trio of players senior OL Damarion Stone, sophomore WR/ATH Tra'Mar Harris and transfer QB/ATH Buddy Ellery should make immediate contributions for the Warriors. The 6-foot-8, 315-pound Stone is only going to make the Winton Woods running game that much harder to stop.
PLAYOFF HISTORY
(12 appearances, 20-11) – 2020, 2018 (Regional Champion), 2017 (State Runner-up), 2013, 2012, 2010, 2009 (State Champion), 2008, 2007, 2006, 2005, 1998
2021 SCHEDULE
Fri – 08/20/21 – TROTWOOD-MADISON (4-2 in 2020)– 7:00 PM
Fri – 08/27/21 – at La Salle (8-3) – 7:00 PM
Fri – 09/03/21 – KINGS (7-1) – 7:00 PM
Fri – 09/10/21 – at Lebanon (4-6) – 7:00 PM
Fri – 09/17/21 – WEST CLERMONT (3-5) – 7:00 PM
Fri – 09/24/21 – MILFORD (4-4) – 7:00 PM
Fri – 10/01/21 – at Anderson (7-3)– 7:00 PM
Fri – 10/08/21 – at Turpin (5-2) – 7:00 PM
Fri – 10/15/21 – WALNUT HILLS (2-5) – 7:00 PM
Fri – 10/22/21 – at Loveland (1-6) – 7:00 PM