2021 Snapshot: Batesville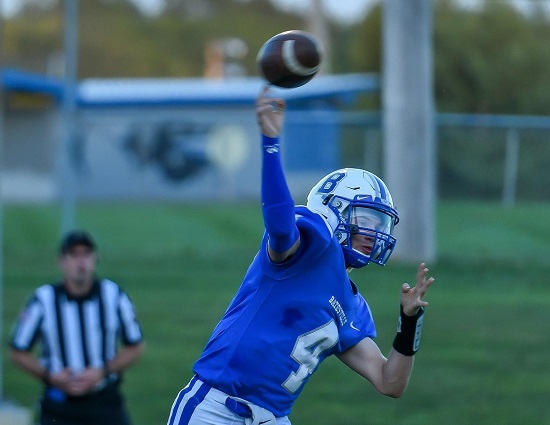 Batesville QB Travis Lecher (photo by: Rich Fowler-Brush & Palette Photography)
They aren't accustomed to failing at Batesville. The Bulldogs are coming off back-to-back losing seasons for the first time since 2011-2012. They are the only four years below .500 campaigns in the 21st century for the program. This squad is determined to change all of that.
"We bring back a lot of experience with 14 seniors that includes six players that have started games since they were sophomores. This is a tight knit group that plays for one another. They are focused on bouncing back after two subpar seasons," head coach Evan Ulery states.
The Batesville defense will have speed on the edges to get after opposing quarterbacks and the overall athleticism to match-up on the perimeter. The big question marks will be who will fill some big voids on the offensive and defensive lines.
On offense, the Bulldogs need someone to emerge at running back and carry the ball to take pressure off Lecher. There is a stable of candidates capable of making that happen.
The Batesville skills positions players match up well with the other EIAC teams. They should propel the Bulldogs back to their winning ways but staying healthy is a must for that to happen. Like most teams depth is a concern especially in the trenches.
Class 3A, Sectional 31
2020 RECORD: 4-6, 1-2 EIAC 3A
COACH: Evan Ulery (29-25 at Batesville, five years; 29-25 overall)
HONOR ROLL
Travis Lecher, Sr, QB/DB – Back for his third season as the Bulldogs starting quarterback. Lecher was named Class 3A All-EIAC as a junior. Lecher has amassed 3,133 yards of total offense (2,044 pass, 1,089 rush) and accounted for 38 touchdowns (21 rush, 17 pass) in his career. He also has three interceptions.
OTHER RETURNEES
Chase Hamilton, Sr, OT/DT – A three-year starter who displays a good blend of strength with some speed and athleticism as a lineman. Hamilton has 140 total tackles in his career.
Ulery on Chase Hamilton: A versatile defender who can play on the inside or outside of the line. Hamilton is also athletic enough to play back as a linebacker if necessary.
Vonley Hund, Sr, TE/OLB – A long and rangy athletic player who provides the Bulldogs offense and defense some versatility. Hund had 51 total tackles and three-and-a-half tackles for losses as a junior.
Ulery on Hund: On offense, Vonley is strong enough to be an added blocker but can also make plays with his hands and legs. Defensively, he plays well in space and is stout in the run game.
Jacob Meer, Sr, WR/CB – Will be one of the primary targets for Lecher. Defensively, Meer will likely assume the responsibilities of guarding the opposing team's top receiver, each week. He had 23 total tackles and two interceptions in 2020.
Ulery on Roell Jacob Meer: His long 6-foot-3 frame gives him the ability to go up and get the ball.
Nate Deputy, Sr, TE/DE – Had a solid junior season. Deputy led the team with two sack, tallied 40 total tackles (19 solo) and had four-and-a-half tackles for losses.
Ulery on Deputy: Nate plays with a high motor and is relentless.
Will Meer, Sr, RB/ILB – Despite missing games early last season, Meer played well down the stretch defensively for the Bulldogs. He recorded 29 total tackles (15 solo). Ulery on Will Meer:  Will has big shoes to fill as he is the front runner to assume the void left by Austin Pohlman. Meer has filled the void before when he stepped in during the 2019 season when Pohlman missed time, but unfortunately an injury limited that time.
Braiden Foster, Sr, K/P – Foster will be a three-year starter at both punter and kicker in 2021. Foster was 26/28 on extra points and connected on 3/4 field goal attempts with a long of 39 yards last season.
Brady Hornberger, Sr, WR/S – Hornberger started most of the year at safety as a junior. He recorded finished the campaign with 18 total tackles (14 solo).
Ulery on Hornberger: Brady is the front runner to play the weak side safety position.
Josh Mobley, Sr, DE/LB – Came on strong late last season with seven total tackles, a sack and a pair of fumble recoveries.
Ulery on Mobley: Josh will compete for a starting inside linebacker position but is also strong enough to play at defensive end, where he ended the 2020 season.  Mobley is undersized with a 160-pound frame but he uses his wrestling background to help him in the trenches.
Nick McConnell, Jr, OL/DT – McConnell stepped up to the varsity level as a sophomore and held his own.
Ulery on McConnell: Nick has continued to grow and get stronger in the off-season. He will compete to be the left tackle but has the versatility to play all five spots on the line. Defensively, McConnell will play on the inside to help anchor the defensive front.
Blake Hon, Jr, OL/DT – Earned his first varsity while recording an entire year in the varsity trenches as a sophomore.
Ulery on Hon: Blake will be a solid piece at either guard or tackle as he has the versatility to play either. Defensively, he will look to get many reps on the inside alongside fell classmate McConnell and senior Hamilton.
Trenton Roell, Sr, TE/ILB –Earned some valuable varsity reps when senior Jeremiah Lemmel missed time early in the 2020 season.  He finished the campaign with 38 total tackles and one-and-a-half.
Ulery on Roell: Roell is instinctive, quick and a leader. He is the front-runner to lead the linebacking crew in 2021. He could be the breakout player for the Bulldogs in 2021.
Luke Wilson, Sr, WR/S – Back for his third year as the Bulldogs starter at free safety, in the secondary. Wilson led the team with five-and-a-half tackles for losses and tallied 55 total tackles (41 solo), last fall. He had five receptions for 111 yards on offense.
Ulery on Wilson: Luke does a great job in run support.
NEWCOMERS
Brady Westerfeld, Sr, WR – A long athletic player who played his first year of football ever in 2020. Westerfeld had a solid junior varsity season leading the Bulldogs in receptions, touchdowns and interceptions.
Ulery on Westerfeld: Brady has the ability to jump in and compete for a starting position to fill the voids left by the graduations of Kurt Siefert and Trey Peters. 

Quinn Steinkamp, Sr, OL/DT – One of the strongest players on the Bulldogs roster.
Ulery on Steinkamp: Quinn filled in a couple times during the 2020 season due to injury/illness and played well. He is a front runner to grab one of the two voids on the offensive line after the graduations of Colt Swingle and Karson Macke.
Alex Murphy, Sr, S – A gritty and scrappy player.
Ulery on Murphy: Alex's toughness will have him in position to compete for one of the starting positions in the secondary and be a key contributor to the Bulldogs defense.
Evan Williamson, Sr, RB/ILB – A speedy and strong running back that had a solid junior varsity season in 2020.
Ulery on Williamson: He will compete for the starting job this summer.
Deacon Hamilton, So, RB/LB – The coaching staff has seen huge improvements for Hamilton in the weight room and with his overall speed this offseason.
Ulery on Deacon Hamilton: Deacon has the ability to compete for the starting running back position as well as be a key contributor for the linebacking crew at both the inside and outside positions.
PLAYOFF HISTORY (44-37)
Sectional Champion (nine) – 2015, 2009, 2006, 2005, 2004, 2003, 2002, 2001 & 1986.
Regional Champion (one) – 1986.
2021 SCHEDULE
Fri – 08/20/21 – INDIAN CREEK (6-4 in 2020) – 7:00 PM
Fri – 08/27/21 – MILAN (7-4) – 7:00 PM
Fri – 09/03/21 – at South Dearborn (4-5) – 7:00 PM
Fri – 09/10/21 – RUSHVILLE (0-9) – 7:00 PM
Fri – 09/17/21 – EAST CENTRAL (8-3)– 7:00 PM
Fri – 09/24/21 – at Lawrenceburg (11-2) – 7:00 PM
Fri – 10/01/21 – at Greensburg (6-5) – 7:00 PM
Fri – 10/08/21 – FRANKLIN COUNTY (6-3) – 7:00 PM
Fri – 10/15/21 – at Connersville (2-7) – 7:00 PM
Fri – 10/22/21 – TBD: IHSAA Sectional 31 Playoffs