2021 Snapshot: Milan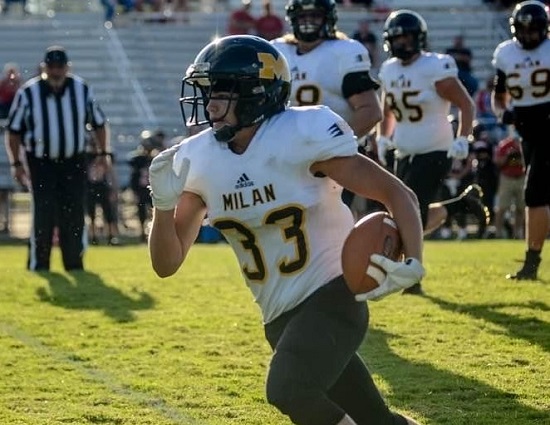 Milan RB Logan Reed (photo by Teri Barker)
For the first time in a while Milan will be playing as an independent. That has already presented challenges. Eight of the nine teams on the schedule are all larger schools, including all four schools from the EIAC Class 3A division. That won't phase this team, they will just play with a chip on their shoulder.
"We have a lot of talent but not many guys returning with experience. The roster is approaching 60 players, which is good for a school our size," head coach Ryan Langferman states. Numbers are important for healthy competition. That will be a plus for Milan.
Langferman goes on to say. "We've had a strong offseason in the weight room. New coaching additions, Zach Hensel and Sam Simpkins will be assets."
Milan is a rock-solid small school program. Langferman will have this team well-prepared. Expect the Indians to be competitive week in and week out, despite the inexperience and youth.

Class 1A, Sectional 47
2020 RECORD: 7-4
COACH: Ryan Langferman (94-56 at Milan, 13 years; 94-56 overall)
TOP RETURNEES
Riley Johnson, Jr, RB/SS – Will play both ways and should see his productivity increase significantly on offense. Johnson has six rushing touchdowns, 48 total tackles, a sack and three fumble recoveries, at the varsity level.
Caiden Yorn, Sr, OL/LB – Will provide much needed senior leadership for this team. Yorn tallied 59 total tackles, had an interception and averaged 36.4 yards on 30 punts, in 2020.
Logan Reed, Jr, RB – Will be the centerpiece of the Milan offense, especially early on. Reed ran for 700 yards and 10 touchdowns, as a sophomore.
Alec Barker, Jr, H-back/LB – An important part of the Indians front six on defense. In his first year as a starter, Barker was in on 44 total tackles, had a sack and an interception, as a sophomore.
Braylon Nudds, Jr, OL – A returning starter up front who helped the Indians amass 341.8 yards of total offense per game and find the end zone 49 times (23 pass, 26 rush), in 2020.
Alex Wenger, Jr, DE – A high motor guy who puts a ton of pressure on opposing backfields. In two years as a starter, Wenger has 91 total tackles, five-and-a-half sacks and 23.0 tackles for losses.
NEWCOMERS
Juniors QB Brayden Rohrig, DL Jonathon Aldridge, OL/DL Nolan Ryan along with sophomores TE/LB Ethan Pierce, SS Logan Burton and QB/WR/FS Mason Green will all be expected to contribute right out of the gate. Rohrig and Green will battle for the starting quarterback position.
PLAYOFF HISTORY
(41-36)
Sectional Champion (six) – 2016, 2011, 2010, 2000, 1996 & 1995.
Regional Champion (one) – 1996.
2021 SCHEDULE
Fri – 08/20/21 – RUSHVILLE (0-9 in 2020) – 7:00 PM
Fri – 08/27/21 – at Batesville (4-6) – 7:00 PM
Fri – 09/03/21 – LAWRENCEBURG (11-2) – 7:00 PM
Fri – 09/10/21 – at Madison (3-7)– 7:00 PM
Fri – 09/17/21 – at New Miami (OH) (5-1) – 7:00 PM
Fri – 09/24/21 – EASTERN HANCOCK (4-6) – 7:00 PM
Fri – 10/01/21 – at Providence (4-6) – 7:00 PM
Fri – 10/08/21 – GREENSBURG (6-5) – 7:00 PM
Fri – 10/15/21 – at Switzerland County (3-6) – 7:00 PM
Fri – 10/22/21 – TBD: IHSAA Class 1A, Sectional 47 Playoffs