2021 Snapshot: New Miami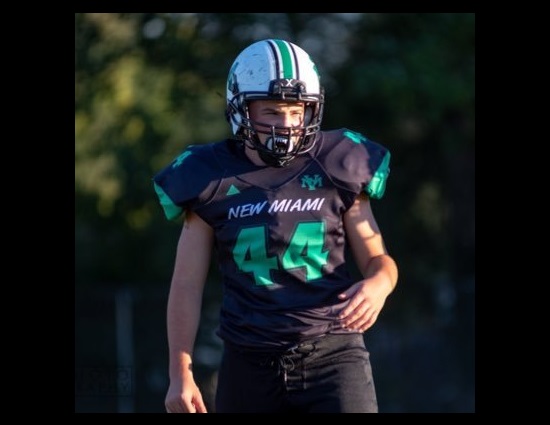 New Miami TE/LB Josh Woods (photo from Twitter: @jwoods4416)
Football life has never been better, than right now, at Little Miami. The Vikings have won three straight MVC Gray championships, made three consecutive playoff appearances and won their first ever postseason game last year. Not bad considering the school had only been to the playoffs once in its history. This senior class now aims to put their stamp on the program and have their mic drop moment.
New Miami will have to win games in the trenches and that is where its strength lies. "Our offensive and defensive lines are almost all back from last year and they are big and strong," head coach Andy Stuckert states.
The defense will set the tone for this team. Since Week 6 of 2018 the Vikings have allowed just 12.4 points per game. They are 20-3 in that span with all three losses being in the postseason.
Who is going to answer the call on offense? The Vikings only have three players on the roster that have scored touchdowns – Tug Jones (two), Nate Ciavarelli (one), Jayden Strong (one). It may take several games before the teams starts to find its identity on this side of the ball. "We graduated one of the best classes of athletes in New Miami history. For that reason, we will be very young at skill positions but have a rising freshmen class that is super talented," Stuckey says.
The last three years New Miami's season has ended at the hands of the regional champions. The Vikings understand how good they need to be and how far the envelope has to be pushed. Despite the youth in some spots, this team will get its berth in the playoffs, for a fourth consecutive season.
Division VII, Region 28
2020 RECORD: 5-1, 3-0 MVC Gray
HEAD COACH: Andy Stuckert (5-1 at New Miami, one year, 5-1 overall)
HONOR ROLL
Nate Ciaverella, Sr, DL – Back for his fourth year as a starter, Ciaverella is the heart-and-soul of the Vikings defense. He was named OPSWA Division VII Third Team All-Ohio as a junior.
Jarrod Caldwell, Sr, OL – A four-year starter and the anchor of the offensive line. The 6-foot-3, 310-pound Caldwell is a two-time Second Team All-MVC Gray performer.
Tug Jones, Sr, OL/DL – Has played a major role in New Miami's success over the past two campaigns. He was named Second Team All-MVC Gray as a junior and Honorable Mention All-MVC Gray as a sophomore.
Jose Chavarria, Sr, LB – A stud in the middle of the defense, Chavarria has all- district potential. He was an Honorable Mention All-MVC Gray selection as a junior. Chavarria has five sacks and two fumble recoveries in his career.
Daymeon Pennington, Jr, OL/DL – The sky is the limit over the next two seasons for this Vikings rising star. Pennington was named Honorable Mention All-MVC Gray as a sophomore.
OTHER RETURNEES
New Miami is looking for more production and leadership from seniors OL/DL Jacob Meyers, TE/LB Jerrick Holland along with juniors DL Preston O'Neal, DL Dontez O'Neal, OL/DL Cameron Foister and TE/LB Josh Woods. The coaching staff feels like all of these players will make a huge leap forward in 2021.
NEWCOMERS
Juniors OL/DL James Hamrick, RB/WR/DB Jayden Strong, OL/DL Jackson Caldwell as well as sophomore QB Mason Stephens will all get the opportunity to crack the starting lineup. Strong had his first varsity touchdown on an 85-yard reception last season against Cincinnati Country Day.
PLAYOFF HISTORY
(four appearances, 1-4) – 2020, 2019, 2018, 2008
2021 SCHEDULE
Sa – 08/21/21 – at Gamble Montessori (2-5 in 2020) – 6:00 PM*
Fri – 08/27/21 – LANDMARK CHRISTIAN (0-0) – 7:00 PM
Fri – 09/03/21 – at Fayetteville-Perry (5-3) – 7:00 PM
Fri – 09/10/21 – HILLTOP (0-8) – 7:00 PM**
Fri – 09/17/21 – MILAN (IN) (8-3) – 7:00 PM
Fri – 09/24/21 – CLARK MONTESSORI (3-3) – 7:00 PM
Fri – 10/01/21 – at Cincinnati Country Day (0-6) – 7:00 PM
Fri – 10/08/21 – MVCA (1-4) – 7:00 PM
Sa – 10/16/21 – at St. Bernard-Elmwood Place (6-4) – 7:00 PM**
Fri – 10/22/21 – LOCKLAND (3-4) – 7:00 PM
*at Stargel Stadium, Taft HS
**Bron Bacevich Stadium, Roger Bacon HS