2021 Snapshot: Fayetteville-Perry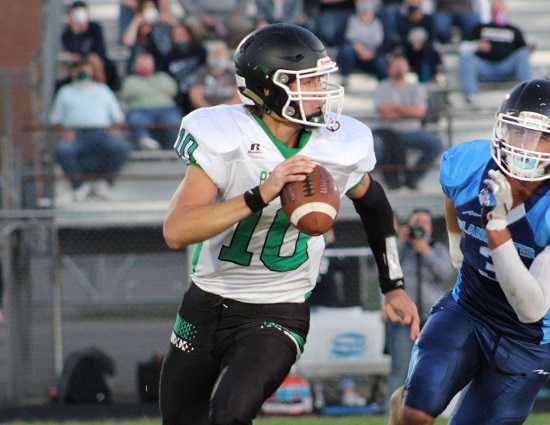 Fayetteville-Perry QB Levi Wiederhold
Sitting out in the far reaches of Brown County little Fayetteville-Perry is a program on the rise. The Rockets are proving they are a force to be reckoned with in Region 28. They are doing it in entertaining fashion under head coach Wayne Stacy.
"This is an exciting time to be a part of the Fayetteville Football Program. We have an explosive and developing passing game. On defense, we have an experienced and athletic secondary," Stacy states.
The Rockets averaged 30.5 points per game in 2020. Defensively, Fayetteville-Perry will put pressure on opposing quarterbacks as 19.0 sacks led to 20 takeaways (14 INTs) a year ago.
For the Rockets to take the next step, Stacy knows there are things to work on. "Our young offensive and defensive lines need to develop early."  If they do this team will be dangerous come playoff time. Winning their first game(s) in the postseason is a very attainable goal for this group.
Division VII Region 28
2020 RECORD: 5-3, 3-2 SBAAC National
COACH: Wayne Stacy (9-9 at Fayetteville-Perry, two years; 10-28 overall, four years)

TOP RETURNEES
Jayden Bradshaw, Sr, WR/DB – One of the best all-around small school players in the state. Bradshaw caught 36 balls for 600 yards, amassed 1,015 all-purpose yards, found the end zone 12 times (11 rec, one rush), forced a fumble and had five interceptions as a junior. He was named OPSWA Division VII Third Team All-Ohio (WR) for his work.
Levi Wiederhold, Sr, QB/DB – May just be the best signal-caller that no one knows about in Southwestern Ohio. Wiederhold was a OPSWA Division VII Third Team All-Ohio selection after throwing for 1,729 yards, running for 355 yards and accounting for 27 touchdowns (20 pass, seven rush) in just eight games last fall. In 14 career starts at quarterback, Wiederhold has racked up 3,040 yards of total offense (2,444 pass, 596 rush), completed 59.1% of his passes and accounted for 39 touchdowns (29 pass, 10 rush).
Blake Coffman, Sr, WR/LB – A valuable and versatile asset for the Rockets. Coffman is a two-time Honorable Mention All-SBAAC National selection. He heads into his senior year with 220 yards rushing, 59 receptions, 679 yards receiving, eight touchdown catches, four sacks, two forced fumbles, two fumble recoveries and two interceptions in a Fayetteville-Perry uniform.
Tanner Fleming, Sr, OL – The anchor of the Rockets offensive line. Fleming returns for his third year as a starter.
Tyler Tipis, Sr, WR/DB – Had a breakout junior season with four interceptions, 17 receptions for 202 yards and one touchdown catch. Tipis earned OPSWA Division VII Third Team All-Ohio (DB) for the effort.
PLAYOFF HISTORY
(one appearance, 0-1) – 2020
2021 SCHEDULE
Fri – 08/20/21 – at Cedarville (3-7 in 2020) – 7:00 PM
Fri – 08/27/21 – GAMBLE MONTESSORI (2-5) – 7:00 PM
Fri – 09/03/21 – NEW MIAMI (5-1) – 7:00 PM
Fri – 09/10/21 – at Portsmouth Notre Dame (3-4) – 7:00 PM
Fri – 09/17/21 – SYMMES VALLEY (5-3) – 7:00 PM
Fri – 09/24/21 – at Williamsburg (3-7) – 7:00 PM
Fri – 10/01/21 – at East Clinton (4-6) – 7:00 PM
Fri – 10/08/21 – at Clermont Northeastern (2-8) – 7:00 PM
Fri – 10/15/21 – BLANCHESTER (6-2) – 7:00 PM
Fri – 10/22/21 – BETHEL-TATE (7-3) – 7:00 PM