2021 Snapshot: Clermont Northeastern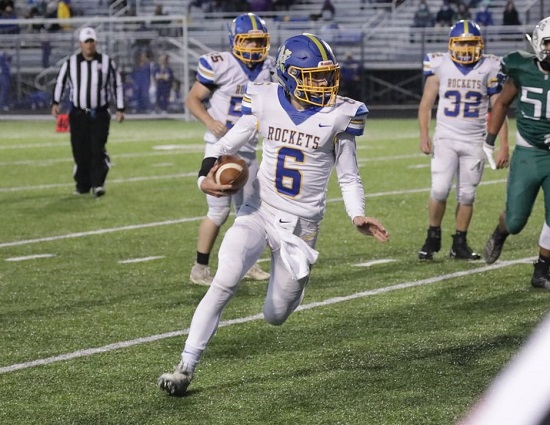 Clermont Northeastern QB/DB Kris Jenkins (photo from Facebook: bhssportspage)
It was a step back for Clermont Northeastern in 2020. After three straight winning seasons the Rockets managed just a pair of victories last fall. Once the hunter, CNE did not handle being the hunted very well.
After his first season as head coach, Steve Thompson has let it be known that he wants his players need to be accountable for their performance on the field. "We have adopted the mentality of, win the play, win the game, regardless of the size of the opponent, their strength or speed. We focus on beating the man across from us. If you beat us, you got it honest. You will not outwork or outhustle us."
The defense must step up if Clermont Northeastern wants to return to its winning ways. The Rockets allowed 35.5 points per game last season. The offense has weapons and should be very entertaining. Only time will tell if Thompson's boys adhere to his philosophy.

Division V, Region 20
2020 RECORD: 2-8, 1-4 SBAAC National
COACH: Steve Thompson (2-8 at Clermont Northeastern, one year; 2-8 overall)
TOP RETURNEES
Damien Kistler, Sr, WR – One of the top receivers in the SBAAC. Kistler had 37 receptions for 657 yards, four touchdown catches, four games of 100-plus yards receiving, a punt return for a touchdown and two interceptions in 2020. He was named Second Team All-SBAAC National for the effort.
Kris Jenkins, Sr, QB/RB/DB/RS – A stats sheet filler and jack-of-all-trades luxury for CNE. Jenkins threw for 649 yards, ran for 109 yards, caught 28 passes for 268 yards, accounted for 11 touchdowns (eight pass, one rush, two rec), had two interceptions and averaged 36.6 yards on 16 punts as a junior…..WHEW!
Jake Mott, Jr, RB/DB – Will be a major contributor on both sides of the ball for the Rockets. Last season Mott ran for 287 yards, had a touchdown rushing, five receptions for 108 yards, a sack and three fumble recoveries.
Andrew McIntosh, So, RB/LB – A starter as a freshman. McIntosh ran for a pair of touchdowns and had two sacks in his varsity debut.
Mitch Braden, So, WR/DB – Lettered as a freshman and will start this fall. Braden scored his first varsity touchdown on a 62-yard reception (his only catch of the year) against Batavia.
PLAYOFF HISTORY
(one appearance, 0-1) – 2020
2021 SCHEDULE
Fri – 08/20/21 – at Clark Montessori (3-3 in 2020) – 7:00 PM (at Angus King Stadium, Withrow HS)
Fri – 08/27/21 – MVCA (1-4) – 7:00 PM
Fri – 09/03/21 – BATAVIA (2-6) – 7:00 PM
Fri – 09/10/21 – at Summit Country Day (4-6) – 7:00 PM
Fri – 09/17/21 – HILLSBORO (2-8) – 7:00 PM
Fri – 09/24/21 – at Blanchester (6-2) – 7:00 PM
Th – 09/30/21 – at Bethel-Tate (7-3) – 7:00 PM
Fri – 10/08/21 – FAYETTEVILLE-PERRY (5-3) – 7:00 PM
Fri – 10/15/21 – EAST CLINTON (4-6) – 7:00 PM
Fri – 10/22/21 – at Williamsburg (3-7) – 7:00 PM
NEEDED: ROCKET FUEL
Clermont Northeastern has not beaten a team that has finished a season with a record over .500 in the 21st century.