2021 Snapshot: Lawrenceburg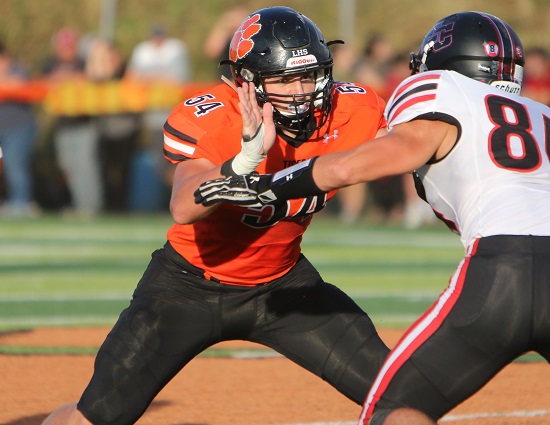 Lawrenceburg OL/DL Ashton Craig (photo by Dan Bieneke/TriStateFootball.com)
The season can't get here soon enough for Lawrenceburg fans. The Tigers a legitimate contender to win the Indiana Class 3A title. This team has all the ingredients make it a season to remember for years to come.
"This team has a chance to have a great season. We must remain healthy and get better every week. We know and understand everything needs to be earned. Nothing will be handed to us. If we stay healthy and take care of business, it should be another fun year in Tiger Town," head coach Ryan Knigga states.
As for the Lawrenceburg personnel, Knigga goes on to say, "this team has great leadership. When you look at the guys who will be out there playing, we have a ton of experience and players who have played in a ton of big games. Our offensive line will be very solid. We will be able to run the ball and throw the ball which should help us keep opposing defenses off balance. I like our athleticism and I think we are fast. We have some kids who can move and will be fun to watch. We have playmakers, guys that can expose people."
"Defensively we will be able to hold the fort down and get the ball to our offense. We have guys who can play downhill and make tackles. We have guys in the trenches can hold up and keep our second level guys clean. Our secondary can lock people down and run with anyone."
Like any team, the Tigers do have some concerns. "I would say that we will be breaking a few new players in at key positions. With that being said, we will do that early and by the end of the season, they will be good players. We will need to get some help in the kicking game. We lost some good guys that could kick the ball," Knigga says.
Lawrenceburg will be looking to win its fifth sectional title in the last six years and first regional crown since 2016. Those are very feasible goals to accomplish. You can bet on the Tigers wanting to achieve even more than that.
Class 3A, Sectional 31
20202 RECORD: 11-2, 3-0 EIAC 3A
COACH: Ryan Knigga (88-33 at Lawrenceburg, 10 years; 88-33 overall)

HONOR ROLL
Garrett Yoon, Sr, QB – One of the best quarterbacks in the Tri-State area. Yoon is a very dynamic player who can sling it, as well as, run it. He is very good decision maker, a leader, a competitor and a hard-nosed player. Yoon threw for 2,252 yards, ran for 1,083 yards and accounted for 41 touchdowns (27 pass, 14 rush), in 2020. He was named both the EIAC Class 3A Offensive Player of the Year and the TriState Football Indiana Offensive Player of the Year, for a second straight season. Yoon was also selected to the IFCA Class 3A Junior All-State Team (RB), last fall. A three-time Class 3A All-EIAC performer, Yoon is Lawrenceburg's all-time leader in passing yards (6,722) and passing touchdowns (69). He currently sits at #7 in school history, in rushing yards (2,781 – #1 by a quarterback).
By The Numbers: Garrett Yoon
Ashton Craig, Sr, OL/DL – One of the top linemen in the state of Indiana. A very big, strong athletic player who can move well and plays with a chip on his shoulder. Craig makes an impact on both sides of the ball. He was named to the IFCA Class 3A Junior All-State Team (OL), Second Team All-TriState Football and Class 3A All-EIAC (OL), as a junior. Craig was named Class 3A All-EIAC (DE), as a sophomore. He has 63 total tackles, five sacks and 11.0 tackles for losses, in his career. The 6-foot-5, 265-pound stud, has verbally committed to Notre Dame.
Dahya Patel, Sr, WR – A very explosive receiver with great hands who makes plays. Patel can run any route on the tree. He had 59 receptions for 1,118 yards and 11 touchdowns, as a junior. Patel was named to the IFCA Class 3A Junior All-State Team (WR), Second Team All-TriState Football (WR) and Class 3A All-EIAC (for second straight year), for his work. He heads into his senior campaign with 73 receptions for 1,494 yards and 18 touchdowns.
Aiden Gilmour, Sr, WR/DB – Is always one of the most athletic players on the field. Gilmour is a deep ball target, who has excellent hand and runs good routes. On defense, he is a lockdown corner who was named the EIAC Class 3A Defensive Player of the Year, as a junior. In 2020, Gilmour had 29 receptions for 548 and 11 touchdown catches. He has nine career interceptions.
Jayce Bohan, Sr, WR/DB – A three-year starter in the secondary. Bohan is a two-time Class 3A All-EIAC (DB) who comes downhill and tackles well in space. He has 116 total tackles, three sacks and four takeaways (two FRs, two INTs), in a Tigers uniform. Bohan will also see some action on offense where he will get to show off his skills.
Lucas Pierce, Sr, RB – A very hard-nosed running back that who is also shifty. Pierce moves very well in space and has great hands. He was an explosive back in 2020 racking up 414 yards rushing with nine receptions for 127 yards and 10 touchdowns (nine rush, one rec). On defense, Pierce was in on 60 total tackles with three takeaways (two FRs, one INT) to earn Class 3A All-EIAC (DB) accolades.
Jake Pierce, Jr, H-back/TE/LB – A crucial part to the Tigers offense. Pierce is a very smart defensive player who gets to the ball. He found the end zone five times (four rush, one rec) and tallied 62 total tackles, as a sophomore. He was named Class 3A All-EIAC (H-back) for the work.

OTHER RETURNEES
Micah Foster, Sr, OL – Ended up starting late in the year and had a good strong finish as a junior. Foster will be a good fit on the o-line in 2021.
Brayden Watkins, Sr, OL – Started every game as a junior. Watkins is an athletic player who can move and pulls very well.
Lance Bates, Sr, OL/DL – A utility player for the Tigers. Bates has been in out of the starting lineup the past three years. He needs to stay healthy.
Alex Witte, Jr, LB – A very aggressive linebacker who gets downhill and makes plays. Witte loves to hit and is also a force on special teams. He finished with 49 total tackles and four sacks, as a sophomore.
Brennan Bushman, Jr, DB – A good cover guy who started every game as a sophomore. Bushman has great instincts and reacts to the ball very well. He finished 2021 with a pair of interceptions including a pick-six against Arsenal Tech.
Colton Roth, Jr, OL – A very young offensive linemen who started and improved in every game as a sophomore. Roth will be an anchor up front this fall.
NEWCOMERS
Logan Lange, Jr, OL – Will be a key member of the Tigers offensive line. Lange was a starter last year before getting injured.
Teagan Bennett, So, RB/DB – A dynamic young player who has great speed and is a playmaker. Bennet played in nine games as a freshman, running for 137 yards and three touchdowns.
Hayden Saylor, So, WR – Will to be a player to keep an eye on. Saylor has great hands, excellent moves and is a good route runner.
Logan Howell, Fr, RB/LB – A very strong running back. Howell has good linebacker skills for a younger player.
Conner Lange, Fr, TE – Has good hands and is a solid blocker in the run game.
Logan Fehr, Fr, OL – A big man who will need some time to adjust. Fehr has the potential to be a very good lineman.
Noah Knigga, Fr, LB – A smart football player who runs well and plays fast. Knigga can tackle well in space and gets to the ball.
PLAYOFF HISTORY
(76-41)
Sectional Champion (20) – 2020, 2019, 2017, 2016, 2012, 2005, 1999, 1998, 1992, 1991, 1988, 1986, 1985, 1984, 1981, 1980, 1979, 1978, 1976 & 1975.
Regional Champion (five) – 2016, 1985, 1984, 1978 & 1975.
Semi-State Champion (two) – 2016 & 1985.
State Champion (two) – 1978 & 1975.
2021 SCHEDULE
Fri – 08/20/21 – EAST CENTRAL (8-3 in 2020) – 7:00 PM
Fri – 08/27/21 – at Taylor (3-6) – 7:00 PM
Fri – 09/03/21 – at Milan (7-4) – 7:00 PM
Fri – 09/10/21 – at Greensburg (6-5) – 7:00 PM
Fri – 09/17/21 – FRANKLIN COUNTY (6-3) – 7:00 PM
Fri – 09/24/21 – BATESVILLE (4-6) – 7:00 PM
Fri – 10/01/21 – at Rushville (0-9) – 7:00 PM
Fri – 10/08/21 – at Connersville (2-7) – 7:00 PM
Fri – 10/15/21 – SOUTH DEARBORN (4-5) – 7:00 PM
Fri – 10/22/21 – TBD: IHSAA Sectional 31 Playoffs
LIGHTING UP THE SCOREBOARD
Lawrenceburg has had 11-game winning in each of the past two seasons. The Tigers have scored 40 or more points in 15 of those 22 victories.
RACKING UP THE W's
Four times in the last five years the Tigers have won 11 games or more. In that span Lawrenceburg is 51-14 (.785 winning percentage).