By The Numbers: Garrett Yoon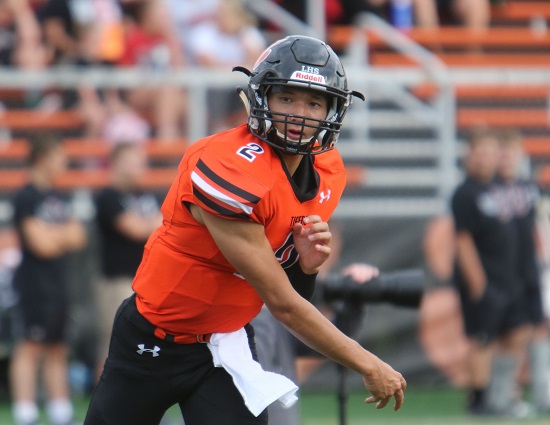 Lawrenceburg QB Garrett Yoon (photo by Dan Bieneke/TriStateFootball.com)
He will go down as one of the greatest players to ever play at Lawrenceburg. Garret Yoon heads into his senior year as the Tigers all-time leader in passing yards and passing touchdowns. He currently sits at #7 in school history, in rushing yards (#1 by a quarterback) and with another 1,000-yard season on the ground he could bump up into the #5 spot.
Those accomplishments have led to plenty of recognition for Yoon. The last two campaigns Yoon has been named the EIAC Class 3A Offensive Player of the Year and the TriState Football Indiana Offensive Player of the Year. In 2020, he was an IFCA Class 3A Junior All-State Team (RB) selection. He is a three-time Class 3A All-EIAC performer.
Here is a look at Yoon, By The Numbers.
1 – Reception in his career
3 – Most rushing touchdowns in a game (three times)
3 – Games with 400 yards or more of total offense in his career
6 – Most passing touchdowns in a game (vs. South Dearborn – 10/18/19)
9 – Games with 300 yards or more of total offense in his career
11 – Games with three or more passing touchdowns in his career
10 – Games of 100 yards or more rushing in his career
12 – Receiving yards in his career
12 – Rushing touchdowns as a freshman
12 – Rushing touchdowns as a sophomore
14 – Rushing touchdowns as a junior
14 – Passing touchdowns as a freshman
14 – Games of 200 yards passing or more in his career
27 – Passing touchdowns as a junior
28 – Passing touchdowns as a sophomore
33 – Games of 100 yards or more passing in his career
37 – Games played in his career
38 – Rushing touchdowns in his career
69 – Passing touchdowns in his career
107 – Total touchdowns accounted for in his career
175 – Career high rushing yards in a game (vs. Southridge – 11/14/20)
399 – Career high passing yards in a game (vs. South Dearborn – 10/18/19)
453 – Career high yards of total offense in a game (vs. Southridge – 11/14/20)
694 – Yards rushing as a freshman
1,004 – Yards rushing as a sophomore
1,083 – Yards rushing as a junior
2,138 – Yards passing as a freshman
2,252 – Yards passing as a junior
2,332 – Yards passing as a sophomore
2,781 – Yards rushing in his career
2,793 – All-purpose yards in his career
2,832 – Yards of total offense as a freshman
3,335 – Yards of total offense as a sophomore
3,336 – Yards of total offense as a junior
6,722 – Yards passing in his career
9,503 – Yards of total offense in his career