2021 Snapshot: Franklin County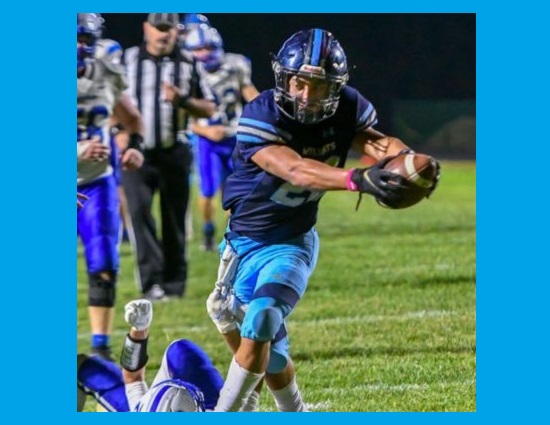 It has been 23 years since Franklin County last won a sectional title. With an accomplished collection of returnees that includes five All-EIAC players from a season ago the Wildcats have the foundation to bring the drought to an end.
"This is a strong senior class but we will have to rely on youth at some positions," head coach Wes Gillman states. Franklin County will be strong on both sides of the line but will need to develop depth. There are several players that play both ways. The underclassmen will need emerge to give the veterans the occasional blow so they can remain fresh for a deep postseason run.
The road to a sectional crown won't be easy with Brownstown Central and Lawrenceburg as foes that will need to be conquered along the trek. Brownstown Central has only lost 56 games in the last 28 years under head coach Reed May. Franklin County is 1-8 in its last nine tilts against Lawrenceburg including having lost the last four by a margin of 25.8 points.
In the last three years, Franklin County only has one win against a team that has finished the season above .500 (Greensburg, 6-5 in 2020). The next step for the Wildcats under Gillman is to show the grit needed to beat the upper echelon teams. This squad gets the opportunity to make that happen and you have to like their chances to get it done.

Class 3A, Sectional 31
2020 RECORD: 6-3, 1-1 EIAC 4A
COACH: Wes Gillman (13-16 at Franklin County, three years; 27-39, seven years overall)
HONOR ROLL
Bridger Bolos, Sr, RB/LB – One of the real studs in the EIAC and the Wildcats most versatile player. Bolos was named Class 4A All-EIAC (HB) for a second straight year after amassing 778 all-purpose yards, finding the end zone four times, getting in on 35 total tackles with a fumble recovery and an interception as a junior. It has been a productive career for Bolos with 1,189 all-purpose yards (523 rush, 509 rec), 229 yards passing, 12 touchdowns (eight rush, three rush, one pass), 118 total tackles, 10.5 tackles for losses and seven takeaways (four FRs, three INTs).
Jason Schatzle, Sr, WR/DB –With his "off the charts" athleticism Schatzle is a difference-maker in all phases of the game. He was named Class 4A All-EIAC (DB) last fall. Schatzle has 1,307 all-purpose yards (101 rush, 573 rec, 633 ret), 19 receptions (30.1/rec), six receiving touchdowns, 58 total tackles and four takeaways (two FRs, two INTs) in a Wildcats uniform.
Sam Westerfeld, Sr, DE – A menace to opposing backfields, Westerfeld earned Class 4A All-EIAC (DT) honors as a junior. He recorded 41 total tackles and had eight-and-a-half sacks for the Wildcats. Westerfeld has 12.0 sacks in his career.
Kaden Erfman, Sr, OL/TE/LB – Was named Class 4A All-EIAC (TE) and the team's Most Valuable Linebacker along with Austin Hill. Erfman has tallied 101 total tackles, three sacks, 10.5 tackles for losses and three fumble recoveries at the varsity level.
Austin Hill, Sr, OL/LB – Will team with Erfman to wreak havoc on the opposition. Hill was named Class 4A All-EIAC (LB) as a junior. He has 95 total tackles, five sacks, 12.0 tackles for losses and a fumble recovery in in his career.
Brayden Back, Sr, OL/ P – An anchor up front. Back was an Honorable Mention Class 4A All-EIAC (OL) selection as a junior.
Christian Prows, Sr, WR/DB – Blossomed last season and became a matchup nightmare on the outside for the Wildcats. Four of Prows' 14 receptions (for 243 yards) went touchdowns on his way to Honorable Mention Class 4A All-EIAC (WR) accolades.
NEWCOMERS
Sophomore OL Ben Becker, junior OL/DL Peyton McCreary, freshmen QB Quinn Gillman and OL/DL Brendin Kolter will get fair shots to become starters. McCreary was in on 10 total tackles as a sophomore.
PLAYOFF HISTORY
(42-32 overall)
Sectional Champions (5) – 1998, 1997, 1995, 1991, 1990
Regional Champions (3) – 1998, 1997, 1995,
State Runner Up (1) – 1995
2021 SCHEDULE
Fri – 08/20/21 – at New Castle – 7:00 PM
Fri – 08/27/21 – at Connersville – 7:00 PM
Fri – 09/03/21 – RUSHVILLE – 7:00 PM
Fri – 09/10/21 – EAST CENTRAL – 7:00 PM
Fri – 09/17/21 – at Lawrenceburg – 7:00 PM
Fri – 09/24/21 – GREENSBURG – 7:00 PM
Fri – 10/01/21 – at South Dearborn – 7:00 PM
Fri – 10/08/21 – at Batesville – 7:00 PM
Fri – 10/15/21 – BEECH GROVE – 7:00 PM
Fri – 10/22/21 – TBD: IHSAA Sectional 31 Playoffs
EIAC 3A BLUES
The Wildcats are a combined 10-19 versus EIAC 3A rivals Lawrenceburg, Batesville and Greensburg over the past eight seasons. Eleven of those losses have been by 21 or more points.