2021 Snapshot: Cooper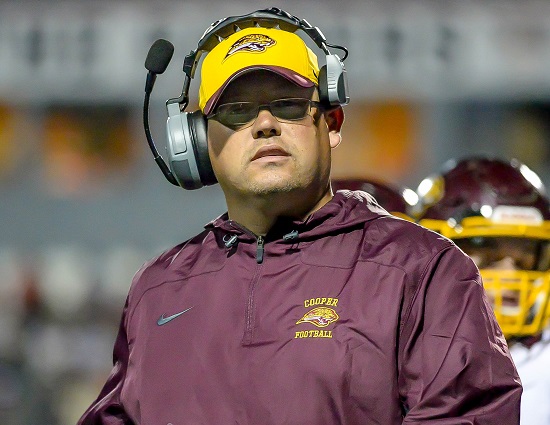 Cooper head coach Randy Borchers (photo by Mike Noyes/TriStateFootball.com)
The Covid mess and a slew of injuries to key players (including the starting quarterback) were major factors in Cooper not being able to get on track in 2020. Now the Jaguars look to bounce back and avoid the programs fifth consecutive losing season.
Avoiding that dubious distinction won't be easy as Cooper has to replace six starters on both sides of the ball. A veteran defensive line, talented junior class and an experienced signal-caller returning give the Jaguars and their fans plenty to be optimistic about this fall.
The schedule is challenging but there are only three teams on the slate that had winning records a year ago. The combined winning percentage of those foes was .456 (41-49). Taking care of business against team they should beat (on paper) will lead to a reversal of fortunes in the win column for Cooper.
For the Jaguars, it will all come down to wanting it more if they want to separate themselves from the pack. Giving that extra effort will be the key to opening Cooper's on field success in 2021.
Class 5A, District 5
2020 RECORD: 3-6, 2-2 Class 5A, District 5
COACH: Randy Borchers (71-78 at Cooper, 13 years, 78-90 overall, 15 years)
HONOR ROLL
Adam Sand, Sr, OL/DL – A two-way starter and team leader, Sand was named Second Team All-NKY (DL) as a junior. he has 71 total tackles and five sacks at the varsity level.
Eli White, Jr, WR/DB – One of the rising stars in Northern Kentucky. White earned Second Team All-NKY (DB) honors as a sophomore. Look for his offensive numbers to explode this fall.
TOP RETURNEES
Brendon Tye, Sr, RB – Will be in a position to make himself one of Northern Kentucky's breakout performers this season. It will be all up to Tye and his effort to accomplish that goal.
Lyndon Hines, Sr, OL/DL – A valuable two-way starter in the trenches. Hines is part of what could be a very formidable Jaguars defensive line in 2021.
Drew Warth, Sr, QB – A preseason injury ended Warth's junior campaign before it even got started. He threw for 1,346 yards and nine touchdowns in 2019.
Ben Spicher, Sr, DL – Returns for a second year as a starter. Spicher tallied 17 total tackles as a junior.
Jake Harmeyer, Jr, LB – Emerged as a defensive force despite an injury riddled sophomore campaign. Harmeyer finished the season with 64 total tackles and a fumble recovery in just seven contests.
Jayce Hotchkiss, Jr, DB – A leg injury cut the 2020 season short for Hotchkiss. He was making an impact on defense with 38 total tackles and a fumble recovery in just five games when things came to a halt.
Tyler Witskin, Jr, OL – A pleasant surprise for the Jags a year ago. Witskin returns for a second season as a starter.

NEWCOMERS
Senior LB Brady Bond along with sophomores RB/LB Lucas Hughes, OL/DL Xander Taylor, OL/DL and TE/LB Jack Lonaker all have a legitimate shot to crack the starting lineup. Bond showed great promise last season with 12 total tackles and two sacks in five games.
2021 SCHEDULE
Fri – 08/20/21 – George Rogers Clark (3-5 in 2020) – 7:30 PM
Fri – 08/27/21 – DIXIE HEIGHTS (6-4) – 7:30 PM
Fri – 09/03/21 – RYLE (6-4) – 7:30 PM
Fri – 09/10/21 – CAMPBELL COUNTY (2-6) – 7:30 PM
Fri – 09/17/21 – BYE
Fri – 09/24/21 – at Covington Catholic (10-2) – 7:00 PM
Fri – 10/01/21 – at Madison (IN) (3-7) – 7:30 PM
Fri – 10/08/21 – at Conner (3-4) – 7:30 PM
Fri – 10/15/21 – BOONE COUNTY (2-7) – 7:30 PM
Fri – 10/22/21 – HIGHLANDS (5-6) – 7:30 PM
Fri – 10/20/21 – at Louisville Butler (1-4) – 7:30 PM
BOONE COUNTY RIVALS
This will be the 14th season of football at Cooper football. The Jaguars have played 138 games (all under coach Borchers) of which 40 have been played against the other three Boone County schools. Cooper is a combined 17-23 against their local rivals – Boone County (9-4), Conner (5-9) and Ryle (3-10).