2021 Snapshot: Covington Catholic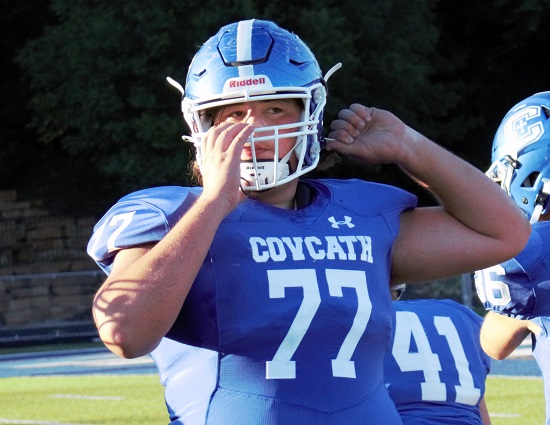 Covington Catholic OL Peyton Dietz (photo by Greg Shoemaker/TriStateFootball.com)
Life is good at Covington Catholic. The Colonels have won two state championships, been a state runner-up and a state semi-finalist, all in the last four years. The program is a combined 54-3 in that span. Is there enough in the tank to reach those lofty heights again in 2021?

"We have a decent amount of experience in out upcoming seniors and juniors but we are replacing key positions and statistical leaders," head coach Eddie Eviston states.
The first half of the schedule is extremely challenging. A couple of early season wins will do plenty to booster the younger players confidence. Once Covington Catholic gels it will be a load to handle.
Eviston's teams rarely disappoint and are always well-prepared. His squads have averaged 11.4 wins per year with four state titles in his nine seasons as a head coach. Even though there will be plenty of new faces on the field for the Colonels, expect another deep playoff run from them, this fall.
Class 5A, District 5
2020 RECORD: 10-2, 4-0 Class 5A, District 5
COACH: Eddie Eviston (68-15 at Covington Catholic, six years; 103-23 overall, nine years)
TOP RETURNEES
Trevor Wilson, Sr, DL – Despite having his junior season cut short, Wilson was still named First Team All-NKY (DL). The 6-foot-4, 235-pound pass rusher has 12.0 career sacks. He has an offer from Middle Tennessee State University.
Peyton Dietz, Sr, OL – One of the best offensive linemen in northern Kentucky. Dietz was a First Team All-NKY (OL) selection, as a junior.
Aiden Jones, Jr, TE/DE – The Colonels are looking for Jones to be the general on defense. He had 53 total tackles, a sack and a scoop-and-score, as a sophomore. Jones has an offer from Eastern Kentucky University.
Adam Holtz, Sr, QB/OLB – A returning starter on defense. Holtz had 28 total tackles, four tackles for losses and a fumble recovery in 2020. He will also compete for the starting quarterback job. Holtz has three rushing touchdowns in his career.
Brayden Collins, Sr, RB – The Colonels top returning rusher. Collns had 230 yards and five touchdowns rushing, as a junior.
Garrett Benke, Jr, WR – Will play a key role in the passing game. Benke had 16 receptions for 172 yards and a touchdown in seven games, as a sophomore.

NEWCOMERS
Juniors slot/DB Zion Mason and DB Oliver Bent are expected to bolster the secondary. Mason had two interceptions including a pick six in just three games in 2020. He will also play receiver.

2021 SCHEDULE
Fri – 08/20/21 – vs. Elder (5-4 in 2020) – 7:00 PM
Fri – 08/27/21 – at Belfry (8-4) – 8:30 PM*
Fri – 09/03/21 – LEXINGTON CATHOLIC (5-3) – 7:00 PM
Fri – 09/10/21 – DIXIE HEIGHTS (6-4) – 7:00 PM
Fri – 09/17/21 – at Beechwood (10-2) – 7:00 PM
Fri – 09/24/21 – COOPER (2-3) – 7:00 PM
Fri – 10/01/21 – BOONE COUNTY (2-7) – 7:00 PM
Fri – 10/08/21 – BYE
Fri – 10/15/21 – at Highlands (5-6) – 7:00 PM
Fri – 10/22/21 – CONNER (3-4) – 7:00 PM
Fri – 10/29/21 – RYLE (6-4) – 7:00 PM
*Pike County Bowl