2021 Snapshot: Colerain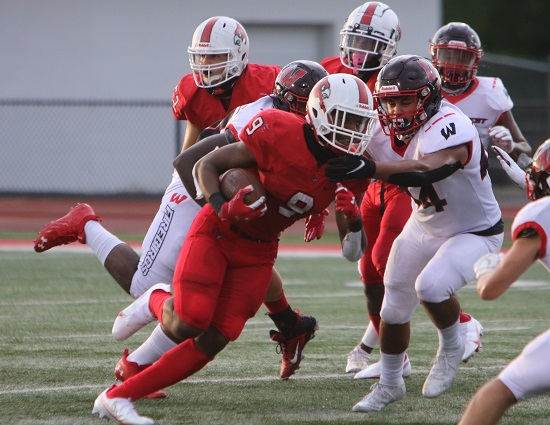 Colerain RB MJ Flowers (photo by Dan Beineke/TriStateFootball.com)
The streak has finally come to an end. After 20 straight GMC titles Colerain was finally dethroned last fall. The Cardinal now look to get back on top. The foundation is there for that to happen but it will also take some help from the Class of 2024, who gets its first shot of stardom under the Friday night lights.
"A talented sophomore class should pair with returning players to lead the team.  The team returns its leading rusher from 2020 and leading tackler from 2020, as well as several other key defensive players with experience," head coach Shawn Cutright states.
Colerain will feed off its defense which allowed just 12.6 points per game, in 2020. The Cardinals also led the GMC in rushing in defense at 82.0 yards per contest.
In order, to get back to that success Cutright says, "we must replace multiple players on the offensive and defensive line, including GMC Defensive Player of the Year, TriState Football Cincinnati Defensive Player of the Year and First Team All-State selection, Dontay Corleone."
As always, the schedule show no mercy with non-conference tilts against La Salle and reigning Division I state champion St. Xavier to start off 2020. Then Colerain gets the opportunity to win their league crown back in grand fashion. The Cardinals finish their regular season slate against reigning GMC champs, Lakota West and Princeton. It is a chance to avenge their only two league losses from a year ago.
Division I, Region 4
2020 RECORD: 6-3, 4-2 GMC
COACH: Shawn Cutright (17-5 at Colerain, two years; 17-5 overall)
TOP RETURNEES
MJ Flowers, Sr, RB – A offensive force who has a nose for the end zone. Flowers ran for 865 yards and 14 touchdowns, as a junior. He was named OPSWA Division I Honorable Mention All-Southwest District. Flowers has 1,340 yards and 19 touchdowns rushing, in a Cardinals uniform. He has offers from Army and Navy.
Lavert Jarmon, Sr, LB – An outstanding pass rusher who led the Cardinals in tackles, as a junior. Jarmon finished the year with 64 total tackles, six sacks and an interception. He was named OPSWA Division I Second Team All-Southwest District for his efforts. Jarmon has offers from Tiffin and Capital.
Temesghen Khasay, Sr, DL/LB – Will be vital cog in the Colerain defense for a second straight season. Khasay had 26 total tackles and four sacks on his way to First Team All-GMC honors, as a junior.
Zyair Anderson, Sr, OL – The anchor and leader of the offensive line. Anderson was a Second Team All-GMC performer, in 2020.
Ken Willis, Sr, DB – One of the top defensive backs in Ohio. Willis has 51 total tackles and three takeaways (one FR, two INTs), in his two years, as a starter. He has verbally committed to Cincinnati.
NEWCOMERS
Sophomores QB Zae Jennings and OL/DL Roman Quinn should start contributing in Week 1. The sky is the limit for Jennings, who is primed for a breakout season.

PLAYOFF HISTORY
(23 appearances, 46-24) – 2020, 2019, 2018 (State Runner-up), 2017 (Regional Champion), 2016, 2015 (Regional Champion), 2014, 2013, 2012, 2011, 2010, 2008, 2007, 2006 (Regional Champion), 2005, 2004 (State Champion), 2003, 2002, 2001, 2000 (Regional Champion), 1998, 1995 (2 wins forfeited), 1994 (Regional Champion)
**Colerain has never lost a first-round playoff game.
2021 SCHEDULE
Fri – 08/20/21 – at La Salle (8-3 in 2020) – 7:00 PM
Fri – 08/27/21 – ST. XAVIER (10-2) – 7:00 PM
Fri – 09/03/21 – at Mason (5-3) – 7:00 PM
Fri – 09/10/21 – SYCAMORE (1-7) – 7:00 PM
Fri – 09/17/21 – OAK HILLS (2-7) – 7:00 PM
Fri – 09/24/21 – at Middletown (1-6) – 7:00 PM
Fri – 10/01/21 – LAKOTA EAST (4-4)– 7:00 PM
Fri – 10/08/21 – at Hamilton (6-4) – 7:00 PM
Fri – 10/15/21 – LAKOTA WEST (8-1) – 7:00 PM
Fri – 10/22/21 – at Princeton (6-2) – 7:00 PM
HOME SWEET HOME
Since the state championship year of 2004, Colerain has gone a combined 86-6 at home.