2021 Snapshot: Sycamore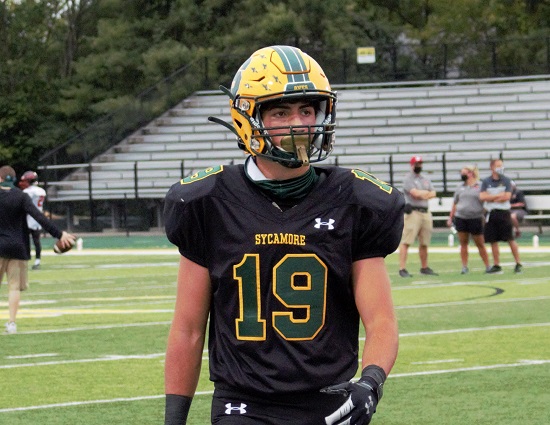 Sycamore DB Jacob Teuimeh (photo by Greg Shoemaker/TriStateFootball.com)
There is only one place for Sycamore football to go and that is up. The Aviators head into 2021 having lost their last seven games a year ago. It is time for the program to forget about the past and concentrate on the here and now.

The losing streak is tied for the longest run of futility under head coach Scott Dattilo in his 15 years at the helm. The Aviators also ended 2009 having dropped their final seven tilts.
Putting points on the board last fall was a struggle. That should not be the case this fall. Sycamore averaged just 8.0 points in its last six game of 2020. The strength of this team will be the offense. The Aviators return four linemen and a slew of excellent skills players to compliment them. "We have experience, but we need to be more consistent," Dattilo states. The underclassmen must show that Friday night lights aren't too bright for them. That would go a long way in easing the load on the seniors.
The Aviators just need a couple of early season victories to build confidence. If that happens then Sycamore returns back to being the pesky menace that opposing GMC foes have come to dread playing on an annual basis.
Division I, Region 4
2020 RECORD: 1-7, 1-5 GMC
COACH: Scott Dattilo (97-61 at Sycamore, 15 years; 114-75 overall, 18 years)
HONOR ROLL
Jacob Tueimeh, Sr, DB – A three-year starter and the leader of the Sycamore secondary. Tueimeh was named OPSWA Division Honorable Mention All-Southwest District after tallying 44 total tackles and a sack last fall.
William Ingle, Sr, QB – The Navy commit will move from running back to quarterback for his senior campaign. In six games as a junior, Ingle ran for 475 yards, had 19 receptions for 229 yards and found the end zone eight times (seven rush, one rec) on his way to Second Team All-GMC honors. Ingle has amassed 1,280 all-purpose yards (723 rush, 308 rec) with 13 touchdowns (12 rush) in an Aviators uniform.
Jourden Hale-Frater, Sr, OL – The cornerstone of the Sycamore offensive line. The 6-foot-4, 310-pound Hale-Frater was a Second Team All-GMC honoree in 2020. He has an offer from Ball State.
Evan Massey, Sr, DL – Has the talent to be an all-district selection if he plays up to his potential. Massey was a Second Team All-GMC selection as a junior.
OTHER RETURNEES
Trey Bell, Sr, OL – One of the leaders on the Aviators offense. The 6-foot-5, 290-pound, Bell will play on Saturdays next season.
Andrew Cathey, Sr, OL – Like his classmates along the line, the 6-foot-4, 280-pound Cathey has the physical tools to play at the next level.
Matt Decker, Sr, OL – Back for a third year as a starter, Decker is the runt of the litter up front at 6-foot-1 and 245 pounds.
Cairo Ford, Sr, slot – Should be the biggest benefactor of Ingle moving to quarterback. Ford amassed 810 all-purpose yards (365 rush, 277 ret, 168 rec) and had 16 receptions as a junior. He is still looking for his first varsity touchdown.
Cannon Ray, Sr, WR – Expect a much more productive year out of Ray who had nine receptions for 93 yards a year ago.
Justin Williams, Sr, FS – A starter since his sophomore year, Williams has 66 total tackles, two forced fumbles and an interception in his career.
Rasheed Harris, Sr, CB – Will team with Tueimeh and Williams to form one of the top defensive backfields in the GMC. Harris had 26 total tackles as a junior.

Zaire Washington, Fr, LB – Acquitted himself quite nicely as a freshman. Washington was in on 31 total tackles on his way to earning his first varsity letter.
Freshmen of Influence: Class of 2024
PLAYOFF HISTORY
(eight appearances, 4-8) – 2020, 2018, 2017, 2016, 2012, 2011, 2007, 2006, 1996
2021 SCHEDULE
Fri – 08/20/21 – LOVELAND (1-6 in 2020) – 7:00 PM
Fri – 08/27/21 – at Kings (7-1) – 7:00 PM
Fri – 09/03/21 – FAIRFIELD (2-7) – 7:00 PM
Fri – 09/10/21 – at Colerain (6-3) – 7:00 PM
Fri – 09/17/21 – MIDDLETOWN (1-6) – 7:00 PM
Fri – 09/24/21 – at Lakota East (4-4) – 7:00 PM
Fri – 10/01/21 – MASON (5-3) – 7:00 PM
Fri – 10/08/21 – at Princeton (6-2) – 7:00 PM
Fri – 10/15/21 – HAMILTON (6-4) – 7:00 PM
Fri – 10/22/21 – at Oak Hills (2-7) – 7:00 PM
RUNNING ON EMPTY
The Aviators ran for just 1,018 yards last season. It was the fewest yards on the ground by a Sycamore team in the Dattilo era. From 2011 to 2017, the Aviators ran for more than 2,000 yards, including six years of 2,300+ yards. Sycamore has combined to run for just 2,141 yards the past two campaigns.