2021 Snapshot: Hamilton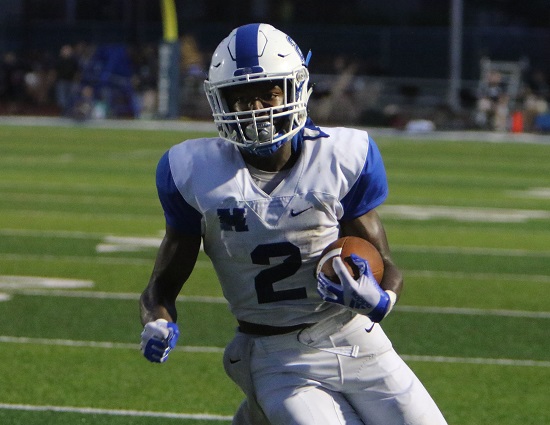 Hamilton RB Kaleb Johnson (photo by Dan Bieneke/TriStateFootball.com)
There something very gratifying when the building blocks of a program start producing and paying off. That is just what is happening at Hamilton under head coach Nate Mahon. The Big Blue made the playoff for second straight year in 2020. The first time that has ever happened in school history. Now they strive to reach uncharted waters once again.
"We lost some key performers from last year's team that were two-year starters and contributors for us. They put their stamp on the program. Their leadership is seen through the commitment of the younger classes and junior high programs," Mahon states.
The dedication by the players is real and tangible. "The addition of a full-time strength and conditioning coordinator and his program has really given us an edge in our offseason preparation. The players and coaches have bought into strength training and nutrition that we haven't seen before at Hamilton. We are hoping going into year three of our program it continues to make a large difference in product we put on the field in the fall. Our senior leadership has been tremendous in our offseason program," Mahon says.
Hamilton has never lacked for talented athletes but now there is a purpose and pride to results they strive for on Friday nights. The sleeping giant has begun to waken from its slumber the rest of the GMC better take heed. The Big Blue is no longer a circled win on the schedule.
Division I, Region 4
2020 RECORD: 6-4, 4-3 GMC
COACH: Nate Mahon (11-10 at Hamilton, two years; 51-35 overall, eight years)
HONOR ROLL
Kaleb Johnson, Sr, RB – Will be a candidate for the GMC Offensive Player of the Year. He was named OPSWA Division I Honorable Mention All-Southwest District after running for 768 yards and eight touchdowns in 2020. Johnson, a four-year starter has 2,742 all-purpose yards, 2,295 yards rushing (just 1,007 yards from the school record) and 20 touchdowns on the ground in his career. He has offers from Akron, Bowling Green, Cal, Cincinnati, Iowa, Iowa State, Kent State, Marshall, Miami (OH), Michigan State, Minnesota, Pitt, Toledo, West Virginia and Western Michigan.
Darrick Deaton, Sr, OT – The anchor of the Big Blue o-line. The 6-foot-6, 315-pound Deaton was a Second Team All-GMC selection as a junior.
Kaden Bennett, Jr, DL – In his first season as a starter Bennett was in on 20 total tackles, had a half-of-a sack, forced two fumbles and recovered two fumbles.
Breeon Ishmail, Jr, WR/DB – One can make the argument that Ishmail is the best athlete in the school. The 6-foot-5, 200-pound two-way star had 11 receptions for 187 yards, two touchdown catches and 55 total tackles in his first full year as a starter in 2020. The effort earned him Second Team All-GMC (DB) accolades. Ishmail has offers from Cincinnati, Eastern Kentucky, Iowa State, Pitt and West Virginia.
Gabe Verdon, Jr, DE – There is a very bright future for this Hamilton stud. Verdon tallied 23 total tackles, had a sack, forced a fumble and recovered a fumble on his way to Second Team All-GMC honors as a sophomore.
OTHER RETURNEES
Erik Rios, Sr, K/P – Will assume kicking duties for a third straight year. Rios has connected on 37/41 extra points and 5/9 field goals for 52 points in his career.
Isaac Craft, Sr, DL – Hamilton will look for Craft to be their run-stopper in the trenches.
Karian Jones, Sr, DL – Had 27 total tackles in his first season as a starter in 2020.
Haiden Renner, Sr, OL – Helped the Big Blue churn our 311.8 yards of total offense and 25.6 points per game a year ago.
Taylor Camden, Jr, OL – In his first year as a starter, Camden helped pave the way for an offense that ran for 241.2 yards per game and 26 touchdowns last fall.
Kerry Ware, Sr, WR/QB – A returning starter, Ware had seven receptions for 74 yards and a touchdown in the final six games of 2020.
NEWCOMERS
Finally getting their shot in prime time after waiting in the wings are seniors WR/DB Andrew Huff, WR/DB Elijah Givens, DB Mario Meadows, MLB Justin Altman, DL Kimarion Mundy, DL Antwan Chisley, OL Nathan Barker, OL Preston Ratliff, OL Jakob Poe, WR/DB Nic Brito and RB/DB Donovan Ripley. Also competing for stating positions will be juniors RB/DB Donovan Smiley, WR/DB Sire Riggins, RB/DB Semaj Aldridge, QB/DB Jaylan Garrett, QB Lanny Ash and freshman DL Trey Verdon.
PLAYOFF HISTORY
(six appearances, 0-6) – 2020, 2019, 2010, 2001, 1997, 1994
2021 SCHEDULE
Fri – 08/20/21 – at West Clermont (3-5 in 2020) – 7:00 PM
Fri – 08/27/21 – EDGEWOOD (6-4) – 7:00 PM
Fri – 09/03/21 – at Princeton (6-2) – 7:00 PM
Fri – 09/10/21 – at Lakota East (4-4) – 7:00 PM
Fri – 09/17/21 – LAKOTA WEST (8-1) – 7:00 PM
Fri – 09/24/21 – at Fairfield (2-7) – 7:00 PM
Fri – 10/01/21 – OAK HILLS (2-7) – 7:00 PM
Fri – 10/08/21 – COLERAIN (6-3) – 7:00 PM
Fri – 10/15/21 – at Sycamore (1-7) – 7:00 PM
Fri – 10/22/21 – MASON (5-3) – 7:00 PM