2021 Snapshot: Western Brown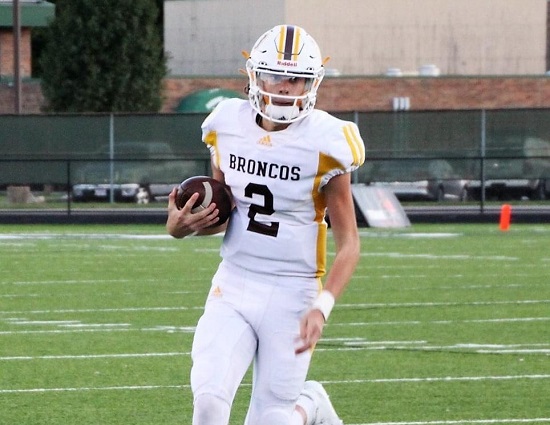 Western Brown QB Drew Novak (photo from wbfootballrecruiting.weebly.com)
Last season was all about the good, the bad and the ugly for Western Brown. The Broncos finished with a winning record for the first time since 2015 and won the program's first ever playoff game for former alum Nick Osborne in his first year at the helm. It was a good start but there is plenty to improve upon with a group of polished veteran performers this fall.
The good. The Western Brown offense will be the star of the show on Friday nights in Mount Orab. The Broncos racked up 513.0 yards of total offense per game (323.6 pass, 189.4 rush) and found the end zone 50 (27 pass, 23 rush) times a year ago. Expect more of the same in 2021.
The bad. The kick return coverage on special teams and defense that had more holes than a piece of Swiss cheese. Those units need play at another level if Western Brown wants to get back to the playoffs and advance this season. Defensively, the Broncos gave up 39.4 points per contest as foes chose their way to move the ball effortlessly, by either pass or run. Western Brown gave up four kickoff returns for touchdowns. With an offense that can score as easily as the Broncos can a kicker that can consistently put the ball in the end zone for touchbacks would be a huge asset for the Western Brown special teams and defense.
The ugly. Western Brown did not fare well against the upper echelon opponents on the schedule in 2020. Despite averaging 43.0 points in their three losses, the Broncos gave up 76.0 points in those defeats. Western Brown can score with the best of them but there is not enough time on a game clock to make up 33-point deficits.
The key for success is going to be getting three-and-outs on defense and controlling the clock on offense. Western Brown's best defense should be its offense. If they can pull it off the Broncos will be a team no one wants to face come Week 11.
Division III, Region 11
2020 RECORD: 5-3, 3-2 SBAAC American
COACH: Nick Osborne (5-3 at Western Brown, one year; 5-3 overall)
HONOR ROLL
Drew  Novak, Jr, QB – This gunslinger averaged 317.9 yards passing per game as sophomore. Novak ended the campaign with 2,543 yards passing, 26 touchdown passes, 418 yards rushing with five rushing scores to earn OPSWA Division III Third Team All-Ohio honors. He heads into his junior year with 4,655 yards and 40 touchdowns passing, in a Broncos uniform.
Logan Campbell, Sr, WR – Back for his fourth year as a starter, Campbell is one of the Broncos leaders. He had 56 receptions for 899 yards, eight touchdown catches, 1,107 all-purpose yards and took and a kickoff to the house on this way to being named OPSWA Division III Honorable Mention All-Ohio as a junior. With 113 career receptions, Campbell is 57 catches away from being in the top 40 all-time in Ohio history. He also has 1,405 yards and 12 touchdowns receiving at the varsity level.
Dylan Novak, Sr, WR – It was a breakout junior campaign for this receiver. Novak caught 43 balls for 672 yards and six touchdowns. He was named OPSWA Division III Second Team All-Southwest District for his work.
Cam Weil, Sr, OL – The anchor of the Broncos o-line. The 6-foot-2, 280-pound Weil allowed just two sacks as a junior. The effort garnered him Second Team All-SBAAC American accolades.
Que Collins, Jr, DB – In his first season as a starter, Collins tallied 32 total tackles. He also averaged 21.7 yards on 19 kickoff returns. He was named Honorable Mention All-SBAAC American for his efforts.

Javonte Entzminger-Chisenhall, Sr, DB – Back for his second year as a starter. Entzminger-Chisenhall had 25 total tackles and an interceptionon his way to an Honorable Mention All-SBAAC American selection, as a junior.

OTHER RETURNEES
Dylan Luther, Sr, LB – A three-year starter, Luther has 55 career tackles.
Evan Grimes, Sr, K – was rock solid connecting on 40/45 extra points and 2/2 field goals for 46 kicking points as a junior.
NEWCOMERS
A trio of juniors WR Zackery Chrisman, DB Matthew Frye and OL Noah Brown will be counted on to make an impact starting in Week 1.
PLAYOFF HISTORY
(four appearances, 1-4) – 2020, 2014, 2013, 2008
2021 SCHEDULE
Fri – 08/20/21 – at HILLSBORO (2-8 in 2020) – 7:00 PM
Fri – 08/27/21 – WASHINGTON COURT HOUSE WASHINGTON (3-4) – 7:00 PM
Fri – 09/03/21 – at Monroe (4-5) – 7:00 PM
Fri – 09/10/21 – JACKSON (5-2) – 7:00 PM
Fri – 09/17/21 – MIAMI TRACE (4-4) – 7:00 PM
Fri – 09/24/21 – at New Richmond (5-3) – 7:00 PM
Fri – 10/01/21 – at Clinton-Massie (9-1) – 7:00 PM
Fri – 10/08/21 – GOSHEN (3-5) – 7:00 PM
Fri – 10/15/21 – at Wilmington (4-4) – 7:00 PM
Fri – 10/22/21 – BATAVIA (2-6) – 7:00 PM
NEARING THE TOP
Drew Novak could become the Broncos all-time leader in passing yards and passing touchdowns in the latter half of the 2021 season. He needs 2,420 yards through the air to overtake school leader Devyn Wood (7,074) and 30 touchdown tosses to surpass Wood (69) atop that category.
CATCHING ON
In the last decade, three former Western Brown wide receivers have made it into the Top 25 all-time in the state of Ohio for receptions:
8. Eean Hornung (2012-2015) – 255
12. Wyatt Fischer (2014-2017) – 231
22t. Christian Dawson (2011-2014) – 196