2021 Snapshot: Monroe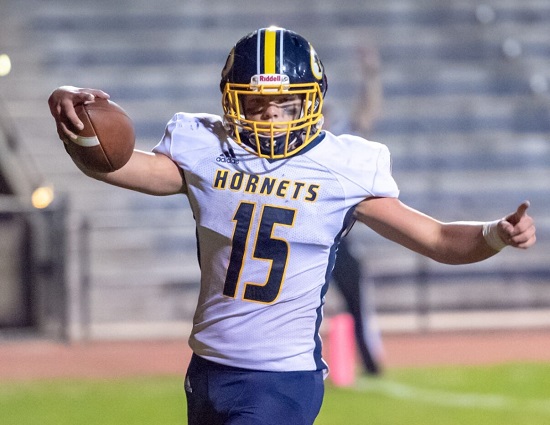 Monroe RB Elijah Jackson (photo by AJ Fullam/6sphoto.com)
Perhaps things have turned the corner for Monroe under head coach Bob Mullins. After a 1-4 start the Fighting Hornets won three of their final four contests to close out 2020. That included the school's first two non-conference wins outside of the SWBL since the 2014 opener.
Monroe is at its best, when it brings that "smash-mouth" mentality on Friday nights. "Our strengths are running the football and stopping the run.," Mullins states. This squad has girth up front on both sides of the ball. It will be their ally come the back half of the schedule.
Mullins would love to see the pass offense and pass defense improve by the time the season starts. The Fighting Hornets only averaged 40.0 yards per game passing last fall. Monroe gave up just 104.0 yards passing per contest with nine touchdowns through the air.
The Fighting Hornets are well positioned to have their first winning season since 2015. They also have a chance to make the playoffs in back-to-back years for just the third time in school history. It all comes down to hunger and drive for Monroe. The talent is there, they just need to show it on the field.
Division III, Region 12
2020 RECORD: 4-5, 2-4 SWBL Southwestern
COACH: Bob Mullins (6-13 at Monroe, two years; 6-13 overall)
HONOR ROLL
Elijah Jackson, Jr, RB – Had a breakout sophomore season. The electrifying Jackson ran for 1,105 yards and eight touchdowns. He was named OPSWA Division III Second Team All-Southwest District for his work.
Wyatt McPherson, Jr, LB – Led Monroe with 100-plus total tackles. He also had a fumble recovery and an interception as sophomore. McPherson earned Honorable Mention All-SWBL Southwestern accolades for the effort.
Chris Reber, Jr, OL – Will be the anchor of the Hornets offensive line for the next two seasons. The 6-foot-2, 285-pound Reber is starting to draw some major interest from college recruiters. He was an Honorable Mention All-SWBL Southwestern selection a year ago.
OTHER RETURNEES
Zach Hagedorn, Sr, OL – Helped pave the way for a Monroe rushing attack that averaged 242.0 yards per game in 2020. Hagedorn has all-district potential.
Alex Pitsch, Sr, RB/DB – Will be a bigger factor on defense than on offense. Pitsch will be leaned upon to lead the secondary. He had two interceptions as a junior.
Tanner Chastain, Sr, OLB – A three-year letter winner, Chastain had three sacks and forced two fumbles as a junior.
NEWCOMER
Ryan Miles, So, RB/DB – Adds huge depth to a very good backfield.
PLAYOFF HISTORY
(10 appearances, 12-10) – 2020, 2014, 2009, 2007 (Regional Champion), 2006, 2005 (Regional Champion), 1994, 1993, 1986, 1983 (Regional Champion)
2021 SCHEDULE
Fri – 08/20/21 – TALAWANDA (3-5 in 2020) – 7:00 PM
Fri – 08/27/21 – at Ross (8-2) – 7:00 PM
Fri – 09/03/21 – WESTERN BROWN (5-3) – 7:00 PM
Fri – 09/10/21 – BROOKVILLE (6-2) – 7:00 PM
Fri – 09/17/21 – at Oakwood (3-6) – 7:00 PM
Fri – 09/24/21 – at Carlisle (4-6) – 7:00 PM
Fri – 10/01/21 – FRANKLIN (5-3) – 7:00 PM
Fri – 10/08/21 – at Waynesville (5-2) – 7:00 PM
Fri – 10/15/21 – BELLBROOK (8-1) – 7:00 PM
Fri – 10/22/21 – at Eaton (5-5) – 7:00 PM