2021 Snapshot: Bellbrook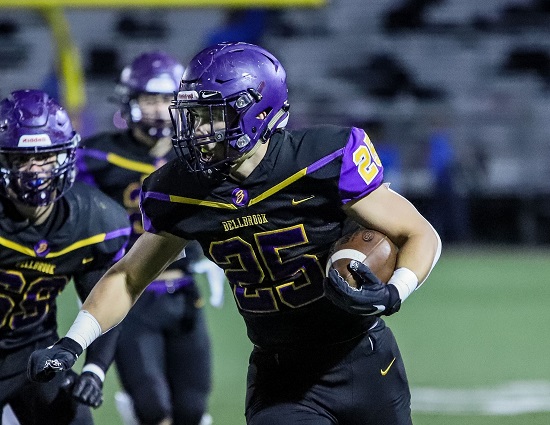 Bellbrook RB/LB Ashton Ault (photo by Shelby Frieszell/TriStateFootball.com)
If there is one team eager to get back on the field and take care of unfinished business it would be Bellbrook. The Golden Eagles were 8-0 before getting run over by Ross in the postseason. This squad is hungry and well-positioned to make it back to the playoffs and pick up their first victory (and then some) in seven years.
This senior class has gone a combined 26-4 over the last three years. It is one of the most successful stints in school history. This group is determined to leave a long-lasting mark on their final chapter.
Bellbrook has beefed up its schedule with the additions of a pair of non-conference games versus 2020 Division III, Region 12 playoff teams Badin and Tippecanoe. They also added Division II Tecumseh to the non-con slate. The Golden Eagles will be well-prepared for what they will face in the playoffs.
The motivation is there for Bellbrook to be even better. Count on head coach Jeff Jenkins having his Golden Eagles prepared to accomplish loftier goals than they already have. This is a very good team that no one will want to face come November.
Division III, Region 12
2020 RECORD: 8-1, 5-0 SWBL Southwestern
COACH: Jeff Jenkins (40-10 at Bellbrook, five years; 40-10 overall)
TOP RETURNEES
Seth Borondy, Sr, RB – Is the complete package out of the backfield. Despite missing the last two-plus games last fall, Borondy still ran for 718 yards, had seven receptions for 157 yards (22.4/rec), amassed 988 all-purpose yards and found the end zone 12 times (eight rush, four rec). That earned Borondy OPSWA Division III Third Team All-Ohio and SWBL Southwestern Offensive Player of the Year honors. Borndy has 2,045 all-purpose yards, 1,516 yards rushing and 27 total touchdowns (21 rush, six rec) at the varsity level.
Ashton Kooken, Sr, DL – Was a force for a Golden Eagles defense that allowed just 13.0 points per game and recorded four shutouts in 2020. Kooken was named OPSWA Division III Honorable Mention All-Ohio for his work. He has four-and-a-half sacks in his career.
Ashton Ault, Sr, RB/LB – Picked up the slack at running back after Borondy went down with an injury last season. Ault ran for 486 of his 524 yards (10.8/carry) and all seven of his touchdowns in the Eagles final three contests. On defense, he had 51 total tackles, a sack, a fumble recovery and an interception on his way to OPSWA Division III Second Team All-Southwest District (LB) accolades.
Brayden Turner, Sr, OL – Helped pave the way for a Golden Eagles offense that averaged 403.6 yards of total offense with 46 total touchdowns last season. Turner was named First Team All-SWBL Southwestern as a junior.
Gavyn Roop, Sr, DB – A leader of the secondary. Roop had three takeaways (two INTs, one FR) on his way to Second Team All-SWBL Southwestern honors as a junior.
Nick Cumpston, Sr, OLB – Back for his third year as a starter. Cumpston was an Honorable Mention All-SWBL Southwestern selection as a fall. He has five-and-a-half sacks in his career.
Tristan Waybrandt, Sr, DL, 6-2, 235 – A high-motor finisher. Waybrandt led Bellbrook with five sacks and was an Honorable Mention All-SWBL Southwestern selection as a junior.
Sam Vine, Jr, OL – Was a major factor for a Bellbrook team that averaged 291.6 yards per game rushing in 2020.
PLAYOFF HISTORY
(10 appearances, 5-10) – 2020, 2018, 2014, 2004, 2003, 2002, 2001, 1999, 1991, 1981
2021 SCHEDULE
Fri – 08/20/21 – TIPPECANOE (7-2 in 2020) – 7:00 PM
Fri – 08/27/21 – BADIN (7-1) – 7:00 PM
Fri – 09/03/21 – at Tecumseh (4-4) – 7:00 PM
Fri – 09/10/21 – at Eaton (5-5) – 7:00 PM
Fri – 09/17/21 – FRANKLIN (5-3) – 7:00 PM
Fri – 09/24/21 – at Waynesville (5-2) – 7:00 PM
Fri – 10/01/21 – MADISON SENIOR (4-5) – 7:00 PM
Fri – 10/08/21 – OAKWOOD (3-6) – 7:00 PM
Fri – 10/15/21 – at Monroe (3-5) – 7:00 PM
Fri – 10/22/21 – VALLEY VIEW (6-3) – 7:00 PM