2021 Snapshot: Valley View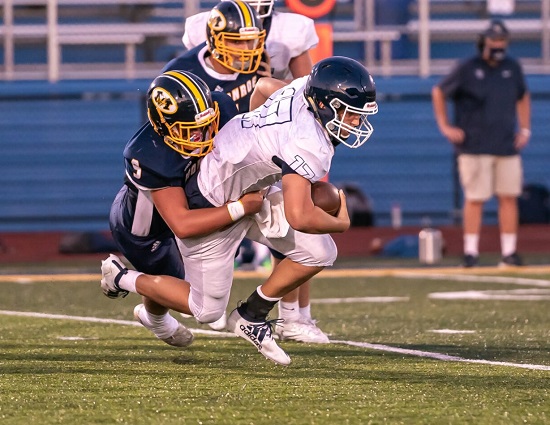 Valley View RB Jake Clark (photo by AJ Fullam/6sphoto.com)
It has been 19 years since Valley View has won a regional crown. The Spartans have been close, but Wyoming, Clinton-Massie and Alter have cornered the market on Division IV, Region 16/14 (Southwest District) titles, winning 12 of the 13 since 2008. With new head coach Ken Moyer taking over the helm maybe this will be the season that the trophy returns to Germantown.
Valley View hasn't had a losing season since 2012. Those winning ways should continue under Moyer, who has far more resources to work with now, than he did at Dayton Christian. The Spartans shouldn't miss a beat.
The schedule is tough. The combined record of Valley View's opponents in 2020 was 56-36 (.609 winning %). There will a slew of new faces in the starting lineup and it may take a few games before the Spartans find their groove. With the playoffs expanding to 16 teams in each region expect this program to be back in the postseason for the fourth time in the last five years.
Division IV, Region 16
2020 RECORD: 6-3, 3-2 SWBL Southwestern
COACH: Ken Moyer (0-0 at Valley View, first year; 40-30 overall, seven years)
TOP RETURNEES
Matthew Cotterman, Sr, OLB – The leader of the Spartans defense. Cotterman was named Second Team All-SWBL Southwestern as a junior.
JT Ferguson, Sr, WR/DB/P – A factor in all three phases of the game for Valley View in 2020. Ferguson had 11 receptions for 146 yards, one touchdown catch, averaged 39.3 yards on 21 punts with a long of 59 yards and was named Second Team All-SWBL Southwestern as a defensive back.
Tyler Brock, Sr, OL/DL – Will provide much needed senior leadership in the trenches for the Spartans.
Austin Stidham, Jr, WR/DB – Was solid in his first year as a starter and will be a staple in the secondary over the next two seasons. Stidham was named Second Team All-SWBL Southwestern (DB), as a sophomore.
Jake Clark, Jr, RB – Should be the focal point of the Valley View offense over the next two years. Clark is a threat both running and catching the ball out of the backfield. He heads into his junior season with 834 all-purpose yards (429 rush, 301 rec, 104 ret), 22 receptions and eight touchdowns (six rush, two rec).
Cade Phillips, Jr, K – A valuable commodity in the kicking game for the Spartans. Phillips connected on 36/38 extra points and2/4 field goal attempts for 42 points, as a sophomore.
NEWCOMERS
Caden Henson, So, QB/DB – Will get his opportunity to win the starting quarterback job. Henson had his first rushing touchdown versus Milton-Union last season, as a freshman.
PLAYOFF HISTORY
(21 appearances, 37-18) – 2020, 2019, 2017, 2016, 2013, 2009, 2008, 2007, 2005, 2003, 2002 (Regional Champion), 2001, 2000 (Regional Champion), 1999, 1998, 1997 (State Champion), 1996 (State Champion), 1995, 1994 (State Champion), 1993 (Regional Champion), 1992 (Regional Champion)
2021 SCHEDULE
Fri – 08/20/21 – at Springfield Shawnee (6-3 in 2020) – 7:00 PM
Fri – 08/27/21 – at Milton-Union (7-3) – 7:00 PM
Fri – 09/03/21 – ROSS (8-2) – 7:00 PM
Fri – 09/10/21 – OAKWOOD (3-6) – 7:00 PM
Fri – 09/17/21 – at Madison Senior (4-5) – 7:00 PM
Fri – 09/24/21 – BROOKVILLE (6-2) – 7:00 PM
Fri – 10/01/21 – at Carlisle (4-6) – 7:00 PM
Fri – 10/08/21 – FRANKLIN (5-3) – 7:00 PM
Fri – 10/15/21 – EATON (5-5) – 7:00 PM
Fri – 10/22/21 – at Bellbrook (8-1) – 7:00 PM