Freshmen of Influence: Class of 2024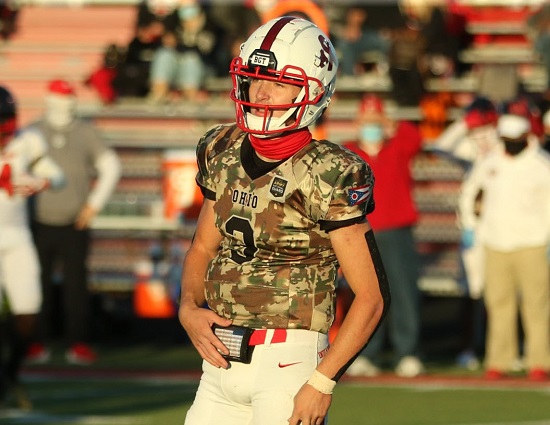 Fairfield QB Talon Fisher (photo courtesy of ScoutingOhio.com)
In 2020, several freshmen burst onto the scene. It didn't take them long to make an impact at the varsity level. Watching them grow over the next three seasons will be fun to follow.
Here is a look at some the top performers last fall in the Class of 2024:
Talon Fisher, Fairfield, QB – "The Claw" became the second freshman to start at quarterback in the GMC in as many years (Mitch Bolden, Lakota West – 2019). Fisher used his legs to make a statement. In Week 2 against Middletown he ran for 299 yards and four touchdowns. He had 543 yards on the ground in his first three starts. Despite some injuries during the middle of the season Fisher still ended up third in the league with 915 yards rushing (100-plus in five tilts), along with 401 yards passing while accounting for 10 touchdowns (nine rush, one pass) in eight games. He was named Second Team All-GMC.
Zaire Washington, Sycamore, LB – A bright spot for an Aviators defense that lacked depth. Washington tallied 31 total tackles in seven games.
Jordan Marshall, Moeller, RB – Will head into 2021 as the frontrunner to become the Crusaders go-to-guy out of the backfield. Marshall touched the ball 28 times for 285 all-purpose yards (131 rush, 120 ret, 34 rec). He averaged 6.0 yards per carry and had three rushing touchdowns.
Conner Smith, Miamisburg, WR – Who says size matters. The 5-foot-8, 145-pound Smith proved he was a difference-maker for the Vikings. Smith ended the year with 14 receptions for 184 yards and two touchdowns. He had at least one catch in all eight games in which he played.
Elias Rudolph, Taft, DL – Has the tools to be a Power 5 recruit. The 6-foot-4, 200-pound Rudolph recorded 27 total tackles, had four sacks and recovered a fumble for a Senators squad that played just six games. He was named Second Team All-CMAC Red.
Quaid Hauer, Wyoming, LB – When Cowboys head coach Aaron Hancok starts a freshman very rarely do they disappoint. Such was the case with Hauer who recorded 56 total tackles, had six sacks and a fumble recovery helping Wyoming to a 10-1 record. He was named Honorable Mention All-CHL.
Tofa Luani, Milford, RB/LB – Can turn it on to "beast mode" and that is a scary thought for Eagles foes the next three seasons. In six games, the 6-foot-2, 220-pound Luani ran for 151, had six receptions for 40 yards, found the end zone four times (three rush, one rec), recorded three sacks and had a fumble recovery.
Amare Lattimore, Chaminade Julienne, RB – Earned playing time late in the season for the Eagles. Finished with 155 yards and two touchdowns on 29 carries (5.3/carry).
Rayvonn Harris, Stebbins, WR/DB – Exploded onto the scene starting on both sides of the ball for the Indians. Harris had 13 receptions for 249 yards, three touchdown catches, a punt return for a touchdown, 19 total tackles and a fumble recovery. He was named Honorable Mention All-MVL.
Jake Wheelock, Stebbins, OL – A second Indian to make this list. The 6-foot-4, 270-pound Wheelock has the size and strength to be one of the best linemen to ever come out of Stebbins.
Josh Ringer, East Central, RB – Made the most of his opportunity when Trojans star, Jake Fike was sidelined with a shoulder injury. Despite missing a couple of games with contact tracing, Ringer still led East Central with 714 yards and nine touchdowns rushing in seven tilts. He had five games of 100-plus yards on the ground including three with at least 150. Ringer had a season high 176 yards rushing versus Indiana Class 4A state champion, Roncalli.
Patton Johnson, Reading, DL – Was in on 50 total tackles with a half-of-a-sack for the Blue Devils. He was named Honorable Mention All-CHL.
Terry Bishop, CCPA, RB/LB – A productive player on both sides of the ball. Smith ran for 122 yards, had 13 receptions for 106 yards, two touchdown catches, four-and-a-half sacks, two forced fumbles and had two fumble recoveries for the Lions. He was named Second Team All-MVC Gray.
Parker Corbin, CCD, RB/DB – Amassed 531 all-purpose yards (252 rush, 104 rec, 175 ret) and found the end zone four times (three rush, one rec). He was named Honorable Mention All-MVC Gray.
Cameron Snider, Bethel-Tate, QB – The sample size was small but Snider proved Friday night lights weren't too big for him. When senior Chris Long went down in a third-round playoff game loss to Clinton Massie, Smith entered the contest then proceeded to throw for 257 yards and three touchdowns. He finished the year with 621 yards passing, six touchdown tosses and 61 yards rushing in four appearances.
Glenn Peacock, East Clinton, RB – Carried the ball 118 times for 438 yards and three touchdowns in 10 games. He also had three receptions for 34 yards. Peacock was named Honorable Mention All-SBAAC National.
Logan Verax, Ryle, QB – Lit up Conner for 255 yards and three touchdowns in his only extended time under center. Verax played in eight games throwing for 287 yards, with three touchdown passes and 31 yards rushing.
Kaydon Custard, Harrison County, QB – Threw for 579 yards and accounted for 12 touchdowns (seven pass, five rush) in eight games as the Thorobreds went 5-3.
Lavarr Jones, Holy Cross, RB – Got his first career offensive touches in Week 2, running for a season high 128 yards against Newport Central Catholic. Jones finished the year with 514 yards and three touchdowns on the ground in seven contests. Not bad for a kid running with very little help up front.
Jaydon Turnage, North College Hill, QB/DB – Left his mark on the defensive side of the ball and should be an even bigger threat on offense as his career moves on. He was named Second Team All-MVC Gray.
Brady Haas, Madison Senior, QB – The numbers should only go up for Haas. He played in eight games and threw for 345 yards and three touchdowns for the Mohawks.