2021 Snapshot: Mariemont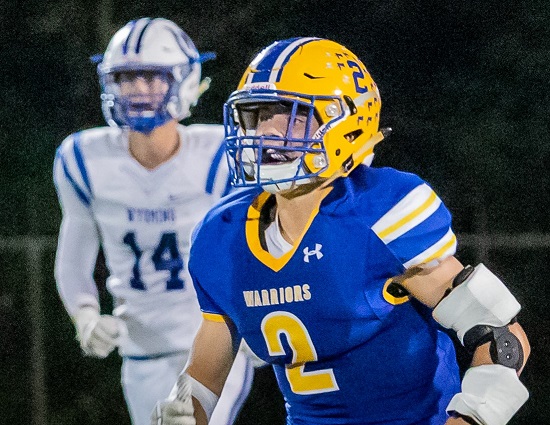 Mariemont WR/DB Max Tepe (photo from wyomingathletics.org/sports/football)
Coming off its deepest playoff run since 2003, Mariemont has plenty to look forward to this fall. The Warriors have not had a losing season since 2009. They now look to take things to the next level after that taste of sweet success, a year ago.
"I'm excited for our team to grow this season and find new players to be bellcows. Our numbers have grown, construction is wrapped on a new weight room and school. The community is really behind our team after a great run last season," Head coach Nick Leone states.
Mariemont graduated its two biggest playmakers (Seth Greene and Andrew Glassmeyer). Those are big holes to fill at defensive end, running back and quarterback. "We will be leaning on players at other positions for leadership," Leone says.
The cupboard is not bare, however. The Warriors return five offensive linemen that have varsity experience, all starters at receiver along with the majority of their defensive linemen and linebackers. With the expansion of the playoffs from eight to 12 teams Mariemont could do some damage again in the postseason.
Division V, Region 20
2020 RECORD: 6-4, 3-3 CHL
COACH: Nick Leone (6-4 at Mariemont, one year; 6-4 overall)
HONOR ROLL
Jack Mileham, Sr, OL/DL – The crown jewel of the offensive and defensive lines for Mariemont. Mileham recorded 61 total tackles, had seven sacks, forced a fumble and recovered a fumble on his way to OPSWA Second Team All-Southwest District honors as a junior. He heads into his senior season with 140 total tackles, eight sacks, four forced fumbles and two fumble recoveries.
Max Tepe, Sr, WR/DB – A varsity starter since his freshman year, Tepe will step into a leadership role on both sides of ball in 2021. He was named Second Team All-CHL (DB) as a junior. Tepe has receptions, 848 yards receiving 1,144 all-purpose yards, four touchdown catches, 91 total tackles and two interceptions in his career.
Ethan Malafa, Sr, TE/DE – Will be a dominant player on both sides of the ball this fall. The 6-foot-6, 205-pound Malafa was a Second Team All-CHL selection as a junior after tallying 22 total tackles, with four sacks and two interceptions including a pick six against Reading. He also had nine receptions for 101 yards and two touchdowns on offense.
David Dorsten, Jr, ATH/MLB – An every down player on defense who also had multiple contributions on offense as a sophomore. Dorsten racked up 87 total tackles, had two-and-a-half sacks, forced fumble, recovered two fumbles and ran for two touchdowns on the way to Second Team All-CHL accolades as a sophomore.
Connor Souders, Sr, WR/K – A huge asset on special teams, Souders was named Second Team All-CHL (K) in 2020. He has connected on 48/54 extra points and 5/8 field goals for 63 kicking points in his career.
Henry Dunne, Jr, OL/DL – A major contributor on both sides of the line. The 6-foot-3, 228-pound Dunne had 23 total tackles, two forced fumble and a scoop-and-score on his way to Honorable Mention All-CHL acclaim as a sophomore.
Barrett Lindell, Sr DB – A returning starter in the secondary who had 29 total tackles and an interception in 2020. Lindell was named Honorable Mention All-CHL for the effort.
Jack McCloskey, Sr, RB/LB – Had a breakout junior campaign with 45 total tackles, one-and-a-half sacks, two forced fumbles and two fumble recoveries. McCloskey was named Honorable Mention All-CHL for the work.

NEWCOMER
Mark Morgan, Jr, RB/DE – Injuries sidelined Morgan for most of last season. He is primed to come back full strength and have a big year.
PLAYOFF HISTORY
(13 appearances, 11-13) – 2020, 2014, 2013, 2005, 2003, 1996, 1995 (State Runner-up), 1994, 1991, 1990, 1984, 1980 (State Runner-up), 1974
2021 SCHEDULE
Fri – 08/20/21 – OAKWOOD – 7:00 PM
Fri – 08/27/21 – at Norwood – 7:00 PM
Fri – 09/03/21 – WILLIAMSBURG – 7:00 PM
Fri – 09/10/21 – at Madeira – 7:00 PM
Fri – 09/17/21 – at Indian Hill – 7:00 PM
Fri – 09/24/21 – FINNEYTOWN – 7:00 PM
Fri – 10/01/21 – at Deer Park – 7:00 PM
Fri – 10/08/21 – WYOMING – 7:00 PM
Fri – 10/15/21 – READING – 7:00 PM
Fri – 10/22/21 – at Taylor – 7:00 PM