2021 Snapshot: Reading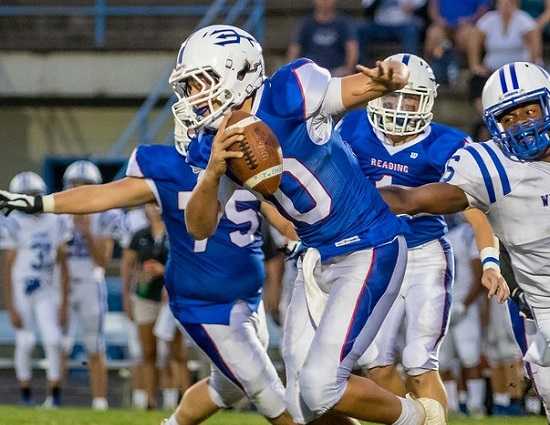 An experienced Reading squad looks to finish things off in 2021. The Blue Devils were 1-3 in games decided by seven points or less last fall. If they flip that number around then Reading has a winning season.
A veteran Blue Devils squad should get the team over .500 for the first time since 2017. The team is also looking for back-to-back playoff appearances, something that hasn't happened since going five years in a row from 2000-04.
Reading has some offensive firepower. They should not have a problem putting points on the board. If the defense can take a step up to the next level the Blue Devils will be a load to contend with.
Division V, Region 20
2020 RECORD: 2-6, 1-5 CHL
COACH: Cody Reardon (8-20 at Reading, three years; 8-20 overall)
HONOR ROLL
Caden Conner, Sr, DE – The leader of the Blue Devils defense. Conner was named OPSWA Division V Second Team All-Southwest District (DL), as a junior. He has 125 total tackles, three sacks and two interceptions, in his career.
Jordan Feld, Sr, WR/DB – Gives Reading production on both sides of the ball. Feld was named Second Team All-CHL (DB) in 2020. He has 29 receptions, 310 receiving yards, two touchdowns catches, 49 total tackles and four interceptions including a pick-six, at the varsity level.
Casey Hinton, Sr, WR – It was a breakout junior campaign for Hinton. He reeled in 28 receptions for 329 yards, had two touchdown catches and averaged 22.6 yards on 12 kickoff returns including taking one to the house against Finneytown. Hinton was named Second Team All-CHL (WR) for his work.
Joel Steinkoenig, Sr, QB – The man that keeps the Blue Devils offense motoring. Steinkoenig is back for his third year as a starter. He was a Second Team All-CHL (QB) selection, as a junior. Steinkoenig has thrown for 2,139 yards and accounted for 19 touchdowns (16 pass, three rush), in his career.
Zach Scholz, Sr, OL/DL – Came out of his shell as a junior. Scholz registered 27 total tackles, and was named Second Team All-CHL (OL).
Jaydon Bemmes, Sr, LB – Was a beast as a junior. Bemmes was in on 83 total tackles and had two interceptions on his way to being named Honorable Mention All-CHL.
Julian Bemmes, Sr, WR – Bemmes has all-district potential. He recorded 45 total tackles and had an interception to earn Honorable Mention All-CHL accolades, as a junior.
Patton Johnson, So, DL – A rising star in the Class of 2024. Johnson was in on 50 total tackles as a freshman. He was named Honorable Mention All-CHL.
Freshmen of Influence: Class of 2024
OTHER RETURNEES
Jaycob Sales, So, OL/DL – Had an excellent freshman campaign. Sales tallied 32 total tackles and a sack.
Antwon Brooks, Jr, DB – Came on strong late last season. Brooks finished with 25 total tackles in four games.
PLAYOFF HISTORY
(11 appearances, 9-11) – 2020, 2017, 2015, 2006, 2004, 2003, 2002, 2001, 2000 (Regional Champion), 1973, 1972
2021 SCHEDULE
Fri – 08/20/21 – LOCKLAND (3-4 in 2020) – 7:00 PM
Fri – 08/27/21 – ADENA (8-1) – 7:00 PM
Fri – 09/03/21 – at Summit Country Day (4-6) – 7:00 PM
Fri – 09/10/21 – at Deer Park (4-3) – 7:00 PM
Fri – 09/17/21 – WYOMING (10-1) – 7:00 PM
Fri – 09/24/21 – MADEIRA (6-4) – 7:00 PM
Fri – 10/01/21 – at Finneytown (0-9) – 7:00 PM
Fri – 10/08/21 – TAYLOR (3-6) – 7:00 PM
Fri – 10/15/21 – at Mariemont (6-4) – 7:00 PM
Fri – 10/22/21 – at Indian Hill (7-1) – 7:00 PM