Player Spotlight: Brogan McCaughey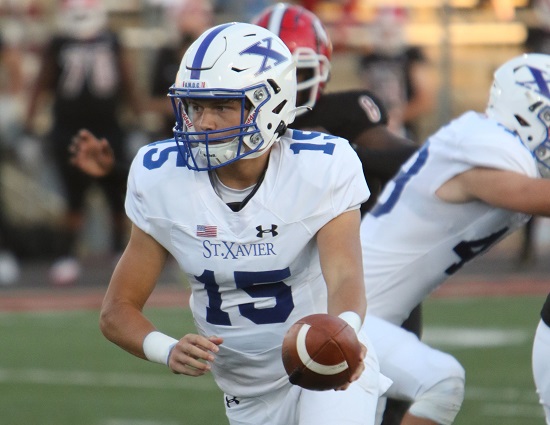 St. Xavier QB Brogan McCaughey (photo by Dan Bieneke/TriStateFootball.com)
Tough as nails, is the best way to describe St. Xavier senior quarterback Brogan McCaughey. He is a player that has mettle and moxy.
Last season, just a week after throwing four interceptions in the Bombers 12-10, state semi-finals win over Springfield McCaughey, showed his mental toughness and intestinal fortitude. He bounced back in the Division I championship game versus Pickerington Central, throwing four first quarter touchdown passes (a state championship game record) and was a yard short of a fifth (which he eventually snuck in for a score), as St. Xavier routed the reigning champion Tigers, 44-3, for their fourth title in program history.
He finished 2020 with 2,708 yards and 28 touchdowns passing, in 10 games. McCaughey was excellent in his final six starts averaging 300.7 yards through the air with 20 touchdown tosses. In that span, he had two tilts with five and two contests with four touchdown passes. McCaughey also set a St. Xavier single game record with 556 yards passing against Cleveland St. Ignatius. He was named OPSWA Division I First Team All-Ohio, for his work.
"Brogan is a tremendous student of the game. He is diligent in his approach and strives to get better on a daily basis. He is a pleasure to coach," St. Xavier head coach states about his star signal-caller.
The 6-foot-2, 191-pound McCaughey, who had the top rating at the regional Elite 11 Quarterback Camp in Philadelphia (back in late April), does not have a Division I Power 5 conference offer. His offers include Akron, Bowling Green, Buffalo, Eastern Kentucky, Eastern Michigan, Kent State, Miami (OH), Ohio, Penn, Toledo, Tulane, Western Michigan, Yale and Youngstown State.
The Power 5 quarterback that he resembles the most is former Ryle High School standout and Minnesota Golden Gophers starter, Tanner Morgan. We have seen what an "undersized" Morgan (6-2/215) has done with double digit school records and climbing. It's just a matter of time before a major college recognizes that McCaughey can bring that same kind of effort to the table every week and makes him that Power 5 offer, he so richly deserves.