2021 Snapshot: Dixie Heights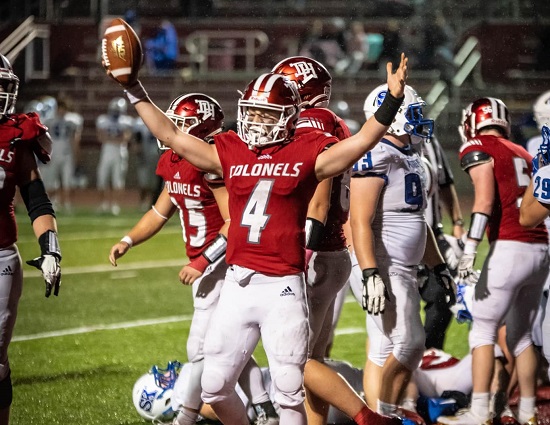 Dixie Heights QB Logan Landers (photo from Twitter: Dixie Heights Football)
The chemistry is great, the vibe is right and the aura is bright for Dixie Heights to be something special on the field, this fall. The Colonels have so many positive intangibles going for them this should be a very successful season.
"This is the hardest working team I have ever coached in 20 years. Their commitment to football and the weight-room has been exceptional. In a year of "Covid guidelines", these guys did whatever it took to work out, stay in shape and develop athletically, when everything shut down. They are hands down, the strongest team I have ever coached, according to our weight room numbers.  I have never been prouder of a group of kids," Dixie Heights head coach Dave Brossart states.
Brossart goes on to address his Colonels character. "Down 23-0 to Simon Kenton in our playoff game last season, our kids showed great resilience and determination. Coming back from that deficit, to win that game late in the fourth quarter, 34-33.  I think this is a great example of the types of kids I have on this team."
Dixie Heights is a veteran group with polished players at the skills positions. The Colonels will play well from the opening kickoff in Week 0 through the fourth quarter of Week 10. This is going to be one confident group once the playoffs start and that makes them a very dangerous and hungry foe.
Class 6A, District 6
2020 RECORD: 6-4, 2-1 Class 6A, District 6
COACH:  Dave Brossart (48-57 at Dixie Heights, nine years; 72-89 overall, 14 years)
TOP RETURNEES
Evan Wibberley, Sr, OL – An argument can be made that the 6-foot-5, 275-pound Wibberely is the best offensive lineman in Northern Kentucky. Wibberly was named First Team All-NKY (OL) and Third Team All-TriState Football as a junior. He has offers from Austin Peay, Central Arkansas, Eastern Kentucky, Eastern Michigan, Florida International, Furman, Marshall, Middle Teennessee State, Missouri State, Western Kentucky and Youngstown State.
Pierce Rohlman, Sr, RB/FS – The Colonels most valuable player. Rohlman plays free safety and calls the defensive strengths and coverages.  He also started at running back in 2020 and ran for 772 yards while finding the end zone 11 times (10 rush, one pass). Rohlman was named the Class 6A, District 6 Player of the Year, First Team All-NKY (RB), Honorable Mention All-TriState Football and was a TriState Football Northern Kentucky Offensive Player of the Year finalist for his work. He has 125 total tackles and three interceptions in his career.
Colin Smith, Sr, LB – One of the leaders of the Dixie Heights defense. Smith tallied 92 total tackles and forced four turnovers (three FRS, one INT) as a junior. He was named First Team All-NKY (LB) and Honorable Mention All-TriState Football.
Devin Holbert, Sr, WR – A playmaker who had a breakout junior campaign. Holbert had 59 receptions for 923 yards and eight touchdowns on his way Second Team All-NKY (WR) honors.
Logan Landers, Sr, QB – A tremendous leader and playmaker who fuels the Colonels offense. Landers threw for 1,843 yards, ran for 409 yards, with 13 passing touchdowns and seven rushing scores as a junior. He has amassed for 3,888 yards of total offense (3,321 pass, 668 rush) and accounted for 28 touchdowns (21 pass, seven rush), at the varsity level.
Kel Hawkins, Sr, WR/DB – Led northern Kentucky with eight interceptions to go along with 26 total tackles in 2020. He was named AP Honorable Mention All-Kentucky for his work. Hawkins who also plays receiver also has 53 receptions for 658 yards and six touchdowns, in his career.
Player Spotlight: Kel Hawkins
2021 SCHEDULE
Fri – 08/20/21 – at Lloyd (4-3 in 2020) – 7:00 PM
Fri – 08/27/21 – at Cooper (3-6) – 7:30 PM
Fri – 09/03/21 – CONNER (3-4) – 7:00 PM
Fri – 09/10/21 – at Covington Catholic (10-2) – 7:00 PM
Fri – 09/17/21 – BYE
Fri – 09/24/21 – HIGHLANDS (5-6) – 7:00 PM
Fri – 10/01/21 – BEECHWOOD (10-2) – 7:00 PM
Fri – 10/08/21 – at Simon Kenton (3-7) – 7:00 PM
Fri – 10/15/21 – RYLE (6-4)– 7:00 PM
Fri – 10/22/21 – at Campbell County (2-6) – 7:00 PM
Fri – 10/29/21 – SCOTT (1-5) – 7:00 PM