2021 Snapshot: Simon Kenton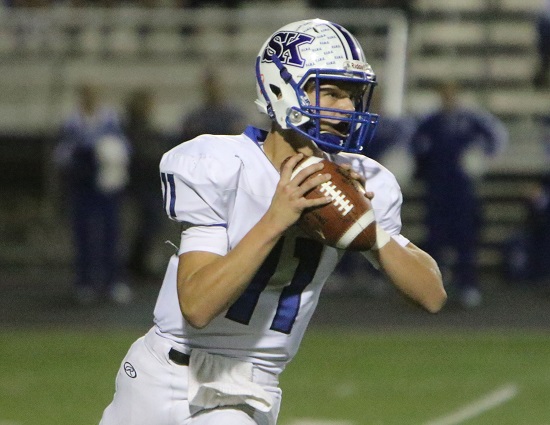 Simon Kenton QB Chase Crone (photo by Dan Bieneke/TriStateFootball.com)
The Simon Kenton football program suffered a rare step back in 2020. The Pioneers posted their second losing campaign in the last 13 years and broke a string of eight consecutive winning seasons. It was also just the second time they failed to get to the elite eight (quarterfinals) of the Class 6A playoffs, in that same period of time.
"After a 2020 season that did not meet our expectations, we hope to rebound and be more consistent in 2021," head coach Jeff Marksberry stated. We have a tough schedule and our district should be a battle." Simon Kenton will face teams that were a combined 53-36 (.629 winning %) and only three foes had a losing record last fall.
Marksberry goes on to say, "we will be inexperienced on the offensive line, but we should be back to having great size up front again. We will also be inexperienced at some spots on defense." The good news is that the Pioneers have elite playmakers on both sides of the ball and that should more than make up for the greenness of the newcomers.
Simon Kenton will bounce back. Getting off to a good start is a must. These kids know and understand what it takes to win because of those who came before them in the program. The Pioneers are going to be a difficult match up on Friday nights.
Class 6A, District 6
2020 RECORD: 3-7, 1-3 Class 6A, District 6
COACH:  Jeff Marksberry (156-94 at Simon Kenton, 21 years; 156-94 overall)
TOP RETURNEES
Joe Vormbrock, Sr, DL – A real beast up front for the Pioneers. The 6-foot-4, 260-pound Vormbrock recorded 50 total tackles, had seven sacks, 13 tackles for losses and two fumble recoveries last fall. He was named Second Team All-NKY (DL) for his effort.
Chase Gill, Sr, LB – The sample size was small, but Gill clearly made a difference for the Pioneers defense in 2019. In three games, he had 22 total tackles, two sacks, a forced fumble and a fumble recovery.
Luke Morrison, Sr, WR – Will be one of the top targets in the Pioneers passing game. Morrison finished 2019 with 18 receptions for 218 and a touchdown.
Matt Link, Sr, DB – Did a nice job for the Simon Kenton secondary as a junior. Link was in on 39 total tackles with four tackles for losses and a fumble recovery.
Chase Crone, Jr, QB – One of the premier offensive players in northern Kentucky. Crone threw for 1,832 yards, had 12 touchdown passes and 638 yards and nine scores on the ground, as a sophomore. He has racked up 4,899 yards of total offense (3,572 pass, 1,327 rush) and accounted for 41 total touchdowns (26 pass, 15 rush) at the varsity level.
Jayden Lawson, Jr, RB – I t was a breakout sophomore campaign for Lawson. He ran for 906 yards and nine touchdowns. Lawson had three games with 100 yards or more on the ground including a career high of 180 versus Dixie Heights during the regular season.
Josh Bowling, Jr, LB – Had no problem adjusting to Friday night lights as a sophomore. Bowling finished the year with 77 total tackles, three sacks and six tackles for losses.
Aba Selm, So, OL – Will be a staple and a force on the offensive line for the next three years. The 6-foot-4, 270-pound Selm earned his first letter after playing in six games as a freshman.
2021 SCHEDULE
Fri – 08/20/21 – OLDHAM COUNTY (5-4 in 2020) – 7:30 PM
Fri – 08/27/21 – HIGHLANDS (5-6) – 7:30 PM
Fri – 09/03/21 – at Southwestern (10-2) – 7:30 PM
Fri – 09/10/21 – BEECHWOOD (10-2) – 7:00 PM
Fri – 09/17/21 – BYE
Fri – 09/24/21 – at Connersville (IN) (2-7) – 7:30 PM
Fri – 10/01/21 – at Corbin (8-2) – 7:30 PM
Fri – 10/08/21 – DIXIE HEIGHTS (6-4) – 7:00 PM
Fri – 10/15/21 – CAMPBELL COUNTY (2-6) – 7:00 PM
Fri – 10/22/21 – at Ryle (6-4) – 7:00 PM
Fri – 10/29/21 – at Woodford County (4-3) – 7:30 PM