2021 Snapshot: Miamisburg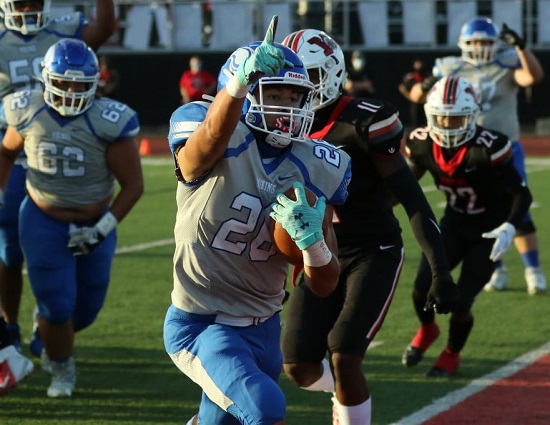 Miamisburg RB Christian Davis (photo courtesy of ScoutingOhio.com)
The first two years of head coach Lance Schneider's reign at Miamisburg have been rough to say the least. The Vikings have had to play a ton of underclassmen and they have taken their share of lumps. That should begin to change over the next two fall's. Those young players have produced and now they have plenty of varsity experience. Be wary all Miamisburg foes, the payback is about to begin on Belvo Road.
"We are continuing to climb the mountain to compete in the GWOC. This will be the first full offseason I have had, since getting the job. We should reap the benefits of it. With lettering 10 freshmen the past two seasons, this should be the year we profit from it," Schneider states.
There is a ton to like about the Vikings especially at the skills positions. This will be one of the most explosive teams in the GWOC. Still, there are hurdles. "We are working on developing the strength it takes to play in the GWOC. Inside linebacker positions will be filled by players without varsity experience," says Schneider.
Getting out of the gate strong would go along way in boosting Miamisburg's confidence and morale. The Vikings first three non-conference games are theirs for the taking. They should aim to be 3-0 heading into the GWOC portion of the schedule. If they accomplish that, opponents will have their hands full on Friday nights.
Division I, Region 2
2020 RECORD: 2-7, 1-5 GWOC
COACH: Lance Schneider (5-14 at Miamisburg, two years; 112-77 overall, 18 years)
HONOR ROLL
Christian Davis, Jr, RB – One of Ohio's top running backs in the Class of 2023. Davis amassed 918 all-purpose yards (594 rush, 224 rec, 100 ret), had 29 receptions and found the end zone six times (five rush, one rec) as a sophomore. That effort earned him OPSWA Division I Second Team All-Southwest District honors. Davis picked up his first offer from Cincinnati this offseason. He heads into his junior year with 1,119 yards rushing, 60 receptions, 677 receiving yards, 1,916 all-purpose yards and 12 touchdowns (nine rush, three rec).
Corwyn Hurt, Sr, DB – Really made an impact for the Vikings defense with 25 total tackles and four interceptions as a junior. Hurt earned OPSWA Division I Second Team All-Southwest District accolades for his work.
Luke Myers, Sr, OLB – One of the leaders of the Miamisburg defense. Myers was named Honorable Mention All-GWOC as a junior. He has 81 total tackles and three takeaways (two FRs, one INT) including a pick-six at the varsity level.
De'arius Williams, Sr, OL/DL – The 6-foot-2, 264-pound lineman is one of those players that is flying under the radar in the Dayton-area. Williams was an Honorable Mention All-GWOC selection in 2020.
AJ Salley, Jr, OL/DL – The best is still ahead for this rising star. The 6-foot-5, 240-pound lineman has offers from Cincinnati, Kentucky and Toledo.
OTHER RETURNEES
Brock Harris, Sr, DT – Back for his third year as a starter. Harris has 58 total tackles, three sacks and two fumble recoveries in his career.
Justin Barry, Sr, QB – An intelligent player who fared quite well in his first season as a starter. Barry ended his junior campaign with 1,651 yards passing, 12 touchdown passes and one rushing score.
Jackson McGohan, Jr, WR/TE – A real hidden gem who has ball skills and an6-foot-5, 201-pound frame to still build upon. MaGohan had 26 receptions for 374 yards and three touchdowns in seven games a year ago.
Drew Dunaway, So, TE/DE – A big target at 6-foot-3 and 220-pounds, who is primed for a breakout campaign in 2021. Dunaway had three receptions for 41 yards in three games a freshman.
Conner Smith, So, slot – Who says size matters. The 5-foot-8, 145-pound Smith proved he was a difference-maker for the Vikings a freshman. He is talented receiver with excellent toughness. Smith ended the year with 14 receptions for 184 yards and two touchdowns. He had at least one catch in all eight games in which he played.
NEWCOMERS
The Vikings look for several players to step up and fill voids this fall. Juniors LB Nathan Ennis, CB Justin Davis as well as sophomores OL Abel Ngoh, RB/DB Baylor Stickel, DL Connor Sticklen, OLB Aiden Gillman and CB JonJon Smith will all get long looks as they try to crack the rotation. Ngoh started the last four games at center in 2020.
PLAYOFF HISTORY
(six appearances, 2-6) – 2020, 2016, 2015, 2014, 2013, 2000
2021 SCHEDULE
Fri – 08/20/21 – WEST CARROLLTON (2-6 in 2020) – 7:00 PM
Fri – 08/27/21 – at Lebanon (4-6) – 7:00 PM
Fri – 09/03/21 – HARRISON (3-7) – 7:00 PM
Fri – 09/10/21 – at Centerville (4-4) – 7:00 PM
Fri – 09/17/21 – WAYNE (5-3) – 7:00 PM
Fri – 09/24/21 – at Northmont (8-0) – 7:00 PM
Fri – 10/01/21 – FAIRMONT (4-5) – 7:00 PM
Fri – 10/08/21 – at Beavercreek (2-9) – 7:00 PM
Fri – 10/15/21 – SPRINGFIELD (8-2) – 7:00 PM
Fri – 10/22/21 – at Springboro (4-4) – 7:00 PM