2021 Snapshot: Springfield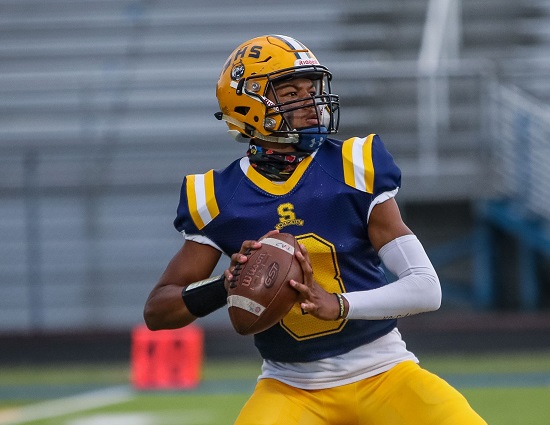 Springfield QB Te'Sean Smoot (photo by Shelby Frieszell/TriStateFootball.com)
There aren't many football programs "healthier" than Springfield, right now. The Wildcats are riding back-to-back Division I Regional championships and final four appearances into the 2021 campaign. This is the most prosperous era on the gridiron, in school history.
Springfield has experience and chemistry. The seniors (many of whom lettered as freshmen) are 29-7 including 7-3 in the playoffs, since they stepped on campus. The three postseason losses have been by seven, three and two points. This is a squad that knows what it takes to be the best on Friday nights.
"We must finish off every drive in Week 14," Springfield head coach Moe Douglass states. There may not be more poignant words spoken to a team by their head coach this offseason.
The final game last season sums up Douglass' sentiments to the fullest. The Wildcats fell to eventual state champion, St. Xavier, 12-10 in the state semi-finals.
Springfield turned the Bombers offense over five times but could not capitalize, in that affair. St. Xavier held the Wildcats to zero points and just 62 yards on 26 plays, after those turnovers. Add in 10 penalties for 95 yards and just 2-16 on third and fourth down conversions and just compounds the frustrations of what should have been a more fruitful evening for Springfield.
There is a very good chance that the Wildcats could find themselves in a state semi-final rematch with St. Xavier this season. If Springfield, pays attention to detail, to go along with the motivational factor of avenging that 2020 loss to the Bombers, the results will tilt decidedly in their favor.
Division I, Region 2
2020 RECORD: 8-2, 5-1 GWOC
COACH: Moe Douglass (47-30 at Springfield, seven years; 148-84 overall, 20 years)
HONOR ROLL
Te'Sean Smoot, Sr, QB – The man that powers the Wildcats offensive machine. As a junior, Smoot threw for 2,269 yards, ran for 603 yards and accounted for 33 touchdowns (24 pass, nine rush). That effort led to 2020 OPSWA Division I First Team All-Ohio, Third Team All-TSF, TSF Dayton offensive Player of the Year Finalist and GWOC Offensive Player of the Year honors. Smoot, who has offers Air Force, Akron, UAB, Army, Ball State, Bowling Green, Eastern Michigan, Fordham, Kent State, Kentucky, Marshall, UMass, Miami (OH), Navy, Ohio, Toledo and Western Michigan heads into his senior campaign with 4,829 yards passing, 816 yards rushing, 46 touchdown tosses and 15 rushing scores.
Delian Bradley, Sr, RB/DB – One of the elite defensive backs in Ohio. Bradley finished his junior campaign with 66 total tackles, a forced fumble, a fumble recovery and six interceptions on his way to being selected 2020 OPSWA Division I First Team All-Ohio (for a second straight year), First Team All-TSF (for a second straight year), TSF Dayton Defensive Player of the Year and the GWOC Defensive Player of the Year. He heads into his senior year with 182 total tackles and 17 takeaways (11 INTs, six FRs). Bradley's offers include Akron, Arizona State, Bowling Green, Brown, Buffalo, Cincinnati, Dartmouth, Eastern Michigan, Harvard, Iowa State, Kent State, Kentucky, Miami (OH), Michigan State, Nebraska, Pitt, Princeton and Toledo.
Anthony Brown, Jr., WR/DB/KR – An electrifying player who is capable of taking the ball to the house every time he touches it. Brown, Jr. amassed 1,113 all-purpose yards, had 40 receptions for 829 yards (20.7 yds/rec) and found the end zone 12 times (nine rec, one rush, one PR, one KR) as sophomore. He was named 2020 OPSWA Division I Third Team All-Ohio for his work. Brown, Jr. has offers from Cincinnati, Eastern Kentucky, Georgia Tech, Iowa State, Kentucky, Miami (OH), Minnesota, Penn State, Pitt, Tennessee, Toledo, West Virginia and Wisconsin.
Jokell Brown, Sr, OL/DL – Was anchor of the Wildcats d-line that helped the team hold foes to just 8.0 points per contests with three shutouts over their last six games in 2020. The 6-foot, 283-pound Brown was named OPSWA Division I Second Team All-Southwest District for his work. Brown, who has 120 total tackles, 11.5 sacks, two forced fumbles and a fumble recovery in his career, holds offers from Findlay and Tiffin.
Tywann January, Sr, DL – Teams with Brown to form one of the best tandems of interior defensive linemen in Southwest Ohio. January was named OPSWA Division I Second Team All-Southwest District as a junior. He has an offer from Akron. January has 131 total tackles, seven-and-a-half sacks and a fumble recovery at the varsity level.
Jaivian Norman, Jr, ILB – One of the most under recognized, under appreciated players in Southwest Ohio. Back for his third year as a starter, Norman was named Second Team All-GWOC as a sophomore. He has 146 total tackles, a sack, two forced fumbles and an interception in a Wildcats uniform.
Vesean Washington, Sr, OL – A returning starter on the o-line, the cerebral Washington has an offer from Dartmouth. The 6-foot-5, 265-pound Washington was named Second Team All-GWOC last fall.
Devin Stamper, Sr, OLB – Showed great ability to rush the passer and drop back in coverage, in his first year as a starter. Stamper tallied 30 total tackles, had three sacks and two interceptions on his way to Honorable Mention All-GWOC as a junior.
Cole Yost, Sr, K/P – A great asset on special teams. Yost needs to be even more consistent as a senior if this team is to win a state title. He was an Honorable Mention All-GWOC selection in 2020. Yost has connected on 81/108 extra points and 8/14 field goal attempts for 115 kicking points in his career.

OTHER RETURNEES
Shawn Thigpen, Jr, WR – A huge, rangy target at 6-foot-4. Thigpen is poised for a breakout campaign on the opposite side of Brown, Jr. He had 19 receptions for 265 yards and three touchdowns in seven games as a sophomore. Thigpen has offers from Kentucky and Toledo.
Fate Smith, Sr, OLB – In his first year as a starter, Smith acquitted himself well. He finished with 51 total tackles, a sack, a fumble recovery and an interception in 2020.
Christian McMillan, Sr, DB – All signs point to McMillan taking his game to a new level. He has all-district talent.
ZyAaron Woodruff, Sr, OL – Another returning letterman who will be part of a very good o-line. The 6-foot-3, 280-pound Woodruff helped the Wildcats churn out 356.0 yards of total offense (231.0 pass, 125.0 rush) per game, last fall.
Tayden Harper, Sr, OL – Will be an asset on both sides of the line. Harper has 23 total tackles and a pair of fumble recoveries, in a Wildcats uniform.
Myles Wills, Sr, OL – A mountain of a man at 6-foot-4 and 320-pounds. Wills helped the Springfield offense find the end zone 42 times (24 pass, 18 rush) in 2020.
Tyron Barnes, Jr, RB/DB – Will be an integral part of the backfield. Barnes showed flashes of what he could do with rushing performances of 64, 74 and 68-yards, in three straight games, last season. He finished with 220 yards and three touchdowns, as a sophomore.
NEWCOMERS
The backfield gets a huge boost with the addition of transfer RB Ramon Bruder. Last season, as a sophomore, Bruder ran for 1,062 yards and seven touchdowns for Xenia. He was named OPSWA Division II Second Team All-Southwest District.
Senior CB Micha Johnson, junior DL James Williams along with sophomores ATH Bay Bay Norman and QB/DB Aaron Scott all have a chance of breaking into the starting lineup. Norman scored his first varsity touchdown on a 28-yard run against Beavercreek as a freshman.
PLAYOFF HISTORY
(six appearances, 8-6) – 2020 (Regional Champion), 2019 (Regional Champion), 2018, 2016, 2010, 2009
2021 SCHEDULE
Fri – 08/20/21 –  ST. IGNATIUS (3-4 in 2020) – 7:00
Fri – 08/27/21 – at Fairfield (2-7) – 7:00 PM
Fri – 09/03/21 – at Trotwood-Madison (4-1) – 7:00 PM
Fri – 09/10/21 – at Wayne (5-3) – 7:00 PM
Fri – 09/17/21 – BEAVERCREEK (2-9) – 7:00 PM
Fri – 09/24/21 – at Fairmont (4-5) – 7:00 PM
Fri – 10/01/21 – at Springboro (4-4) – 7:00 PM
Fri – 10/08/21 – CENTERVILLE (4-4) – 7:00 PM
Fri – 10/15/21 – at Miamisburg (2-7) – 7:00 PM
Fri – 10/22/21 – NORTHMONT (8-0) – 7:00 PM