2021 Snapshot: Elder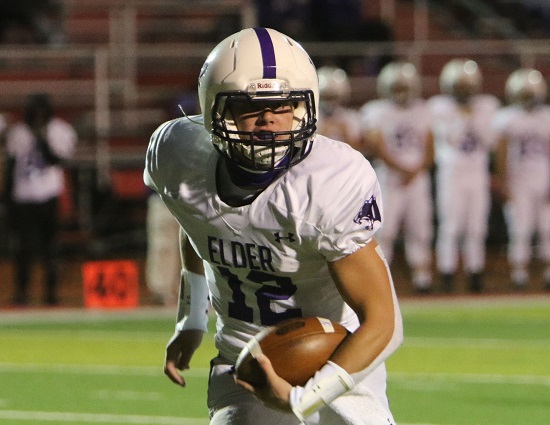 Elder RB/WR/QB Drew Ramsey (photo by Dan Bieneke/TriStateFootball.com)
If you love high octane, explosive offense "The Pit" is where you want to be hanging out on Friday nights this fall. Elder is going to be lighting up the scoreboard at a frenetic pace. With a cast of veteran offensive players, the Panthers are going to super exciting to watch.
"We have speed, incredible work ethic and guys that have experience in some key positions coming back," head coach Doug Ramsey states. There is depth on the offensive line, a stable of talented defensive backs and stars at the skills positions.
The schedule is a beast but there are six home games. The Elder offense will hold its own against any defense it faces. The Panthers gave up 31.7 points per game in 2020. If they can find a way to produce more three-and-outs with a secondary that is going to create plenty of takeaway opportunities this could be a very special season on 3900 Vincent Avenue.
Division I, Region 4
2020 RECORD: 5-4, 1-2 GCL South
COACH: Doug Ramsey (194-88 at Elder, 25 years; 194-88 overall)
HONOR ROLL
Drew Ramsey, Sr, WR/RB/QB/DB – One of the most well-rounded and polished offensive players in Ohio. Ramsey racked up 1,565 all-purpose yards (721 rush, 762 rush), had 55 receptions, found the end zone 22 times (14 rush, eight rec) and threw for 121 yards with a touchdown toss. The effort garnered him 2020 OPSWA Division I Second Team All-Ohio (WR), Second Team All-TSF (WR), TSF Cincinnati Offensive Player of the Year Finalist and GCL South Tri-Player of the Year accolades. Ramsey goes into his senior year with 2,856 all-purpose yards, 1,040 yards rushing, 116 receptions for another 1,395 yards with 18 rushing touchdowns, 13 receiving scores and three touchdown passes. He has offers from Miami (OH) and Toledo.
Ben Hambleton, Sr, QB – Burst onto the scene in 2020. Hambleton completed 67.1% of his passes for 1,915 yards with 19 touchdown passes and only five interceptions. He was named Second Team All-GCL South for the effort.
Nick Paff, Sr, DB – One of the leaders of the defense who is back for his third year as a starter. Paff was a Second Team All-GCL South selection as a junior. He has 86 total tackles, a fumble recovery and an interception in his career.
Andrew Spinney, Sr, DB – In his first year as a starter, Spinney tallied 40 total tackles and had an interception, in 2020. He was named Second Team All-GCL South.
OTHER RETURNEES
Chris  Kammerer, Sr, DB – A key component to an outstanding secondary. Kammerer was in on 31 total tackles and recovered two fumbles as a junior.
Bartley Thomas, Sr, DB – Slowed by injuries las season, Thomas is still a vital cog for the Elder defense. He has 52 total tackles, three sacks and interception in his career.
Evan James, Jr, OL – The latest in a long line of great football players from the James clan. Look for Evan to be one of the more dominant linemen in Southwest Ohio over the next two seasons.
Jack Conners, Sr, OL – Helped paved the way for an offense that averaged 386.5 yards of total offense per game, in 2020.
Andrew Harp, Sr, WR – A big target who will be a red zone factor. Harp had seven receptions for 97 yards and three touchdowns, in five games, last fall.
Will Singler, Sr, OL – Protected Hambleton and a passing attack that threw for 226.2 yards per contest, in 2020.
Mikey Kirch, Sr, TE – Should be one of the Panthers breakout performers in 2021.
Kyriakos Georges, Sr, DB – Another solid piece of that deep Panthers secondary. Georges was in on 19 total tackles in six games as a junior.
Samari Freeman, Jr, DL – There is a bright future ahead for Freeman. He recorded 20 total tackles, had a sack and fumble recovery, as a sophomore.
Luke Flowers, Jr, RB/DB – Will start again in the secondary and see time at running back. Flowers tallied 41 total tackles, had a sack and averaged 20.8 yards on 10 kickoff returns as a sophomore.
NEWCOMERS
Seniors OL Ethan Westerkamp, DB Zach Gutekunst, OL Ben Monk, juniors TE Carson Browne, OL Austin Bass, DL Colton Ginn and DL Henry Heitz will get the opportunity to crack the starting lineup.
Transfers, junior QB/WR/ DB Jack Reuter, sophomores LB Max Stallmeyer and OL Jacob Schorsch will also push for playing time. Reuter threw for 1,823 yards, ran for 247 yards and accounted for 24 touchdowns (12 pass, 12 run) in two years as a starter at Walnut Hills.
PLAYOFF HISTORY
(22 appearances, 40-20 overall) – 2020, 2019 (State Runner-up), 2018, 2016, 2015, 2014, 2013, 2012, 2009 (Regional Champion), 2008 (State Runner-up), 2007, 2004, 2003 (State Champion), 2002 (State Champion), 2001, 2000, 1999, 1996 (Regional Champion), 1995, 1991, 1989, 1988
2021 SCHEDULE
Fri – 08/20/21 – vs Covington Catholic (KY) (10-2 in 2020) – 7:00 PM*
Fri – 08/27/21 – at Pickerington Central (11-1) – 7:00 PM
Fri – 09/03/21 – ST. LOUIS ST. MARY'S (MO)(4-2) – 7:00 PM
Sa – 09/11/21 – LAKEWOOD ST. EDWARD (6-2) – 2:00 PM
Fri – 09/17/21 – at Louisville St. Xavier (KY)(6-3) – 7:00 PM
Fri – 09/24/21 – at St. Xavier (10-2) – 7:00 PM
Fri – 10/02/21 – MOELLER (3-6) – 7:00 PM
Fri – 10/08/21 – INDIANAPOLIS RONCALLI (IN)(13-1) – 7:00 PM
Fri – 10/15/21 – LIFE CHRISTIAN (VA)(2-3) – 7:00 PM
Fri – 10/22/21 – at La Salle (8-3) – 7:00 PM