Player Spotlight: Luke Slusher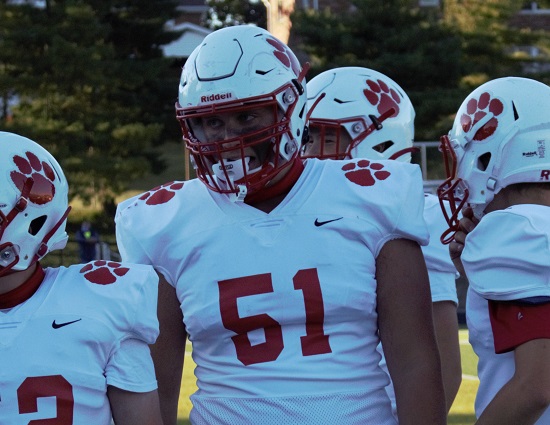 Beechwood OL Luke Slusher (photo by Greg Shoemaker/TriStateFootball.com)
One player who has seen his stock skyrocket this offseason is Beechwood (10-2 in 2020) offensive lineman, Luke Slusher. The 6-foot-5, 290-pound senior has racked up offers from Air Force, Dartmouth, Eastern Kentucky, Eastern Michigan, Elon, Furman, Murray State and Western Kentucky after helping lead the Tigers to the 2020 Kentucky Class 2A state championship.
Slusher transferred to Beechwood after starting in his freshman season at Holy Cross. It was a move that has paid big dividends. Last fall, Slusher helped pave the way for a Tigers offense that churned out 4,350 yards of total offense (362.5/game) and 57 touchdowns (31 rush, 26 pass) on their way to the title.
"Luke Slusher is a grinder. He works at his position until exhausted, each and every day. He possesses ALL of the qualities necessary to be a great lineman. He loves the physical toughness that the game demands. He comes off the ball on every snap with the intention to grind opponents into the ground," Beechwood head coach Noel Rash gushes about his star in the trenches.
Rash goes on, "Luke is a gentleman off the field. Luke wants to perform at his best and he does this by putting his team first. I truly enjoy coaching this young man on and off the field because he has been "raised" the right way."
This is a young man who gets the big picture and that is going to lead to great success. With good head on his shoulders (3.8 GPA – the offers reflect that) and a family that keeps him grounded something tells us that best is still yet to come for Slusher.