2021 Snapshot: Chaminade Julienne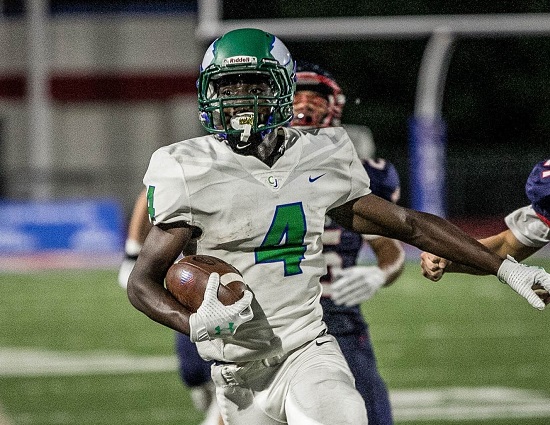 Chaminade Julienne WR Kenyon Owens (photo by Shelby Frieszell/TriStateFootball.com)
They are so ready to get the season started in downtown Dayton. Chaminade Julienne has something to prove after winning just three games a year ago. The Eagles are experienced with an electrifying offense that is ready to give foes fits.
The expectations are high for the next two seasons. "We had a heavy sophomore team in 2020. We are looking for those sophomores to be better as juniors," head coach Marcus Colvin states.
A young offense averaged just 18.1 points per game, last fall. On the other side of the ball, the team allowed 31.6 points per contest. "The line play on offense and defense will need to grow. The skills positions have lots of talent," Colvin says.
Chaminade Julienne has much to improve upon and there is every indication that will happen. It is just about the Eagles putting in the work to make it come to fruition. If they do, CJ will be a menace in their league and Region 12.
Division III, Region 12
2020 RECORD: 3-5, 1-4 GCL Co-eds
COACH: Marcus Colvin (62-47 at Chaminade Julienne, 10 years; 62-47 overall)
TOP RETURNEES
Kenyon Owens, Sr, WR/RS – One of the most dangerous players in the Gem City. Owens is a threat to score every time he touches the ball. As a junior, Owens amassed 1,170 all-purpose yards, had 33 receptions for 514 yards, averaged 29.2 yards per kickoff return, 11.6 yards per punt return, tallied 28 total tackles had an interception and found the end zone five times (three KRs, one PR, one rec), in eight games. He was named OPSWA DIVISION III Second Team All-Ohio (WR), First Team All-TriState Football (RS), a TriState Football Dayton Offensive Player of the Year Finalist and GCLC Co- Offensive Player of the Year for his efforts. Owens has 108 receptions for 1,496 yards, 2,681 all-purpose yards and 15 touchdowns (nine rec, three KRs, two rush, one PR), in his career. He has an offer from Morehead State.
Luke Chandler, Sr, QB – A savvy veteran who has logged many snaps since his freshman year. Chandler was a Second Team All-GCL Co-eds selection as a junior. He has thrown for 1,886 yards and 12 touchdowns, in his career. We won't be surprised if he doubles those numbers as a senior.
Nesta Owens, Jr, DE/OLB – A rising star who has outstanding speed for an end rusher. Owens was named Second Team All-GCL Co-eds as a sophomore. He has an offer from Purdue.
Jonathan Peltier, Jr, WR/P – Came on strong late last season with 20 receptions over the Eagles last four contests. Peltier finished the year with 28 catches for 253 yards on his way to Second Team All-GCL Co-eds accolades. He also averaged 36.7 yards on 16 punts.
Ethan Teague, Jr, OL/DL – Despite being just a junior, Teague is a leader on the Eagles o-line. The 6-foot-4, 301-pound Teague was named Second Team All-GCL Co-eds (OL), as a sophomore.
Sam Downing, Sr, DB – Will be the leader of the secondary. Downing was in on 39 total tackles and had an interception, as a sophomore. He was named Honorable Mention All-GCL Co-eds.
Brian Jones Jr., Jr, LB – Fared well in his first season as a starter. Jones Jr. registered 41 total tackles with an interception, in 2020. He was named Honorable Mention All-GCL Co-eds for the effort.
NEWCOMERS
Sophomores RB Amare Lattimore and TE/LB Jackson Frasure will get every chance to break into the starting lineup. Jackson could be the Eagles go-to running back.
Freshmen of Influence: Class of 2024
PLAYOFF HISTORY
(17 appearances, 20-16) – 2020, 2019, 2018, 2017, 2013, 2011, 2009, 2005, 2004, 2003, 2002 (State Champion), 2001, 2000, 1999 (Regional Champion), 1992, 1985, 1984
2021 SCHEDULE
Fri – 08/20/21 – TROY (5-2 in 2020) – 7:00 PM
Fri – 08/27/21 – BELMONT (2-3) – 7:00 PM
Fri – 09/03/21 – at Fairmont (4-5) – 7:00 PM
Fri – 09/10/21 – at Hughes (4-3) – 7:00 PM
Fri – 09/17/21 – at Edgewood (5-4) – 7:00 PM
Fri – 09/24/21 – FENWICK (1-7) – 7:00 PM
Fri – 10/01/21 – at Carroll (3-5) – 7:00 PM
Fri – 10/08/21 – BADIN (8-1) – 7:00 PM
Fri – 10/15/21 – at McNicholas (5-3) – 7:00 PM
Fri – 10/22/21 – ALTER (8-3) – 7:00 PM