2021 Snapshot: Carroll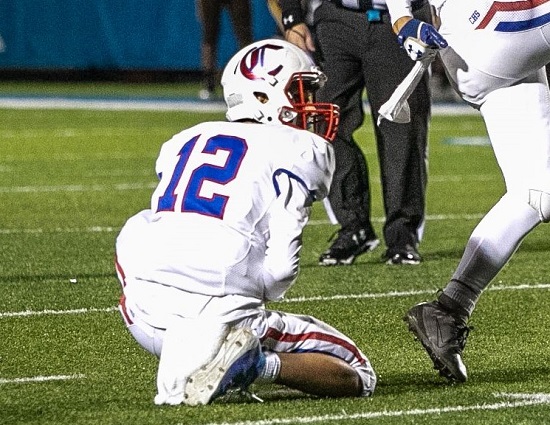 Carroll QB Ryan Chapman (photo by Shelby Frieszell/TriStateFootball.com)
The record may not have been great in 2020 but Carroll made the playoffs for the first time in a decade. They capture the school's first postseason victory since 2007. The Patriots look to build on that success and make it back-to-back playoff appearances for the first time since 2006-07.
There is some work to be done if Carroll wants to achieve its goals. The Patriots must replace a ton of experience. "We have depth at skills positions but we graduated many starters on the offensive and defensive lines," head coach Cody Byrd states.
This team will need to find more consistency on both sides of the ball. The offense scored seven points or less five times (all losses) and was shutout twice, last season. They averaged 30.7 points in their other four contests. Defensively, the Patriots gave up 31.4 points per game including 34 points or more four times in their last six battles of 2020.
Carroll will need to finish strong. The Patriots play their final three tilts. Playing well in those contests will be a big boost in the team's confidence heading into the playoffs.
Division III, Region 12
2020 RECORD: 3-6, 2-3 GCL Co-eds
COACH: Cody Byrd (7-12 at Carroll, two years; 7-12 overall)
HONOR ROLL
Ryan Chapman, Jr, QB – Led the GCL Co-eds in passing as a sophomore. Chapman threw for 1,328 yards, ran for 229 yards and accounted for 14 touchdowns (11 pass, three rush). He was named OPSWA Division III Second Team All-Southwest District for his work.
Elliot Braun, Sr, DL – The leader of the Patriots defense. Braun was in on 44 total tackles and had an interception as a junior. He was named Honorable Mention All-GCL Co-eds.
OTHER RETURNEES
Shemar Whitfield, Sr, WR/DB – Back for his third season as a starter in the secondary. Whitfield has 49 total tackles and an interception in his career. He could be a top option at receiver as a senior.
Charlie Harlow, Sr, WR/DB – Will play a large role on offense and defense this fall. Look for Harlow to be very involved in the passing attack.
Eric Hilgeford, Sr, TE/LB – A returning starter at linebacker. Hilgeford had 34 total tackles, three receptions for 19 yards and a touchdown, as a junior.
NEWCOMERS
Carroll will look to seniors OL/DL Devin Goodpaster and OL/DL Thomas Samuels to fill voids on both sides of the line. Juniors TE/DL Luke Herrmann, S Liam Conway along with LB/FB Noah Mangold have an excellent chance to crack the starting lineup.
PLAYOFF HISTORY
(10 appearances, 10-10) – 2020, 2010, 2007, 2006, 2005 (Regional Champion), 2004 (Regional Champion), 2003, 2002, 2001, 1999
2021 SCHEDULE
Fri – 08/20/21 – PONITZ (2-4 in 2020) – 7:00 PM
Fri – 08/27/21 – TECUMSEH (4-4) – 7:00 PM
Fri – 09/03/21 – at Springfield Shawnee (6-3) – 7:00 PM
Fri – 09/10/21 – at Northwest (5-4) – 7:00 PM
Fri – 09/17/21 – TALAWANDA (3-5) – 7:00 PM
Fri – 09/24/21 – BADIN (8-1) – 7:00 PM
Fri – 10/01/21 – CHAMINADE JULIENNE (3-6) – 7:00 PM
Fri – 10/08/21 – at McNicholas (5-3) – 7:00 PM
Fri – 10/15/21 – at Alter (8-3) – 7:00 PM*
Fri – 10/22/21 – at Fenwick (1-7) – 7:00 PM
*at Roush Stadium, Fairmount HS