2021 Snapshot: Rowan County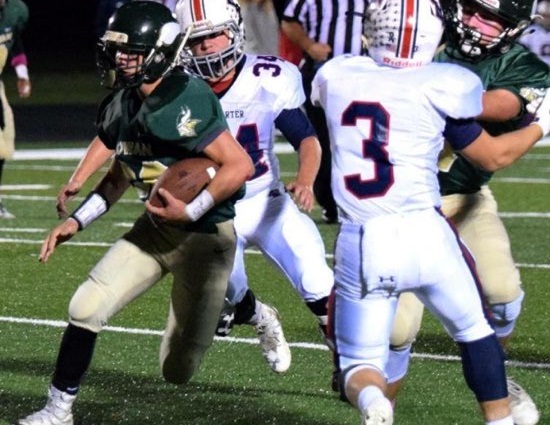 Rowan County RB Cole Wallace (photo from Twitter: @Cole_wallace26/Off the Trail Photography)
Rowan County is another one of those teams that got shortchanged by Covid in 2020. The Vikings are eager to get back out on the field and prove they can do some damage. This is a talented group that could very easily make some noise in the playoffs.
On offense, this is a team that controls the clock through the running game. The defense needs to take advantage of that rest on the sidelines. Rowan County gave up 27.0 points per game a year ago. Forcing more three-and-outs and cutting those points allowed to under 20 per contests and the Vikings will a handful to contend with.
Rowan County opens with 2020 Class 2A state semifinalist, West Carter. It will be a good barometer to assess just how good the Vikings are. The rest of the schedule is loaded with opportunities to pick up victories. Expect this squad to have more wins in a season than they have had in the last decade (six). The program won eight games in 2011 and that is a very achievable goal for this team.
Class 4A, District 6
2020 RECORD: 4-3, 2-1 Class 4A, District 6
COACH:  Kelly Ford (18-22 at Rowan County, four years; 18-22 overall)
TOP RETURNEES
Cole Wallace, Sr, RB/SS – Decided to reclassify for his senior year in hopes of getting more college offers. Wallace ran for 1,416 yards, had 13 receptions for 128 yards, found the end zone 17 times (16 rush, one rec), amassed 1,687 all-purpose yards, was in on 46 total tackles, had three sacks and nine tackles for losses last season. He has 4,721 yards rushing, 21 receptions for 219 yards, 58 total touchdowns (57 rush, one rec) and 135 total tackles in a Vikings uniform.
Byron May, Sr, DL – A disruptive force who loves to get after the quarterback. May had 59 total tackles, seven sacks and 14 tackles for losses in 2020.
Blake Perry, Sr, OL/DL – Back for his third year as a starter, Perry is a valuable commodity up front on offense and defense. He has 48 total tackles in his career.
Landin Raines, Sr, WR/DB – Will be a contributor on both sides of the ball. Raines had nine receptions for 92 yards and 29 total tackles as a junior.
Arian Brown, Sr, TE/LB – Led the Vikings the tackles in 2020. Brown was outstanding with 82 total tackles, three sacks, 14 tackles for losses and an interception.
Cooper Kegley, Sr, OL – A returning starter who helped pave the way for a rushing attack that averaged 225.7 yards per game in 2020.
Louis Hayes, Jr, WR/DB – The Vikings top threat at receiver. Hayes can be a game changer. He had 12 receptions for 178 yards and two touchdowns as a sophomore. Look for even more opportunities to come his way over the next two seasons.
NEWCOMERS
Sophomores LB Layne Pelprey and RB Josh Drake will see significant playing time. It would be huge if Drake can take some of the load off of Wallace in the backfield. It will keep him fresh down the stretch and in the playoffs. Wallace carried the ball 79.1% of the time, for the Vikings last season.
2021 SCHEDULE
Fri – 08/20/21 – at West Carter (10-2 in 2020) – 7:30 PM
Fri – 08/27/21 – at East Carter (4-3) – 7:30 PM
Fri – 09/03/21 – RACELAND (4-6) – 7:30 PM
Fri – 09/10/21 – FLEMING COUNTY (4-4) – 7:30 PM
Fri – 09/17/21 – at Greenup County (2-4) – 7:30 PM
Fri – 09/24/21 – at Scott (1-5) – 7:30 PM
Fri – 10/01/21 – HOLMES (7-3) – 7:30 PM
Fri – 10/08/21 – HARRISON COUNTY (5-3) – 7:30 PM
Fri – 10/15/21 – BYE
Fri – 10/22/21 – at Boyd County (4-5) – 7:30 PM
Fri – 10/29/21 – MONTGOMERY COUNTY (0-6) – 7:30 PM