2021 Snapshot: Northwest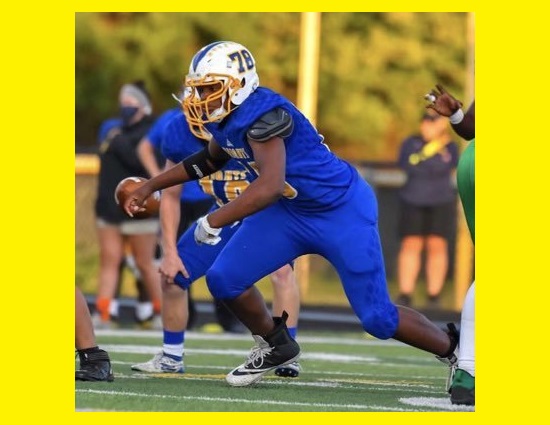 Northwest OL Jibril Bradford (photo from Twitter.com/@jibril_bradford)
There is a very optimistic attitude at Northwest. The Knights are coming their first winning season since 2016. They are team whose confidence is high that has great expectations for 2021.
Despite losing four tilts a year ago. Northwest was in every game with losses by 10, seven, six and three points. The Knights feel like they can play with anybody.
Northwest is experienced in the trenches. They return four starting linemen from an offense that averaged 350.1 yards and 30.4 points per game in 2020. The Knights graduated their quarterback who also led the team in rushing. They also lose a dynamic receiver that shattered the schools single season records for receiving yards and touchdowns catches. The good news is that there are players who have been waiting in the wings to show that they can be special too.
The defense brings back a pair of tackles up front. The back seven has talent but will need some playmakers to step up and create takeaways. It was a unit that got better as last season went along, allowing 14 points or less in five of its last seven contests. Northwest must maintain that stinginess right out of the gate in order to make a run at the playoffs.
The schedule is a bear. Every team on the Knights slate won at least one postseason game in 2020 and that includes six Region 12 peers – Alter (Region 12 champions), Ross (Region 12 runner-up), Badin (who beat Alter in the regular season), New Richmond, Mount Healthy and Carroll.
Making the playoffs won't be easy even with it expanding from eight to 16 teams (in each region). If Northwest finds a way to still be playing in Week 11 they are not going to be in awe of whoever they face. It's going to be one fun but intense year on Pippin Road.
Division III, Region 12
2020 RECORD: 5-4, 3-2 SWOC
COACH: Lee Johnson (19-30 at Northwest, five years; 19-30 overall)
HONOR ROLL
Nick Moore, Sr, LT – A stud who is real athletic, quick and "nasty" at the point of attack. The 6-foot-3, 270-pound Moore led the Knights in pancake blocks and was an OPSWA Division III Second Team All-Southwest District selection as a junior.  He currently holds offers from Marshall, Navy and Wofford.
Jibril Bradford, Jr, LG – Has great footwork and gets off the ball extremely well.  The 6-foot-2, 234-pound Bradford can climb to the second level and has a big-time motor. He was named Second Team All-SWOC as a sophomore.
OTHER RETURNEES
Kenyon Smith, Sr, DT – A quick and explosive interior linemen that can control the middle of the line of scrimmage. The 6-foot-3, 265-pound Smith tallied 34 total tackles, had two-and-a-half sacks, a forced fumble and a fumble recovery in 2020.
Kamare Frye, Sr, DB – A smart player with long active hands who is a great tackler in the open field. Frye played his freshman and sophomore seasons at cornerback and free safety as a junior. The three-year starter has 50 total tackles and an interception in his career.
LeSean Dickerson, Jr, ILB – An instinctive defender that plays the run well.  Dickerson will be expected to anchor the inside linebacker position. He had 33 total tackles, forced a fumble and snared and interception in five games as a sophomore.
Tim Montgomery, Sr, OL/DT – A strong interior linemen that can control the middle of the line of scrimmage. The 6-foot-3, 265-pound Montgomery is back for his second season as a starter.
Darrion Montgomery, Sr, QB – Will slide into the starting role at quarterback. Montgomery is a strong runner with an accurate arm.  He threw for 314 yards, ran for 281 yards and accounted for nine touchdowns (five pass, four rush) in limited action as a junior.
NEWCOMERS
DeMarco Adams, Sr, RB – Will push for more carries as a senior. Adams scored his first touchdown versus Talawanda, a year ago.
Nate Love, Jr, DB – Plays the ball well with great hips and speed.  Love started four games in 2020.
Kolby Reynolds, Sr, LB – Will be competing for a starting job at the inside linebacker position.  Reynolds had his first career interception against Withrow, last fall.
Jamauree Thrasher, Jr, WR – The Knights leading returning receiver. Thrasher had four catches for 57 yards and a pair of touchdowns as a sophomore.
DeAveon Perkins, So, WR – Has great ball skills with big play potential.
Jalen Martin, Sr, WR – A quick slot receiver with great hands. Martin had his first varsity catch against Aiken last fall.
Jaquan Weathersby, Sr, OL/DL – Was a starter after 2020 fall camp and prior to a season ending injury.
PLAYOFF HISTORY
(five appearances, 1-5) – 2020, 2014, 2013, 2012, 1990
2021 SCHEDULE
Fri – 08/20/21 – at New Richmond (5-3 in 2020) – 7:00 PM
Fri – 08/27/21 – INDIAN HILL (7-1) – 7:00 PM
Fri – 09/03/21 – at Badin (8-1) – 7:00 PM
Fri – 09/10/21 – at Carroll (3-6) – 7:00 PM
Fri – 09/17/21 – ALTER (8-3) – 7:00 PM
Fri – 09/24/21 – at Ross (8-1)– 7:00 PM
Fri – 10/01/21 – EDGEWOOD (6-4) – 7:00 PM
Fri – 10/08/21 – MOUNT HEALTHY (3-5) – 7:00 PM
Fri – 10/15/21 – at Harrison (3-7) – 7:00 PM
Fri – 10/22/21 – at Talawanda (3-5) – 7:00 PM