2021 Snapshot: Hughes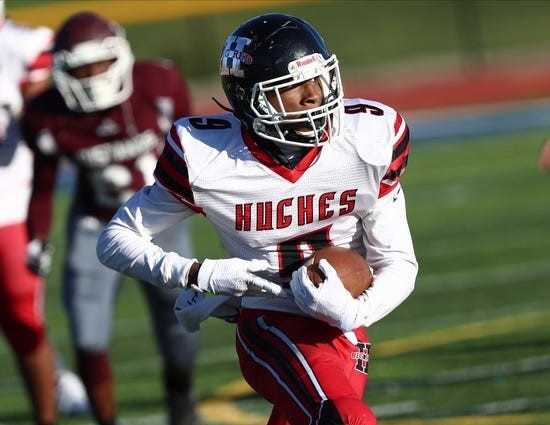 Hughes RB/DB Keshawn Barber (photo from Hughes athletic department)
They can't be overlooked anymore. Hughes has made great strides on the football field under head coach Chris Mobley. The Big Red is coming off their second straight winning season for the first time since 1987-1988. They aren't done yet. This talented squad has more goals on their list to check off.
"I'm extremely excited about this fall! This team is even better than the 2019 team that went 7-3. We have a ton of four-year starters," Mobley exclaims.
Hughes made its first eve playoff appearance in 2020. The Big Red was not happy about the way they played in a 23-point home loss to Goshen. It was their worst performance of the year. This group is motivated to get back to the postseason and be the team that picks up the school's inaugural playoff victory.
The offense has some very dynamic skills positions players that have been around a long time. They will be the strength and leaders of this team. A new offensive line has lots of size but will be inexperienced.
The schedule has some challenges but is set up for success. The longest road trip is just a 10-mile jaunt up to Lockland. Seven tilts are at Stargel Stadium. Hughes should get to the seven-win mark that the 2019 team reached and perhaps even better that victory total. The Big Red is in position to do great things in 2021.
Division III, Region 12
2020 RECORD: 4-3, 3-1 CMAC Blue
COACH: Chris Mobley (20-27 at Hughes, five years; 20-27 overall)
TOP RETURNEES
Keyontrez Devaughn, Sr, RB/DB – One of the top players in the CMAC whose stock has been on the rise this offseason. Last fall, Devaughn led conference in rushing yards (578), total yards (826), and touchdowns (11) in seven games. That effort earned him OPSWA Division III Second Team All-Southwest District honors. He also had 57 total tackles with a fumble recovery and an interception on defense. Devaughn, a four-year starter, has an offer from Marshall (with more expected over the next several weeks). He heads into his final campaign with 1,093 yards rushing, 24 receptions for 445 yards, 16 total touchdowns (nine rush, five rec), 155 total tackles, two sacks and six takeaways (three FRs, three INTs).
Keshawn Barber, Sr, WR/DB – One of the real studs in the CMAC who is back for his fourth season as a starter. Barber led the league in receiving the past two years. He was named OPSWA Division III Third Team All-Ohio (WR) for the effort in 2020. Barber has 46 receptions for 891 yards, 10 touchdown catches, 56 total tackles, a fumble recovery and seven interceptions in his career.
Corinthian Thomas, Jr, DB – A speedster with a nose for the ball. Thomas led the Big Red with 63 total tackles and had an interception with a fumble recovery as a sophomore. That performance garnered him OPSWA Division III Third Team All-Ohio (DB) accolades.
Will Gilden Jr., Sr, WR/DB – Another four-year starter who emerged as a threat running and receiving in 2020. Defensively, Gilden can lock it down in the secondary. He had 252 yards rushing, 15 receptions for 320 yards, four touchdowns (two rush, two rec), 30 tackles and seven pass break-ups on his way to OPSWA Division III Second Team All-Southwest District (DB) honors last fall.
Saleem Ford, Jr, RB/LB – After an excellent freshman year leading the Big Red in total tackles, Ford missed the 2020 season. Look for him to have a breakout junior campaign at running back. The 5-foot-9, 205-pound Ford who runs a 4.5 40-yard dash has a very similar build to 2018 TSF Cincinnati OPOY Miyan Williams (Winton Woods/Ohio State) and 2020 Ohio Mr. Football and TSF Cincinnati OPOY Corey Kiner (Roger Bacon/LSU).
Keion Hinton, Jr, OL/DL – A starter since his freshman year. Hinton is as strong as an ox and Hughes' best defensive lineman. He was a Second Team All-CMAC Blue selection in 2020.
NEWCOMERS
Justin Thomas, Fr, QB – The incoming freshman gets the keys to a "tricked out" Cadillac. Thomas will be the starting quarterback for the Big Red. He is already 6-foot-1 and 180-pounds. Thomas is blessed with a sharp arm and excellent mobility.
PLAYOFF HISTORY
(one appearance, 0-1) – 2020
2021 SCHEDULE
Fri – 08/20/21 – SUMMIT COUNTRY DAY (4-6 in 2020) – 6:30 PM (Stargel Stadium)
Fri – 08/27/21 – NORTH COLLEGE HILL (3-4) – 6:30 PM (Stargel Stadium)
Fri – 09/03/21 – at Lockland (2-5) – 7:00 PM
Fri – 09/10/21 – CHAMINADE JULIENNE (4-5) – 6:30 PM (Stargel Stadium)
Fri – 09/17/21 – at Purcell Marian (1-8) – 7:00 PM (Marx Stadium, Walnut Hills HS)
Fri – 09/24/21 – at Aiken (2-5) – 6:30 PM (Stargel Stadium)
Sa – 10/02/21 – WOODWARD (3-4) – 1:30 PM (Stargel Stadium)
Fri – 10/09/21 – at Western Hills (5-3) – 7:00 PM
Fri – 10/15/21 – at Taft (0-0) – 6:30 PM (Stargel Stadium)
Fri – 10/22/21 – WITHROW (1-6) – 6:30 PM (Stargel Stadium)