2021 Snapshot: Aiken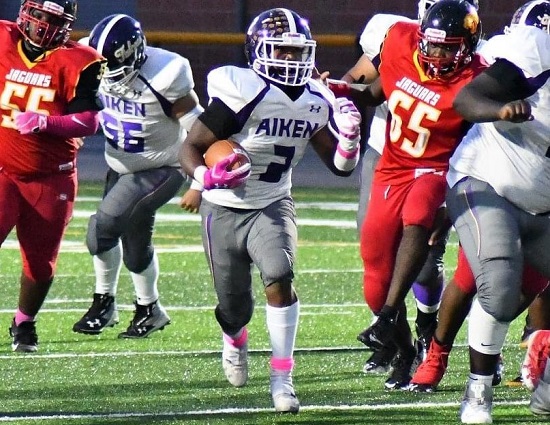 Optimism is in abundance at Aiken this fall. The Falcons, like so many other teams are so ready to put 2020 in the rearview mirror. Turning the page to a new chapter couldn't be more welcomed.
"Injuries to key starters cursed the 2020 team with Isiah Lyles, Keylan Holt and Don'Yae Freeman missing critical games. All are back with Holt and Freeman coming off successful track and field seasons. The future is once again bright on Belmont Avenue. The team will be back in the battle for its first league championship in decades," head coach Harry McCall exclaims!
The Aiken defensive line will feature a heavy seven-man rotation for the first time. All players up front, experience or not, are capable of staying fresh and dominating offensive lines. The secondary returns starters a pair of starters and several other players ready make contributions. Pressure up front could lead to ample takeaway opportunities.
There will be inexperience on offensive line with three new starters. Both tackle positions and one guard spot need be solidified. If that happens, the veteran skills positions players should have big years. The Falcons could be extremely explosive.
Aiken is in a very deep and tough Region 12. With 16 playoff berths available in the region, the Falcons should be able to secure one of them. From that point they shouldn't just be happy to be in the postseason. With the talent this squad has, Aiken should be looking to make a statement and do some damage.
Division III, Region 12
2020 RECORD: 2-5, 2-0 CMAC Red
COACH: Harry McCall (13-14 at Aiken, three years; 13-14 overall)
HONOR ROLL
Don'Yae Freeman, Sr, RB/LB – The unquestionable leader of the team. Despite missing games with an injury, Freeman lead the team in rushing with 539 yards, averaged 9.0 yards per carry and found the end zone four times, in 2020. Freeman was named OPSWA Division III Honorable Mention All-Southwest District for his work. He has offers from Eastern Illinois, Robert Morris, Tiffin, Findlay, Fairmount State and Lake Erie College.
Tavian Lewis, Sr, WR/DB – Has developed into the "brain" of the secondary, serving as a coach on the field. The Falcons leading returner in tackles from last season, Lewis is also looking to build off his five turnovers caused and one pick six, as a junior. He will also play receiver and serve as a major red zone threat. Lewis was named Second Team All-CMAC Red, as a junior. He has offers from Fairmount State and Elizabeth City State.
Isaiah Lyles, Sr, RB – Another Falcon who fell prey to injuries in 2020. Lyles was still able to play enough to earn Second Team All-CMAC Red honors, for a second straight season. He has 899 yards rushing, 1,141 all-purpose yards and six touchdowns (five rush, one KR), in his career.
Malachia Solomon, Sr, WR – Will be one of the Falcons top targets at receiver. Solomon had 14 receptions for 135 yards and a touchdown on his way to Honorable Mention All-CMAC Red accolades, as a junior. He has an offer from Lake Erie College.
Troy Harris, Sr, OL – An anchor on the offensive line. The 300-plus pound Harris was an Honorable Mention All-CMAC Red selection, as a junior. He will also see snaps on the d-line this fall. Harris has started all 27 games since he was a freshman.
OTHER RETURNEES
Anthony Mason Jr., Sr, OL – A behemoth on the o-line at 300-plus pounds, Mason Jr. teams with Harris to anchor the Falcons in the trenches. He will also see time on the defensive line as a senior. Mason Jr. has started all 27 games since his freshman year.
Keylan Holt, Sr, DE – When healthy Holt is a force on the defensive line. Injuries limited him to just three games in 2020. Holt still managed to get in on 16 total tackles and register four sacks. He is fully rehabilitated and ready to so for his senior season.
Logan Mathis, Sr, QB – Looks to regain his role as the starting quarterback after an injury curtailed his junior season. Mathis threw for 515 yards and six touchdowns as a sophomore.
Artis Hardy, Jr, QB – Thrust into the role as the starting quarterback after an injury to Mathis, last fall. Hardy has taken the offseason to sharpen his football IQ, bond with receivers and become more accurate with his throws. He threw for 511 yards and six touchdowns as a sophomore.
Darrian Hall-Mackey, Sr, WR – A returning starter at wide receiver. Hall-Mackey had 12 receptions for 127 yards and two touchdowns, as a junior. He had 23 tackles as a defensive back in 2019.
Jamier Kidd, Sr, WR – A returning starter at wide receiver. Kidd had five receptions for 66 yards and a touchdown in 2020.
Dominic Johnson, Jr, DL – The 300-pound Johnson is a space eater in the interior of the d-line. This should be a very productive campaign for him.
Kevin Miller, Sr, WR/DB – A returning starter in the secondary. Miller had two interceptions as a junior. He also has 11 career receptions.
MarKiez "Grumpy" Watts, Jr, DB – Is ready to step in and fill a void in the secondary.
NEWCOMERS
The Falcons get immediate help from senior FS D'Shia Turner and junior DE Jerron Richard who have transferred in from Blackman High School (Murfreesboro, TN). Both players are listed as defensive starters who play a fast, downhill style of football.

Juniors OLB Kendall Mascus, LB Chris Lewis along with sophomores slot/WR Zamir Frazier and RB Leonard Owens will all join the rotation and possibly
become starters.

PLAYOFF HISTORY
(one appearance, 0-1) – 2016
2021 SCHEDULE
Fri – 08/20/21 – at Walnut Hills (2-5 in 2020) – 7:00 PM
Fri – 08/27/21 – at Roger Bacon (10-1) – 7:00 PM
Fri – 09/03/21 – at New Richmond (5-3) – 7:00 PM
Fri – 09/10/21 – at Lockland (2-5) – 7:00 PM
Fri – 09/17/21 – DOHN (3-4) – 7:00 PM (Stargel Stadium)
Fri – 09/24/21 – HUGHES (4-3) – 7:00 PM (Stargel Stadium)
Fri – 10/01/21 – at Withrow (1-6) – 7:00 PM
Fri – 10/09/21 – TAFT (3-3)– 7:00 PM (Stargel Stadium)
Fri – 10/15/21 – WOODWARD (3-4) – 6:30 PM (Stargel Stadium)
Fri – 10/22/21 – at Western Hills (5-3) – 7:00 PM