2021 Snapshot: Anderson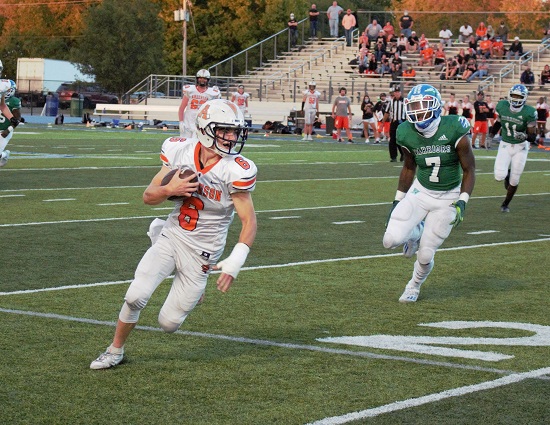 Anderson WR/RS Evan Upchurch (photo by Greg Shoemaker/TriStateFootball.com)
Gone is the Redskins moniker. Now, it will be the Anderson Raptors taking the field on Friday nights. The new nickname will eat up a majority of the headlines at Anderson when the 2021 fall sports season begins. The football team should be stealing that press by the time the season concludes.
What isn't changing is the fast-paced, up-and-down style of the Anderson offense. The Raptors return a slew of playmakers and should be as entertaining as ever. They can run ample and competent options at foes in droves from the skills positions. "We have experience back in a variety of areas," head coach Evan Dreyer states.
The defense needs to step it up a notch. In the three games that Anderson lost in 2020 (all to playoff teams) they allowed 57.7 points per contest. In those affairs, the Raptors also gave up 368.0 yards and 19 Touchdowns rushing.
Anderson has the studs to be special as a defensive unit. The Raptors will need to show that they have toughness in the trenches if they want to be considered an upper echelon team in Region 8 this fall.
Division II, Region 8
2019 RECORD: 7-3, 4-2 ECC
COACH: Evan Dreyer (40-16 at Anderson, five years; 84-44 overall, 12 years)
HONOR ROLL
Joey Faulkner, Sr, WR – Established himself as one of the best possession receivers in the Tri State in his first year as a starter. Faulkner had 65 receptions for 840 yards and five touchdowns on his way to being named OPSWA Division II Third Team All-Ohio.
Brody Foley, Sr, TE/DE, 6-6/230 – Can dominate a game on the ends, of the lines, on both sides of the ball. Foley earned OPSWA Division II Second Team All-Ohio after tallying 31 total tackles, recovering a fumble, snaring an interception, catching 25 balls for 233 yards and a touchdown on offense as a junior. He has offers from Arkansas, Bowling Green, Buffalo, Cincinnati, Colorado State, Duke, Eastern Michigan, Illinois, Indiana, Kent State, Kentucky, Liberty, Louisville, Miami (OH), Michigan State, Minnesota, Nebraska, Pitt, Purdue, Rutgers, Tennessee, Toledo, Tulane, West Virginia and Wisconsin.
Casey O'Toole, Sr, LB – a real beast in the middle of the Raptors defense. O'Toole, a legit Division I prospect and was in on 69 total tackles with three sacks in 2020. He was named OPSWA Division II Honorable Mention All-Ohio for the work. O'Toole has eight career sacks.
Evan Upchurch, Sr, WR/RS – All signs point to Upchurch having monster numbers as a senior. He was a OPSWA Division II Second Team All-Southwest District (WR) selection after amassing 1,229 all-purpose yards, with 40 receptions for 677 yards and six touchdowns last fall.  Upchurch also averaged 21.3 yards per punt return and 19.5 yards per kickoff return.
Cole Hinkle, Sr, DL – Will see plenty of one-on-one action with Foley getting extra attention. Hinkle should benefit immensely from that and have a big senior year. He was named Second Team All-ECC in 2020.
OTHER RETURNEES
Hayden Brooke, Sr, K – Incredibly reliable and accurate, Brooke is a special team's weapon. He has connected on 87/89 extra points and 6/8 field goals for 105 kicking points in his career.
Max Muhlenkamp, Sr, DB – Despite an injury hampered junior campaign, Muhlenkamp still managed to pick off two pass and recover a pair of fumbles in four games.
NEWCOMERS
A promising group of juniors QB Griffin Scalf, RB/WR Santos Alvarez, WR/DB Miles Havens, WR/ DB Brandon Pitts, RB/DB Isaiah Sadler and TE/LB Will Karswich get the "next man up" call. Scalf threw for 128 yards and a pair of touchdowns in limited action a year ago. Havens and Alvarez each had a touchdown reception against Withrow last season.
A trio of transfers, senior OL Carter Berg (Walnut Hills) along with sophomores RB/LB Brodey Berg (Walnut Hills) and QB/WR Patterson McHugh (Milford) add depth and should all be a part of the rotation. Carter Berg should slide right in to a starting position on the o-line.
PLAYOFF HISTORY
(14 appearances, 17-13) – 2020, 2018, 2017, 2016, 2009, 2008 (State Runner-up), 2007 (State Champion), 2003, 2002, 2001, 2000, 1996, 1994, 1992
2021 SCHEDULE
Th – 08/19/21 – at Princeton – 7:00 PM
Fri – 08/27/21 – CLINTON-MASSIE – 7:00 PM
Fri – 09/03/21 – LITTLE MIAMI – 7:00 PM
Fri – 09/10/21 – at Kings – 7:00 PM
Fri – 09/17/21 – LEBANON – 7:00 PM
Fri – 09/24/21 – at West Clermont – 7:00 PM
Fri – 10/01/21 – WINTON WOODS – 7:00 PM
Fri – 10/08/21 – at Milford – 7:00 PM
Fri – 10/15/21 – LOVELAND – 7:00 PM
Fri – 10/22/21 – at Turpin – 7:00 PM
TOUGH LUCK
Fifteen of the 16 Anderson losses under Dreyer have come to teams that went on to make the playoffs. Those 15 postseason qualifiers went a combined 114-33 for .775 winning percentage.

LIGHTING UP THE SCOREBOARD
In 56 games under Dreyer, the Raptors have scored 40 points or more 30 times. Anderson is averaging 38.2 points per game with Dreyer on the sidelines.