2021 Snapshot: North Decatur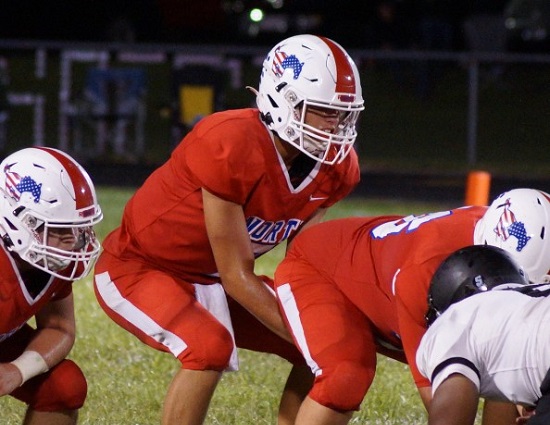 North Decatur QB/DE Carson Parmer (photo from ndathletics.com/Nils Parnell)
The past two campaigns have been the most prosperous in North Decatur football history. The Chargers are riding back-to-back seasons of 10 wins or more for the first time in program. The 21 combined victories are the most in a two-year span for the school. North Decatur now looks to keep that success going.
Maintaining that momentum will take some big-time effort. The Chargers have graduated a large number of players who were key in that prosperity.
"This team has a tremendous potential to grow due to our youth. We have some big shoes to fill but are poised to do that," head coach Steve Stirn states. Despite the inexperience, the younger players have had winning expectations instilled in them.
Defense has carried this team and it will again in 2021. North Decatur has 13 shutouts over the past two seasons (seven in 2020). The Chargers have allowed just 7.7 points per contest in that span.
This is a confident group, expect the results to be in line with the last two years. North Decatur is for real and will be a tough matchup come playoff time.

Class 1A, Sectional 47
2020 RECORD: 10-3, 4-1 MEC
COACH: Steve Stirn (46-24 at North Decatur, six years; 133-73 overall; 18 years)
HONOR ROLL
Nick Gall, Sr, OG/LB – The leader and anchor of the offensive line. Gall was named Honorable Mention All-MEC year ago. He as 48 total tackles in his career.
Carson Parmer, Jr, QB/DE/P – Arguably the best junior quarterback in Class 1A in the Hoosier state. As a sophomore, Parmer threw for 2,128 yards with 27 touchdown passes, two rushing scores, 52 total tackles, two sacks, 13 total tackles and a fumble recovery. He was named to the IFCA Junior All-State (DE) team for his effort.
Reid Messer, Jr, RB/SS – A two-way star and vital cog for the Chargers. Messer ran for 1,222 yards, had 22 receptions for 227 yards, 12 touchdowns (10 rush, two rec), 50 total tackles and three interceptions on his way to All-MEC (DB) accolades in 2020.
OTHER RETURNEES
James Evans, Jr, TE/LB – Has a knack of making big plays when the ball is in his hands. Evans had 11 carries for 190 yards, three receptions for 66 yards, two touchdowns (one rec, one rec), 20 total tackles, a forced fumble and a fumble recovery as a sophomore.
Evan Howell, Jr, WR/DB – Will become a bigger factor on offense this fall. Howell had five receptions for 136 yards and three touchdowns last season.
NEWCOMERS
The Chargers staff is looking for juniors TE/LB Josh Evans and OL/DL/LS Jake Kinker to step up and have a breakout season.
PLAYOFF HISTORY
(23-36 overall)
Sectional Champion (four) – 2020, 2019, 1998 & 1982.
2021 SCHEDULE
Fri – 08/20/21 – SOUTH DECATUR (5-2 in 2020) – 7:00 PM
Fri – 08/27/21 – at Eastern Hancock (4-6)– 7:00 PM
Fri – 09/03/21 – MONROE CENTRAL (7-2) – 7:30 PM
Fri – 09/10/21 – at Shenandoah (8-4)– 7:00 PM
Fri – 09/17/21 – LAPEL (9-3) – 7:00 PM
Fri – 09/24/21 – at Rushville (0-9) – 7:00 PM
Fri – 10/01/21 – NORTH DAVIESS (4-5) – 7:30 PM
Fri – 10/08/21 – SWITZERLAND COUNTY (3-6) – 7:00 PM
Fri – 10/15/21 – at Wes-Del (3-7) – 7:00 PM
Fri – 10/22/21 – TBD: IHSAA Sectional 47 Playoffs