VOTE: Player of the Week – Week 8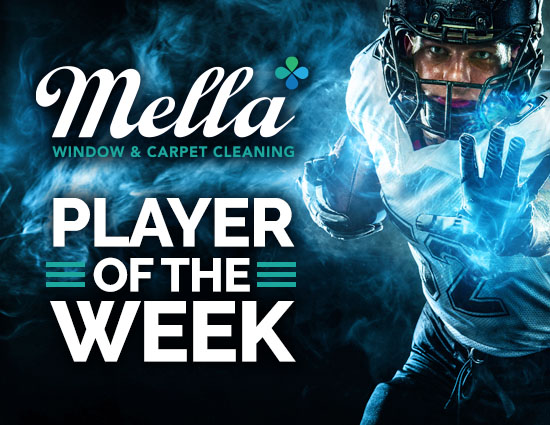 TriStateFootball.com is proud to present the Mella Window & Carpet Cleaning Player of the Week for the 2021 regular season. Players will be nominated from the Cincinnati, Northern Kentucky and Eastern Indiana areas throughout the season.
Each week a group of nominees will be selected from a large list of some of the area's top performances and will be included in an online voting poll to determine a winner. The poll will launch weekly on Sundays. Voters can vote once per hour, per IP address (we track it on the back end so cheating will result in votes being voided) through Wednesday at 12:00 PM Eastern weekly.
Once a player has won, they are ineligible to be nominated a second time. Players can only be nominated up to a max of three times during the course of the season.
All of the season winners will be recognized and receive a plaque at the TriStateFootball.com Year in Review Show in February of 2022 (more details announced once season concludes).
+++
Take advantage of this internet special at Mella Window & Carpet Cleaning:
+++
Derrick Blount, Cincinnati College Prep, Jr., QB – Completed 13-of-16 passing for 149 yards and four touchdowns and added 27 yards and another score on seven rushing attempts in a victory over Gamble Montessori.
Ryan Brotherton, East Central, So., RB – Scored three times (one rushing, two receiving), caught five balls for 95 yards, and rushed for 78 yards versus Guerin Catholic.
Dylan Carter, Norwood, Jr., RB – Carried the ball 15 times for 136 yards and a score and added five catches for 50 yards and a second TD vs. North College Hill.
Avery Courtney, Beechwood, Sr., RB – Scored three times and totaled 58 yards on just eight touches as Beechwood cruised past Holy Cross to open up district play.
Landen Earley, West Clermont, Jr., LB – Came up with a big 35-yard fumble recovery for a touchdown and five tackles to help the Wolves snap a four-game losing streak with a win over Walnut Hills.
Jaleel Engleman, Princeton, Jr., WR – Returned a kickoff 96 yards for a TD, caught five balls for 35 yards and a touchdown, and added 23 yards rushing as the Vikings rolled past Sycamore.
Talon Fisher, Fairfield, So., QB – Completed 18-of-36 passes for 252 yards and a touchdown and rushed for 81 yards and three more scores on 15 carries against Mason.
Trey Hatmaker, Walton-Verona, Sr., WR – Pulled in six catches for a game-high 143 yards and two touchdowns in a win over Owen County.
Devin Holbert, Dixie Heights, Sr., WR – Caught six balls for 137 yards and a pair of touchdowns to help lift the Colonels' over their country rivals, Simon Kenton.
Jah'Mal Hutsell, Roger Bacon, Sr., RB – Carried the ball 27 times for a season-high 244 yards and three touchdowns and had one reception for 14 yards vs. rival Purcell Marian.
Braden Kay, Lebanon, Jr., RB – Rushed for 195 yards and two touchdowns on 23 carries to help the Warriors to the first win of the season as they knocked off Little Miami in ECC play.
Charles Kellom, St. Xavier, Sr., RB – Scored four times and netted 108 rushing yards on 23 attempts and also pulled in two passes for 36 receiving yards in a win over La Salle.
Jordan Marshall, Moeller, So., RB – Scored two times on the ground, including the game-winning TD in overtime, as he finished with 95 yards on 16 carries and with 11 yards receiving versus. Cleveland St. Ignatius.
Mikey Molloy, Bethel-Tate, Sr., RB – Tallied 189 yards and a TD on 24 carries and caught two balls for 27 yards in the Tigers' win over Blanchester.
Jayce Parsons, Deer Park, So., QB – Carried the ball times for 187 yards and three touchdowns in a victory over Madeira.
Kolton Smith, Newport Central Catholic, So., QB – Threw for 302 yards and five touchdowns on 15-of-22 passing and rushed for 22 yards on six carries versus Holy Cross.
KC Spears, Winton Woods, Jr. RB – Rushed for 98 yards and two TD's on just six carries, returned a kickoff 73 yards for a score, and punted the ball three times for a 37.3 avg, including one inside the 20 in the Warriors' big win over Turpin.
Drew Warth, Cooper, Sr., QB – Passed for 150 yards and a pair of touchdowns and completed three two-point conversions and kicked an XP to help the Jaguars knock off Conner.
*Nominate players weekly by emailing us at staff@tristatefootball.com by 9AM Sunday mornings.