Week 8: AnyWeather Game Balls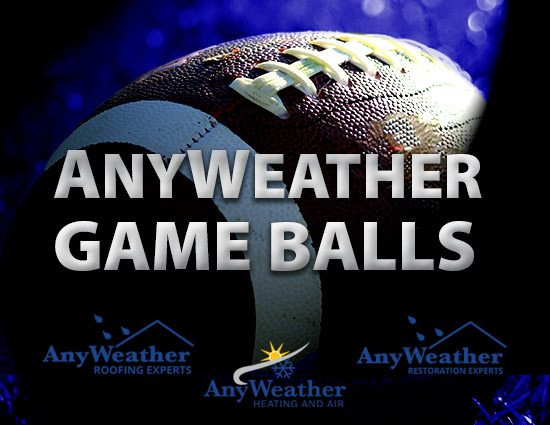 Each week we will be saluting some of the top performances in the Tri-state area with our AnyWeather Game Balls. Go to AnyWeather.com to learn more about the top performer in the market for roofing, HVAC and restoration services.
Here are this week's recipients:
Dyaln Carter (Norwood)
15 carries, 136 RuYd, RuTD; 5 catches, 50 ReYd, ReTD
Avery Courtney (Beechwood)
8 touches, 58 total yards, 2 RuTD, ReTD
Jaleel Engleman (Princeton)
96-yard kickoff return for TD; 5 catches, 35 ReYd, ReTD; 23 RuYd
Talon Fisher (Fairfield)
18/36 252 PaYd, 1 PaTD, 0 interceptions, 81 RuYd, 3RuTD
Braden Kay (Lebanon)
23 carries, 195 RuYd, 2 RuTD
Charles Kellom (St. Xavier)
23 carries, 108 RuYd, 4 RuTD; 2 catches, 36 ReYd
Kolton Smith (Newport Central Catholic)
15/22 302 PaYd, 5 PaTD, INT; 6 carries 22 RuYd
Drew Warth (Cooper)
150 PaYd, 2 PaTD; 3 two-point conversions, XP
Excellence is something AnyWeather never takes from granted. See for yourself:

Which player would you like to add to our list. Comment below and add in the player stats for this week. We will pull from our list and your players to come up with our 20 candidates for this week's Mella Window & Carpet Cleaning Player of the Week. That voting opens up Sunday. All nominations should be left below or emailed to staff@tristatefootball.com before 9AM Sunday.