Dayton Round-Up: Springfield Back in Regional Finals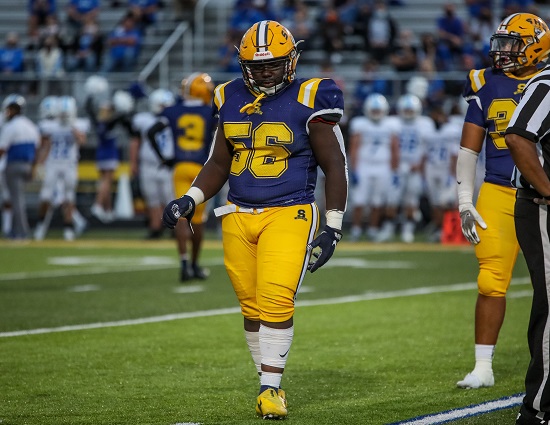 Springfield DL Tywan January, the 2021 GWOC Co-DPOY (photo by Shelby Frieszell/TriStateFootball.com)
For the sixth time in the last nine games the Springfield (11-1) defense posted a shutout. They have allowed just 35 points in that span. The Wildcats held Findlay (19-4) to 198 yards of total offense helping the program to its third straight appearance in the OHSAA Division I, Region 2 Regional Finals.
T'Sean Smoot ran for 95 yards and a touchdown to pace Springfield. Jaivian Norman was a beast on defense with seven total tackles, a sack, a forced fumble and a fumble recovery. Norman now has nine sacks on the year. Tywan January, the GWOC Co-Defensive Player of the Year tallied 11 total tackles and had a sack.
The Wildcats will take on top-seeded Marysville (12-0) next Friday night at Hilliard Darby High School. Springfield beat the Monarchs in the first round of the 2019 playoffs which start this quest for three straight regional titles.
SCORING BY QUARTERS
Findlay 0-0-0-0-0
Piqua 6-0-7-0-13
SCORING PLAYS
S: Te'Sean Smoot 2 run (kick failed)
S: Tawfiq Jabbar 5 punt return (Cole Yost kick)

Here are other scores from Dayton area teams who looked to survive the postseason in Week 13:
OHSAA PLAYOFFS: Division II, Region 8 Quarterfinals
NO. 1 PIQUA 28, NO. 5 EDGEWOOD 21 – After breezing through the regular season unblemished Piqua (12-0) has had to make the fourth quarter comebacks the past two weeks in the playoffs. With 42 seconds left in the game junior Bryson Roberts scored on a one yard run to lift the Indians over Edgewood and into the OHSAA Division II, Region 8 championship. Jasiah Medley ran for 140 yards and three touchdowns to lead the victors. The senior upped his season totals to 1,959 yards and 35 touchdowns rushing. Piqua looking for its first regional title since 2006 and seventh in school history. The Indians will face NO. 7 Winton Woods (10-3) on Friday night at Northmont High School. 
OHSAA PLAYOFFS: Division III, Region 12 Quarterfinals
NO. 3 BELLBROOK 38, NO. 7 TIPPECANOE 7 – In a rematch from Week 1, in which Tippecanoe (10-3) won 24-14, Bellbrook (11-2) avenged that loss with a resounding 31-point statement victory. The red-hot Golden Eagles have won nine in a row and will play now play for their first ever regional title. Senior Seth Borondy ran for 287 yards and a score. It was the third straight game and seventh time in the last nine outings that Borondy has ran for 200 yards or more. He now has 2,613 yards and 31 touchdowns rushing on the season. Bellbrook will face Badin (12-0) for the Division III, Region 12 title. The Rams beat the Golden Eagles in Week 2, 17-7.

NO. 1 BADIN 45, NO. 5 ST. MARY'S MEMORIAL 10 – Badin hasn't won a regional championship since 1998. The Rams have won eight regional titles in program history
OHSAA PLAYOFFS: Division IV, Region 16 Quarterfinals
NO. 3 McNICHOLAS 33, NO. 2 EATON 14