East Central Falls in Regional Final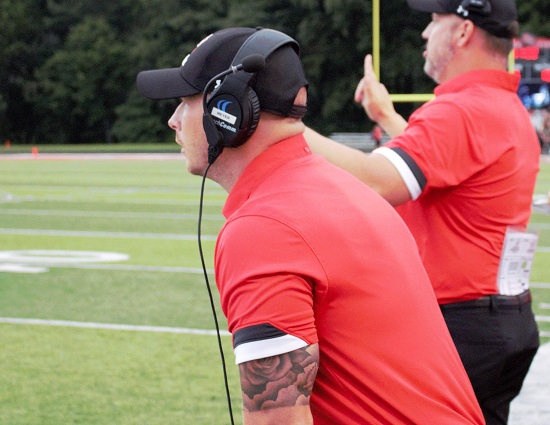 East Central head coach Jake Meiners (photo by Greg Shoemaker/TriStateFootball.com)
EVANSVILLE, Indiana – East Central (10-3) couldn't make a 14-0 third quarter lead stand up as they fell in heartbreaking fashion to Evansville Memorial (11-2). Nico Broughman hit a 29-yard field goal as time expired to lift the Tigers to the Class 4A Regional championship. It is the fourth regional title for Evansville Memorial in the last five years and 11th in school history.
The Trojans opened the scoring with a fumble recovery for a score by Louis Gray. Ironically, it would be East Central that would turn the ball over five times in this affair. The visitors were still able to expand their lead on a seven-yard touchdown run by Josh Ringer in the second stanza. The sophomore finished with 77 yards on the ground.
It was Evansville Memorial quarterback, Caleb Ellspermann finished off two second half drives with short touchdown tosses. The junior had 179 yards through the air. The Tigers defense was excellent with seniors Josh Russell and William Rogers setting the tone. Rogers had 10 total tackles (seven solo) and an interception. Russell was in on eight tackles (five solo), with a tackle for a loss and a pick.
Evansville Memorial hosts Mount Vernon (12-1) in a Semistate matchup next Saturday. The two squared off in this same game two years ago. The Tigers came out on top in that one. Memorial is looking for its third state championship in the last five years (2019 & 2017).
SCORING BY QUARTERS
East Central 7-7-0-0-14
Reitz Memorial 0-0-7-10-17
SCORING PLAYS
EC: Louis Gray 1 fumble recovery (Sophie Browndyke kick)
EC: Josh Ringer 7 run (Browndyke kick)
EM: Xavier Tyler 3 pass from Caleb Ellspermann (Nico Broughman kick)
EM: Dominic Norman 5 pass from Ellspermann (Broughman kick)
EM: Broughman 29 field goal