TSF 2021 Indiana OPOY: Ashton Craig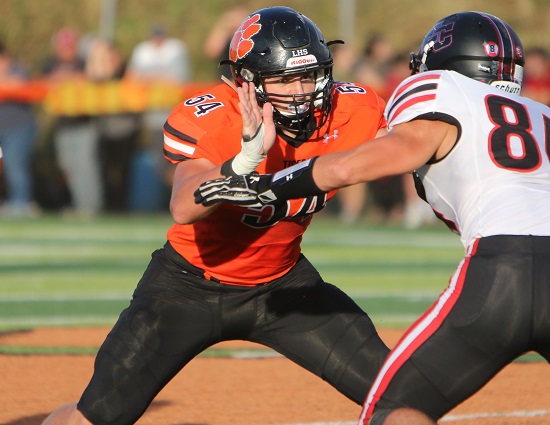 Lawrenceburg OL/DL Ashton Craig (photo by Dan Bieneke/TriStateFootball.com)
In a historic moment, Lawrenceburg lineman Ashton Craig was named the TriState Football Indiana Offensive Player of the Year, as TSF paid tribute to the area's finest from Cincinnati, Northern Kentucky, Dayton and Southeast Indiana at the Year in Review Show on Monday night, in front of a packed house at the Holy Grail in downtown Cincinnati. Craig becomes the first offensive lineman to ever win the award (that includes TSF OPOY's from Cincinnati, Dayton and Kentucky, over the past 15 seasons).
Lawrenceburg went 11-2 (for a third straight year) and won its third consecutive sectional championship with Craig starring up front. He was the cornerstone of an offensive line that paved the way for an explosive Tigers offense that averaged 200.3 yards passing and 206.5 yards rushing per game. They found the end zone 78 times (50 rush, 28 pass) and averaged 41.8 points per game. Lawrenceburg had an eight-game span where they averaged 55.1 points per contest.
Craig's efforts earned him Indiana Mr. Football Offensive Lineman (award goes to one player at each position, yearly) and IFCA Class 3A Senior All-State Team honors. He will continue his football career at the University of Notre Dame.


In Craig's last three seasons as a starter, Lawrenceburg went 33-6 in 39 games. In that span, the Tigers scored 41 points or more 22 times, averaged 38.8 points per game, averaged 411.7 yards of offense per game (217.2 rush, 194.5 pass) with 215 offensive touchdowns (129 rush, 86 pass). It has been an incredibly consistent and dominant performance by Craig and his teammates.
TriStateFootball.com was founded in 2005 and started its postseason awards for the Indiana Offensive Player of the Year in 2010.
TriState Football Indiana Offensive Players of the Year
2021 – Ashton Craig (Lawrenceburg)
2020 – Garrett Yoon (Lawrenceburg)
2019 – Garrett Yoon (Lawrenceburg)
2018 – Alex Maxwell (East Central)
2017 – Mitchell Orschell (Franklin County)
2016 – Austin Bowling (Lawrenceburg)
2015 – Luke Patton (East Central)
2014 – Luke Patton (East Central)
2013 – Sam Fette (Lawrenceburg)
2012 – Chad Banschbach (Lawrenceburg)
2011 – Chad Banschbach (Lawrenceburg)
2010 – Connor Kelley (Batesville)