By The Numbers: Drew Novak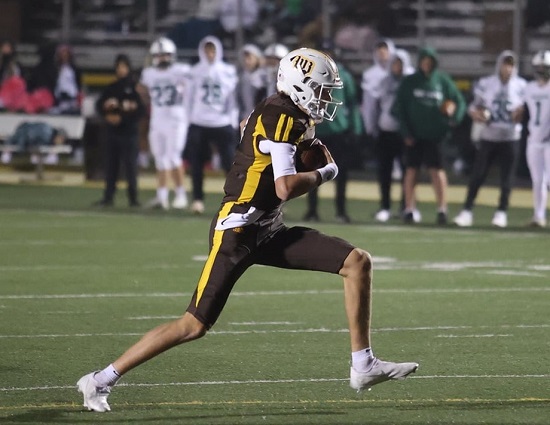 Western Brown QB Drew Novak (photo from Facebook: BHS Sportspage)
It was a performance for the ages as junior Drew Novak helped Western Brown (11-3) to its first ever appearance in the regional finals. He threw for 5,269 yards, ran for 1,202 yards with 56 passing touchdowns and 21 scores on the ground. His 5,269 passing yards are the sixth highest season total in Ohio history. Novak also became just the sixth player in Ohio history to throw for more than 5,000 yards and 50 touchdowns in a season. He is the 15th player in Ohio history to throw at least 56 touchdowns in a season.
Those efforts also earned him a Ohio Mr. Football Finalist nomination, as well as OPSWA Division III OPOY, OPSWA Division III First Team All-Ohio, OPSWA Division III Southwest District OPOY, Tri State Football Cincinnati OPOY and SBAAC American OPOY honors.
Novak heads into his senior year with 9,924 yards passing, 13th most in Ohio history. He is projected to finish with the third most yards passing all-time behind Maty Mauk (18,932) and Ben Mauk (17,364) of Kenton.
Here is a look at Novak, By The Numbers.

       1 – Games with 600 yards or more of total offense in his career
       3 – Games of 500 yards passing or more in his career
       4 – Most rushing touchdowns in a game (three times in 2021)
       5 – Rushing touchdowns as a sophomore
6 – Games with 500 yards or more of total offense in his career 
6 – Games of 100 yards or more rushing in his career
7 – Most passing touchdowns in a game (vs. Miami Trace – 09/17/21)
8 – Games of 400 yards passing or more in his career
14 – Passing touchdowns as a freshman
16 – Games with 400 yards or more of total offense in his career
     19 – Games of 300 yards passing or more in his career
19 – Games with 300 yards or more of total offense in his career    
     21 – Games with three or more passing touchdowns in his career 
21 – Rushing touchdowns as a junior
     31 – Games played in his career
     26 – Games of 200 yards passing or more in his career
     26 – Passing touchdowns as a sophomore
26 – Rushing touchdowns in his career
56 – Passing touchdowns as a junior
     96 – Passing touchdowns in his career
   122 – Total touchdowns accounted for in his career
148 – Career high rushing yards in a game (twice in 2021)
418 – Yards rushing as a sophomore
521 – Career high passing yards in a game (vs. Miami Trace – 09/17/21)
633 – Career high yards of total offense in a game (at Monroe – 09/03/21)
1,202 – Yards rushing as a junior
1,592 – Yards rushing in his career
2,084 – Yards of total offense as a freshman
2,112 – Yards passing as a freshman
2,543 – Yards passing as a sophomore
2,961 – Yards of total offense as a sophomore
5,269 – Yards passing as a junior
6,471 – Yards of total offense as a junior
9,924 – Yards passing in his career
11,516 – Yards of total offense in his career