2022 Snapshot: Batesville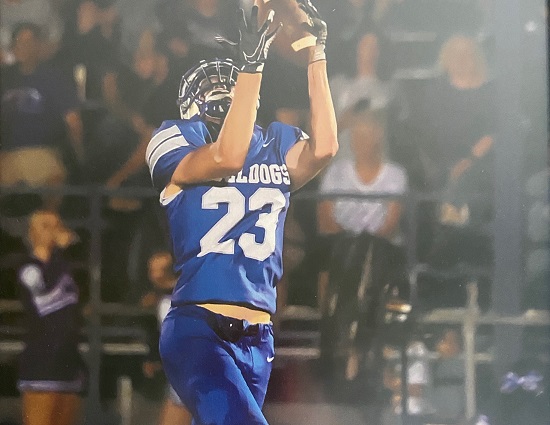 Batesville WR Bryson Bonelli (photo by: Joy Homberger)
For the first time in a while, Batesville will have depth in the trenches. Defensively, the Bulldogs have a strong linebacker group. On offensive, the squad has great balance with multiple threats in the pass and run games. The parts are there for a memorable season. One that might even bring home the school's first sectional title in seven years.
"We are really excited with the mindset with this team so far this offseason. This is the largest roster since I have been here which will provide the most depth we have seen. It should be an exciting year for the Bulldogs," Head coach Evan Ulery states.
"We must find a replacement for three-year starter at quarterback, Travis Lecher. Defensively, there are question marks in the secondary but many options who could earn those jobs," Ulery goes on to say.
Having versatility and options in so many facets should make the Bulldogs a strong and deep squad. To make this a special campaign, Batesville will need each and everyone of those players to contribute during a grueling stretch of the schedule in the middle of the regular season and come the playoffs to achieve that goal.
Class 3A, Sectional 31
2020 RECORD: 6-5, 2-1 EIAC 3A
COACH: Evan Ulery (35-30 at Batesville, six years; 35-30 overall)
HONOR ROLL
Bryson Bonelli, Sr, WR – Gives the Bulldogs a home run threat on every snap. Bonelli set the all-time Batesville single season receiving yards record last year with 1,067. He also had 11 touchdowns on 53 receptions. The effort earned Bonelli IFCA Class 3A Junior All-State Team (WR) and Class 3A All-EIAC honors.
Trenton Roell, Sr, TE/LB – Will be the captain of the defense. Roell finished his junior season with 97 total tackles, eight tackles for losses and two interceptions. He was named Class 3A All-EIAC (TE/FB) as jr. Roell had a quiet 2021 offensively with 10 receptions for 102 yards and a touchdown.
Nick McConnell, Sr, OL/DL – Will anchor the defensive line as a senior. McConnell who will be a three-year starter was a Class 3A All-EIAC (DT) selection as a junior.

OTHER RETURNEES
Blake Hon, Sr, OL/DT – Another lineman who will be a three-year starter. Hon provides experience and leadership to o-line unit.
Trent Kincaide, Sr, slot/DB – Started most of his junior year at cornerback and typically was matched up with the oppositions top threat at receiver. Kincaide was in on 28 total tackles and had a pair of takeaways (one FR, one INT).
Carter Bohman, Jr, TE/LB – Emerged midway through last season as the Bulldogs middle linebacker with his high motor. Bohman finished with 27 total tackles. He should easily amass those numbers in 2022.  
Zach Davidson, Jr, OL – The Bulldogs starting center in 2021. Davidson looks to anchor and be the captain of the unit this fall.
Bobby Weiler, Jr, OL/LB – Earned a starting job midway through the season in 2021.  Weiler has versatility and will either be the left tackle or left guard for Batesville.
Quinton Elston, Jr, DL – Started most of the team's games in 2021 and has earned reps going back to his freshman season. Elston is a long-armed and strong interior defender who should help bolster the Bulldogs run defense.
Cade Kaiser, So, WR/OLB – Started from day one as a freshman at outside linebacker. Kaiser answered with a respectful 39 total tackles and two interceptions. Look for Kaiser to emerge more on the offensive side of the ball. He gives the Bulldogs offense another long athletic threat on the outside.
Gage Pohlman, So, RB – Earned the starting running back job early in his freshman season. Pohlman is the top returning rusher for Batesville and is primed for a monster sophomore campaign. He finished 2021 with 361 yards and four touchdowns rushing.
Will Jaisle, So, QB/DB – Has the inside track to replace Lecher under center. Jaisle is a dual threat quarterback who is a powerful runner with an accurate arm.  He started down the stretch at cornerback as a freshman. Jaisle finished the campaign with 221 yards passing, 84 yards rushing, four touchdowns on the ground and 10 total tackles.
NEWCOMERS
Deacon Hamilton, Jr, RB/LB – Started some games but was hampered by injuries as a sophomore. Hamilton will compete for the starting running back job and will likely start at safety this fall.
Collin Wells, Jr, OL/DL – Started one game last year on the o-line. Wells is a front runner to earn one of the five starting jobs in 2022.
Carson Meyer, Jr, DL – A rotational guy as a sophomore. Meyer is in position to become a big body force on the interior of the defense.
Jonathan Buschle, Jr, WR/DB – Had a solid junior varsity season as a sophomore. Buschle should compete for a starting position in the secondary.
Lucas Wells, So, RB/DB – Wells is a long athletic playmaker on both sides of the ball. Versatility makes Wells someone who could have a breakout season.
Max Amberger, So, OL/DL –A strong, hard-nosed player who also wrestled varsity heavyweight in 2021. Amberger is looks to get in the mix on both sides of the ball this season.
PLAYOFF HISTORY (45-38)
Sectional Champion (nine) – 2015, 2009, 2006, 2005, 2004, 2003, 2002, 2001 & 1986.
Regional Champion (one) – 1986.
2022 SCHEDULE
Fri – 08/19/22 – at Indian Creek (3-8 in 2021) – 7:00 PM
Fri – 08/26/22 – at Milan (4-7) – 7:30 PM
Fri – 09/02/22 – SOUTH DEARBORN (7-4) – 7:00 PM
Fri – 09/09/22 – at Rushville (0-10) – 7:00 PM
Fri – 09/16/22 – at East Central (10-3) – 7:30 PM
Fri – 09/23/22 – LAWRENCEBURG (11-2) – 7:00 PM
Fri – 09/30/22 – GREENSBURG (4-5) – 7:00 PM
Fri – 10/07/22 – at Franklin County (6-4) – 7:00 PM
Fri – 10/14/22 – CONNERSVILLE (3-9) – 7:00 PM
Fri – 10/21/22 – TBD: IHSAA Sectional 31 Playoffs