2022 Snapshot: Milan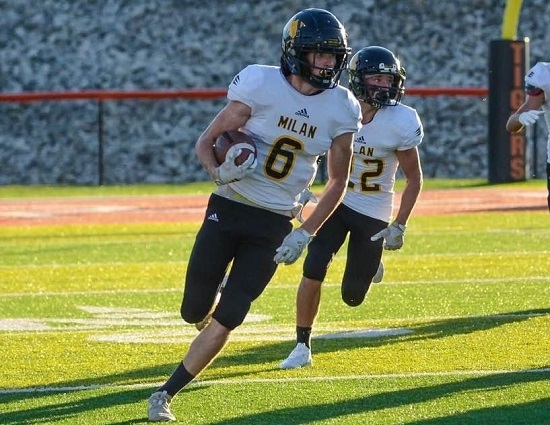 Milan RB/SS Riley Johnson (photo by Teri Barker)
All 22 starters are back for Milan. The Indians were young and "green" a year ago now they are a veteran and accomplished squad. Expectations are high for 2022 as this group looks to go farther in the postseason than any other team in program history.
This promises to be an exciting year for the Indians and their fans. They will be treated to some stadium upgrades with turf being installed this summer and the addition of more bleachers and a new concession stand. Like the old adage goes, "if you look sharp, you play sharp."
There is work to be done if Milan wants to achieve its lofty goals. "We lost many close games in the 2021 campaign. We had late game leads against Batesville, Eastern Hancock, and Providence only to lose in the end. The returning experience will hopefully show up and help us finish games," head coach Ryan Langferman states.
He goes on, "we were hampered by too many turnovers in 2021 and giving up too many big plays on defense. This will be a point of emphasis in the off-season."
Milan will be tested by a challenging schedule in which every school they play is larger than they are. This will only help the Indians come playoff time. Look for the Indians to show their mental toughness and mettle as they go on a deep postseason run in November.
Class 1A, Sectional 47
2021 RECORD: 4-7
COACH: Ryan Langferman (98-63 at Milan, 14 years; 98-63 overall)
TOP RETURNEES
Alex Wenger, Sr, DE – A four-year starter and the anchor of the Indians defense. Wenger has 153 total tackles, seven sacks and 35 tackles for losses in his career.
Riley Johnson, Sr, RB/SS – A vital cog on both sides of the ball. Johnson, who will be a four-year letterman, has 1,140 all-purpose yards (851 rush), nine rushing touchdowns, 87 total tackles, five sacks, 14 tackles for losses and five fumble recoveries in a Milan uniform.
Brayden Rohrig, Sr, QB – Got better as the season progressed in his first year as the Indians starting quarterback. Rohrig threw for 1,003 yards, ran for 342 yards, and accounted for 16 touchdowns (nine pass, seven rush) as a junior.
Jonny Volk, Sr, WR – Made his varsity debut in 2021 and was rock solid. Volk caught 29 balls for 252 yards and a touchdown. He also racked up 743 all-purpose yards.
Alec Barker, Sr, H-back/LB – A three-year starter and a leader on defense. Barker has 104 total tackles, two-and-a-half sacks, 20 tackles for losses, two fumble recoveries and two interceptions in his career. On the other side of the ball, he has 23 receptions for 194 yards and three rushing touchdowns.
Ethan Pierce, Jr, TE/LB – Played a major role on both sides of the ball last fall. On offense, Pierce had 19 receptions for 297 yards and a team high five touchdown catches. On defense, he tallied 72 total tackles with two fumble recoveries and an interception.
Logan Burton, Jr, SS/K – Was outstanding in the Milan defensive backfield. Burton recorded 40 total tackles, two-and-a-half sacks, 13 tackles for losses, two interceptions and a fumble recovery as a sophomore.
Mason Green, Jr, WR/FS – Became a starter last season and flourished in the Indians secondary. Green tallied 50 total tackles and had four takeaways (two FRs, two INTs).
Logan Reed, Sr, RB – One of the centerpieces of the Indians offense. Reed has 1,484 yards rushing with 22 trips to the end zone at the varsity level. He also has 59 total tackles and 11 tackles for losses on defense.
NEWCOMERS
Austin Green, So, ATH – Started at cornerback as a freshman. Green was in on 36 total tackles, had a fumble recovery and 10 pass break-ups. The coaching staff expects Green to breakout onofense this year on offense as they look to get the ball in his hands more often.
Landon Stanley, So, OL – Missed half of last season due to injury. Stanley will be back in the starting lineup and a player to watch for this fall.
PLAYOFF HISTORY
(42-37)
Sectional Champion (six) – 2016, 2011, 2010, 2000, 1996 & 1995.
Regional Champion (one) – 1996.
2022 SCHEDULE
Fri – 08/19/22 – at Rushville (0-10 in 2021) – 7:00 PM
Fri – 08/26/22 – BATESVILLE (6-5) – 7:00 PM
Fri – 09/02/22 – at Lawrenceburg (11-2) – 7:00 PM
Fri – 09/09/22 – MADISON (3-7) – 7:00 PM
Fri – 09/16/22 – NEW MIAMI (OH)(2-7) – 7:00 PM
Fri – 09/23/22 – at Eastern Hancock (5-5) – 7:00 PM
Fri – 09/30/22 – PROVIDENCE (5-6)– 7:00 PM
Fri – 10/07/22 – at Greensburg (4-5) – 7:00 PM
Fri – 10/14/22 – SWITZERLAND COUNTY (2-7) – 7:00 PM
Fri – 10/21/22 – TBD: IHSAA Sectional 47 Playoffs