2022 Snapshot: Valley View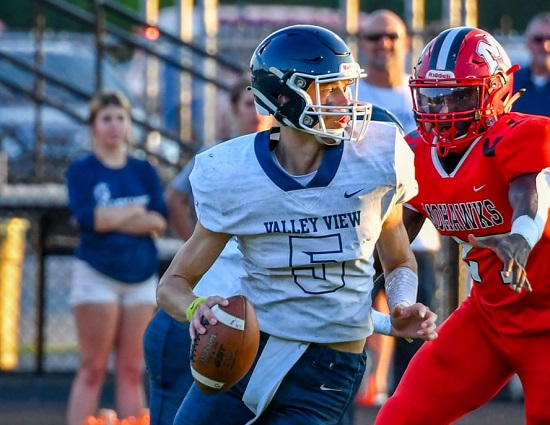 Valley View QB Caden Henson (photo from Facebook: Madison Mohawks Football Class of 2023)
Very rarely does Valley View have a losing campaign but that's what happened last fall for the first time since 2012. On the bright side the Spartans made the playoffs for the 22nd time in the last 30 years. With a new head coach and solid core of returning veterans the program is poised to get back to its winning ways.
"Our skill positions have the most experience and that's where we return the most starters. They do a nice job of making plays. We will be young up front and will need some players to step up and fill those roles," head coach Matt King states bout his team.
Valley View lost six games to teams that were a combined 56-15 (.789 winning %) last fall. The Spartans were in all of those contests, losing two by four points and none by more than 14 points. If they can figure out how to close things out, this will be another great season in Germantown.
Division IV, Region 16
2021 RECORD: 5-6, 4-3 SWBL West
COACH: Matt King (0-0 at Valley View, first year; 0-0 overall)
HONOR ROLL
Gavin DeGroat, Sr, LB – A breakout performance in 2021 led to OPSWA Division IV Second Team All-Southwest District honors for DeGroat. He recorded 95 total tackles and forced two fumbles.
Austin Stidham, Sr, WR/DB – A rock solid player on both sides of the ball. Stidham hauled in 22 receptions for 344 yards, had four touchdown catches and 24 total tackles as a junior. He was named OPSWA Division IV Second Team All-Southwest District (DB) for the effort.
Cade Phillips, Sr, K – A true weapon on special teams. Phillips connected on 27/31 extra points and 7/12 field goals for 48 points last season. He was named First Team All-SWBL West.
Jake Clark, Sr, RB – Will be one of the top backs in Region 16 and the Southwest District. Clark ran 872 yards, amassed 1,225 all-purpose yards, had 19 receptions, and found the end zone 14 times (11 rush, three rec) on his way to Second Team All-SWBL West accolades as a junior. He has 22 career touchdowns (17 rush, five rec).
Caden Henson, Jr, QB/DB – The future is bright for the Spartans with Henson under center. In his first year as a starter, he led the SWBL with 1,885 yards and 21 touchdowns passing. He also ran for 464 yards and three scores. He was named Second Team All-SWBL West for his work.
Chase Kinder, Sr, OL – The anchor of the offensive line. The 6-foot-4, 240-pound Kinders was a Second Team All-SWBL West selection in 2021.
Troy Hypes, Sr, WR – All signs point to Hypes having a big senior campaign. He was named Honorable Mention All-SWBL West after catching 16 balls for 261 yards and two touchdowns a year ago.
OTHER RETURNEES
Cade Sears, Sr, DL – What Sears lacks in size on the line he makes up for with heart. He registered 44 total tackles, had a sack, and forced two fumbles as a junior.
Bryce Reed, Jr, LB – Will play a vital role on defense. Reed was in on 20 total tackles and forced a fumble in seven games last season.
Micah Valenti, Jr, WR – We're not surprised, another Valenti producing on the football field at Valley View. Micah had 18 receptions for 239 yards and a touchdown as a sophomore.
PLAYOFF HISTORY
(22 appearances, 37-19) – 2021, 2020, 2019, 2017, 2016, 2013, 2009, 2008, 2007, 2005, 2003, 2002 (Regional Champion), 2001, 2000 (Regional Champion), 1999, 1998, 1997 (State Champion), 1996 (State Champion), 1995, 1994 (State Champion), 1993 (Regional Champion), 1992 (Regional Champion)
2022 SCHEDULE
Fri – 08/19/22 – SPRINGFIELD SHAWNEE (7-5 in 2021) – 7:00 PM
Fri – 08/26/22 – MILTON-UNION (10-2) – 7:00 PM
Fri – 09/02/22 – at Ross (7-3) – 7:00 PM
Fri – 09/09/22 – at Oakwood (4-7) – 7:00 PM
Fri – 09/16/22 – MADISON SENIOR (0-10) – 7:00 PM
Fri – 09/23/22 – at Brookville (8-3) – 7:00 PM
Fri – 09/30/22 – CARLISLE (6-6) – 7:00 PM
Fri – 10/07/22 – at Franklin (4-7) – 7:00 PM
Fri – 10/14/22 – at Eaton (11-2) – 7:00 PM
Fri – 10/21/22 – BELLBROOK (11-3) – 7:00 PM